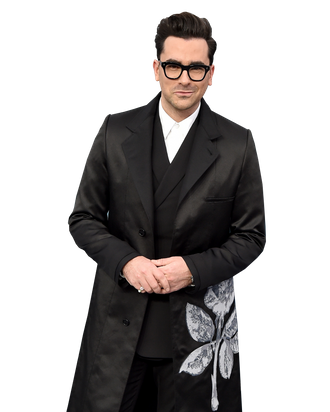 As Moira Rose might say, what a pulchritudinous eventide! During a memorably strange Emmys, the half-hour comedy Schitt's Creek had a sterling night, winning a record-setting nine Emmys for its final season (the show went empty-handed in previous years), including wins for its four main actors: Catherine O'Hara, Dan and Eugene Levy, and Annie Murphy. It was an indelible send-off for a show that began on the CBC and slowly built an audience over the past five years. We got on the phone with the younger Levy the day after to discuss the outpouring of love for the show he started with his father, hazmat suits, and the state of his relationship with Mariah Carey.
Hi!
Hi, how are you?
I think the more relevant question is how are you?
I'm doing well today. All things considered, it's been a nice 24 hours.
Have you been in Toronto or L.A.?
I've been in Toronto. I left L.A. at the end of July when things started getting really COVID-y and Canada seemed like a safe place for a number of reasons. So I've been back in Canada for a while, and it's been very nice here. It felt like my country was calling me home for a bit, and when your country calls you home, you've got to listen.
Have you been with your parents then?
I have. I've been living with my parents for the better part of a month. It was actually quite fun this morning to wake up and go downstairs and relive the night with my mom and dad.
On that note, I'm curious to get a peek into your head as the night was going on. You start off with Catherine O'Hara winning, which I know was the thing you really wanted.
Yes. I have been hoping for many years that she would be recognized, and when she won, I was beside myself. It was just such an emotional night. Everybody's entire bodies are in this hyper state of tension, so when you experience joy like that, it's incredible how much of a release comes out of that experience. And then my dad was up next, and I thought this category could go a bunch of different ways. Obviously for him to be in his 70s and to have never been nominated for an Emmy as an actor, it felt like, what a lovely time for him to win. I was just so proud. I was proud of our relationship. I was proud of the work that he did. At that point, I thought, Well, maybe we have a chance at Best Show, not really thinking anything else of the other categories.
They had stacked them all together, so I was thinking, Well, at least we'll be able to enjoy ourselves come 9:15 when this is all over. Whatever becomes of it, the pressure will be off, so you don't have that ongoing, nagging tension of, Well, my award's in an hour and 15 minutes, so I guess I'll just smile and nod through the first half of this award show.
So writing was up next, and I resigned myself to thinking, we've gotten all we came here for, and everything else is going to go to other places. And then I heard my name called, and you get into this kind of out-of-body experience where you just react and wander up to the podium. I had a couple things I had thought about saying and never really written anything down because I truly didn't have any expectations — even a superstitious perspective. I didn't want to jump the gun in any way. There's a full-circle moment to the writing category for me because it began with writing.
The whole process just felt oddly not real. Catherine and I were like, "It almost felt like a game of How to Host a Murder," where we all just got dressed up and the scene was awards night, and then the spin at the end was everyone got to take one home. It was just this game that eventually we'd have to give them all back.
I assume it would be very weird to give a speech to a camera.
Oh, yeah, it's totally weird. And then in the back of your mind, you're like, Well, so this is going out across the world, I guess? Okay. All right. Try not to keep that in mind. And then watching the show, it actually did this really beautiful job of connecting everybody, which was both a strange and quite sweet way of depicting our current times.
Looking back, everyone will definitely know that this was the 2020 Emmys.
Yeah. I won the Emmy the year that someone handed it to me in a hazmat suit, in case anyone forgets.
I had a hazmat question. Was there one person in a hazmat suit who had just a bundle of Emmys with them?
It was one person in the hazmat suit who was handing out the awards. And the hazmat suit kept fogging up, and I just kept watching this poor woman trying to defog her hazmat suit in time to potentially walk it out so that she didn't bump into a camera or something. Everyone was trying their best.
I saw that you were wearing a Thom Browne outfit. Was that a nod to the Schitt's Creek finale? 
Yeah. I just thought to myself it might be a nice little nod to my character if I wore a replica of his wedding look in gray and dressed it down with a tie instead of a bow tie. Luckily for me, the lovely team at Thom Browne helped me out with that. I believe the ensemble was shipped from Tokyo and got to me just in time. It just felt right, and there's something about wearing his clothes that makes you walk a little taller and feel a little more confident.
You mentioned you were worried about a Twitter backlash. Were you on Twitter or social media as the night was going on?
I wasn't on Twitter as the night was going on, but I did go to Twitter at the end of the night just to see. I was holding my breath that I wasn't going to have the excitement of the night deflated by someone's thought piece on how we didn't deserve our wins. I was just waiting for the tables to turn, because I think when something that extraordinary happens, there's always someone out there in the internet world that wants to bring you back down to earth, which is totally fine. But fortunately it all seemed to be really positive and encouraging. That's what was by the end of the night so encouraging for all of us, because it really did feel like the industry was cheering on this last chapter of our show.
To watch Annie win, I think that was my biggest excitement of the night. It was so deserved. She's done such unbelievable work on the show and for so long has kind of been underestimated because she makes it look so easy. I know that she didn't see that coming. I just remember screaming into her face.
I was telling her as we were walking into the venue, that the whole day from the minute I woke up, I just kept reliving our very first scene together, which was Annie and I sitting on Johnny and Moira's bed having a conversation about Never Have I Ever. I think it was episode two or three, but it was the first scene that we shot, and I remember looking over at her, and we barely knew each other at the time, but you're obviously bonded by just the sheer nerves and excitement of being fresh actors with your first big gig. I turned to her and I said, "Are you nervous?" And she said, "Uhhhhhh, yeah." And that put me at ease. I remember that moment so vividly because we felt like we were in completely over our heads. We had the scene with my dad and Catherine, who are such brilliant comedic minds, and it's hard not to be intimidated when that's the first scene of your new show. When she won, it came flooding back. Looking at her in the audition and saying to myself, "There's something extraordinary about this person that people need to see." And then to watch her win was … Now I'm getting emotional and I don't want to.
Do you have a theory of how Schitt's Creek set a record number of wins? 
I think it's timing more than anything else. It was our last season. We had the very rare opportunity to have experienced growth gradually, but steadily, over the six seasons of our show to the point where our last was our most successful, which seems to be the opposite of how most television works these days. At the same time, you're dealing with a pandemic, you're dealing with a lot of weighty, political, social clouds hanging over people's heads. I do think people were turning to the show in quarantine, much like they did four years ago when a certain person became president of the United States. It stopped being about, "Oh, this is a funny show," and started being about, "I need joy in my life."
Canada's conservative party has been attacking the CBC [Canadian Broadcasting Corporation], threatening to slash funding. I was wondering what your thoughts were, considering Schitt's Creek began on the CBC. Do you feel it's important to defend at this moment? 
I absolutely do. I don't have, at this point, enough information to speak on that topic with a ton of certainty. All I can say is that the CBC was the first network to pick up our show. We wouldn't have our show if it weren't for the CBC and their steadfast commitment to us and what we wanted to do, and their celebration of the show and everything we wanted. We never had any conversations with them about any kind of regulations. They seemed to just be cheerleaders from day one. I can't imagine Canada without it.
What's the state of your relationship with Mariah at this point?
I want to say thriving. I want to say we've never been closer, but I can't 100 percent be sure about that until we have a conversation.
Did you speak with her when you were planning the cast's commencement video for the class of 2020? 
Yes, I had the great honor of phone, and that was one of the most intimidating experiences in my entire life. She literally came on the phone and said, "Hellooo." I burst into laughter and just was giddy the whole way through. She holds a very special place in my heart, and she's been a great cheerleader for people and things that she loves. When it comes to this show, there was a lot of love for her through me, through the show.