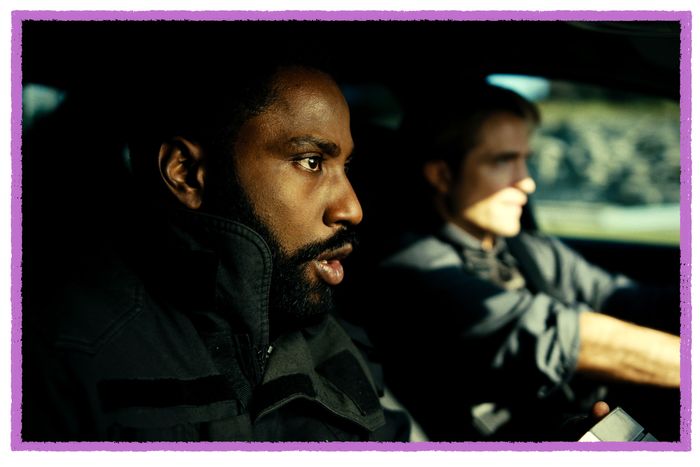 Photo-Illustration: Vulture and Warner Bros.
In Vulture's Fall Movies Fantasy League, contestants stake their pride, and the respect of their peers, on their ability to predict the tumultuous next few months of cinematic releases.
And we're off! With Labor Day marking the beginning of the fall movie season, our Fall Movies Fantasy League has officially begun. Which movies will reward their owners' careful investment, and which movies will disappoint everyone by being pushed back to 2021? We'll find out together over the next few months. By way of introduction, I'm the creator and commissioner of this game, and full disclosure, I have basically no idea what I'm doing. But that's okay, because I successfully roped in nine unlucky colleagues to compete against each other in the staff league, and they have even less idea what they're doing! In these weekly posts, I'll be providing scoring updates, as well as the current standings, so you can keep track of which of your favorite writers reigns supreme. (You can also enter our league, which is open to all readers.)
All clear? Let's get to it.
Coming into the draft, Tenet was the FMFL's A-list, gold-plated, super-premium option, and it was priced accordingly: Christopher Nolan's film cost players a whopping 40 percent of their $100 budget. Anyone who drafted it was paying for security, the knowledge that, whatever else happened this fall, this was one movie that would indeed come out. So far, the investment appears to be solid: After Labor Day weekend, Tenet has pulled in over $100 million worldwide, enough to nab the league's first box-office bonus. It wasn't a perfect opening — those muted reviews ensured it didn't nab the Rotten Tomatoes bonus — and it'll need a 5x multiplier, on the high side of average, to hit the half-billion-dollar mark that brings the real points windfall. But with so much in flux, Warner Bros. has been emphasizing that the film's box-office journey is a "marathon, not a sprint." If they're right, there are going to be some happy owners out there.
Patience will be needed for the weekend's other big release. After months of delays, the live-action Mulan debuted on premium VOD on Disney+, earning only a handful of points. However, more luck may be in store: The film's RT score currently stands at 77, perilously close to the bonus. And as Mulan makes its way into theaters around the globe this month, there's a chance that it, too, could rack up some box-office points.
Elsewhere, the Maisie Williams horror film The Owners opened in a small handful of theaters and disappeared even quicker than it would have in the normal times.
But the big surprise of the opening frame was none other than John Leguizamo's inspirational-teacher movie Critical Thinking. As a VOD-only release, the film was priced at a tasty $2, making it a key enabler for many teams. But surprise, surprise — upon opening, Critical Thinking boasts a stellar 91 RT score, more than enough to land the critical bonus. Ladies and gentlemen, we've got our first sleeper: Critical Thinking is officially the John Lundstram of the Fall Movies Fantasy League.
Here is the update for the staff league:
Week 1 Results
Jackson McHenry
Critical Thinking: September VOD release (3) + Hitting scheduled release date (1) + RT score above 80 (2) = 6 points
Total: 6 points
Rachel Handler
Tenet: September wide release (8) + Hitting scheduled release date (1) + $100M global box office (5) + Topping box office (2) = 16 Points
Mulan: September VOD release (3) + Hitting scheduled release date (1) = 4 points
Critical Thinking: September VOD release (3) + Hitting scheduled release date (1) + RT score above 80 (2) = 6 points
Total: 26 points
Tolly Wright
Mulan: September VOD release (3) + Hitting scheduled release date (1) = 4 points
Critical Thinking: September VOD release (3) + Hitting scheduled release date (1) + RT score above 80 (2) = 6 points
Total: 10 points
Katy Brooks
Tenet: September wide release (8) + Hitting scheduled release date (1) + $100M global box office (5) + Topping box office (2) = 16 Points
Critical Thinking: September VOD release (3) + Hitting scheduled release date (1) + RT score above 80 (2) = 6 points
Total: 22 points
Current standings:
1. Rachel Handler - 26 Points (3 movies)
2. Katy Brooks - 22 Points (2 movies)
3. Tolly Wright - 10 Points (2 movies)
4. Jackson McHenry - 6 Points (1 movie)
t-5. Hunter Harris, Alison Wilmore, Chris Murphy, Justin Curto, Neil Janowitz, Jen Chaney - 0 Points (0 movies)
And if you're curious, here's everyone's teams …
Katy Brooks
Tenet ($40)
Dick Johnson Is Dead ($17)
Candyman ($17)
On the Rocks ($12)
Come Play ($5)
The Secrets We Keep ($5)
Critical Thinking ($2)
Summerland ($2)
Jen Chaney
Wonder Woman 1984 ($30)
Coming 2 America ($25)
Candyman ($17)
Kajillionaire ($12)
Enola Holmes ($7)
Bad Hair ($5)
Summerland ($2)
Death Of Me ($2)
Justin Curto
Wonder Woman 1984 ($30)
Candyman ($17)
Antebellum ($17)
Let Them All Talk ($12)
The Forty-Year-Old Version ($10)
Enola Holmes ($7)
The Devil All the Time ($5)
Death of Me ($2)
Rachel Handler
Tenet ($40)
Mulan ($15)
Dick Johnson Is Dead ($17)
Kajillionaire ($12)
Enola Holmes ($7)
The Secrets We Keep ($5)
Critical Thinking ($2)
Death Of Me ($2)
Hunter Harris
Soul ($30)
Time ($17)
Deep Water ($10)
The Glorias ($10)
The Forty-Year-Old Version ($10)
The Boys in the Band ($10)
Holidate ($7)
Bad Hair ($5)
Neil Janowitz
Wonder Woman 1984 ($30)
Candyman ($17)
The Nest ($15)
On the Rocks ($12)
Secret Society of Second-Born Royals ($7)
Enola Holmes ($7)
Come Play ($5)
The Babysitter 2 ($5)
Jackson McHenry
West Side Story ($30)
Death on the Nile ($25)
Mank ($20)
Ma Rainey's Black Bottom ($12)
Unpregnant ($7)
Critical Thinking ($2)
Chick Fight ($2)
Death of Me ($2)
Chris Murphy
West Side Story ($30)
Coming 2 America ($25)
Hillbilly Elegy ($20)
The Boys in the Band ($10)
The Artist's Wife ($5)
Bad Hair ($5)
Death Of Me ($2)
Summerland ($2)
Alison Wilmore
West Side Story ($30)
Dune ($25)
Deep Water ($10)
The Climb ($7)
I Am Woman ($7)
Come Play ($5)
The Artist's Wife ($5)
The Secrets We Keep ($5)
Tolly Wright
Black Widow ($30)
Mulan ($15)
Kajillionaire ($12)
Happiest Season ($12)
Ma Rainey's Black Bottom ($12)
The Boys in the Band ($10)
Unpregnant ($7)
Critical Thinking ($2)
Vulture's Fall Movies Fantasy League is open to all readers. Enter, and you can look forward to an exciting autumn of endlessly refreshing Box Office Mojo and Rotten Tomatoes and quibbling over the precise definition of "wide release."