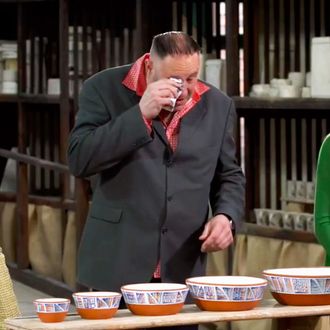 It's like the Paul Hollywood Handshake but actually good.
Photo: BBC
If you've already binge-watched every episode of The Great British Bake Off and are okay with the idea of watching the exact same show except instead of food it's pottery, then HBO Max dropped a new series this week that might interest you. Titled The Great Pottery Throw Down, the show is pretty much exactly like GBBO, only instead of cakes and bread, contestants are tasked with creating things like bowls, chandeliers, and garden sculptures. It debuted on BBC back in 2015, so American viewers are late to the game, but thankfully all three seasons of the series debuted on HBO Max on September 17.
The show is perfectly soothing and serviceable — NPR calls it "great isolation TV," and that's true — but while watching it, I kept pressing play on the next episode for a different reason: There's a judge, Keith Brymer Jones, who cries a lot. And he doesn't cry a lot because he's stressed or upset or something. No, he cries when he's simply overwhelmed by the beauty of one of the contestants' creations — or as he explains during the season-one premiere, "I find the simpler the design, the more impact it has. There's quite often times when I've looked at a certain shape, and it will move me to tears." It is wonderful and hilarious.
Since The Great Pottery Throw Down has been airing on the BBC since 2015, many people have already fallen in love with Brymer Jones for his sensitivity toward beautifully crafted objects. There are headlines about Great Pottery Throw Down's resident crier like "The Great Pottery Throw Down Judge Keith Brymer Jones Warms Viewers' Hearts by Crying Over a TOAST RACK" and "Who Is Keith Brymer Jones? The Great Pottery Throw Down Judge and Ceramic Artist Who Cries On Camera," and Brymer Jones himself has been open on Twitter about his emotional reactions on the show:
Someone even made a compilation of Brymer Jones crying, which is perfect:
Because The Great Pottery Throw Down is so closely tied to GBBO in structure, it's hard not to view the Keith Brymer Jones Cry as the show's version of the Paul Hollywood Handshake, which is bad and comes from a judge Brian Moylan perfectly described as "the beautiful, blue-eyed physical embodiment of manspreading." But the Keith Brymer Jones Cry is good. It represents the polar opposite of the Paul Hollywood Handshake, a gruff and annoying gesture of toxic masculinity that, over time, has actually brought some of the GBBO contestants who receive it to tears. Unlike Hollywood's role on GBBO as a distant, stone-faced father all the contestants are scrambling to get approval from, Brymer Jones is so intimately invested in not just the results of the contestants' work but the perseverance he knows it took them to get there. From the very first episode, The Great Pottery Throw Down makes it clear that pottery — which sometimes requires potters to essentially give a hand job to a glob of clay — is a sensual and emotional art. So it seems fitting that Brymer Jones isn't afraid to cry in front of his children, and it's just a beautiful, and very entertaining, thing to watch. You might even shed a tear yourself.