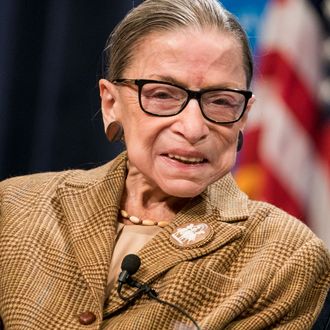 Photo: Sarah Silbiger/Getty Images
If her nearly three-decades on the United States Supreme Court hadn't secured her place in history (and it had), our collective cultural embrace of Ruth Bader Ginsburg definitely solidified her status as a pop culture great. The late justice, who passed away Friday at the age of 87 due to complications from metastatic pancreatic cancer, was the subject of an Oscar-nominated documentary, an A-list historical drama, an opera, a blog-turned-book entitled Notorious RBG, a loving Saturday Night Live impression, a shout-out in Deadpool 2, and an officially-approved Lego figurine. And that's just in the last seven years.
The second woman ever to be named to the Supreme Court, a defender of gender equality, and a collar style maven, Ginsburg was remembered Friday on social media after news of her death broke, with celebrities and the American public alike paying tribute to her online.
Felicity Jones, who portrayed RBG in the 2018 film On the Basis of Sex, released a statement to praise the late justice. "Ruth Bader Ginsburg gave us hope, a public figure who stood for integrity and justice- a responsibility she did not wear lightly," Jones said. "She will be missed not only as a beacon of light in these difficult times but for her razor sharp wit and extraordinary humanity. She taught us all so much. I will miss her deeply."