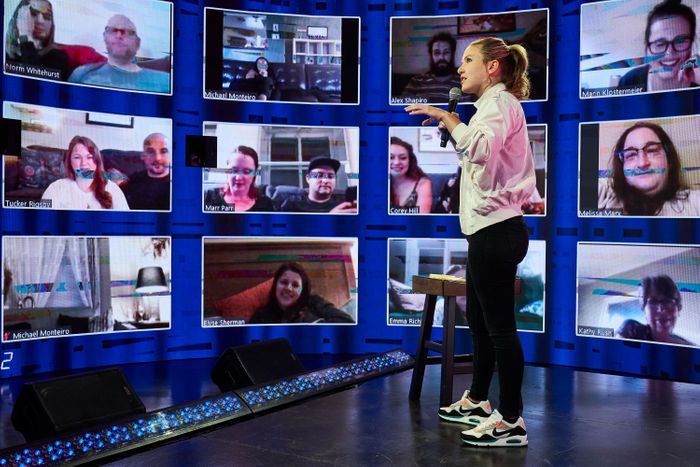 Comedian Taylor Tomlinson on
InCrowd Comedy.
Photo: Matthew Misisco
I only tried to watch Black Mirror once. Ten minutes into an episode where a woman (Hayley Atwell) attempts to rebuild her dead boyfriend (Domhnall Gleeson) from his social-media accounts, I had to turn it off. I find the idea of a capital-S Satire about our modern dependence on technology just so exhausting. Especially now that we are living in a world that feels like someone wished for "technological advancement" on a monkey's paw. But I find "Black Mirror" a useful term when describing anything that makes it feel like we are Icarus flying too close to the sun — but the sun is a MacBook Pro. I've been using it a lot since COVID-19 started ravaging our country and forced us to self-isolate. Mostly while watching comedy.
Maybe the grumpy stand-up veterans were right about "these social-media comedians" they've been railing against for the better part of a decade. Though live comedy is undeniably popular, comedy today is most often defined by the genre's success on emerging platforms — TikTok, Netflix, and so on. As cosmic punishment for comedy's sin of gluttonous expansion to new channels, comedians now only have the internet as an outlet. Sometimes the shows are good, sometimes they are bad, and they're always a little weird. There's one in which the audience listens to the disembodied voices of comedians while watching a cutesy creature "perform" the jokes over the video game Animal Crossing. It's terrifying.
Still, there's one digital comedy show whose image has haunted me for months: InCrowd Comedy. I became aware of it in early July, when comedian Taylor Tomlinson posted a photo on Instagram. She was on a stage, performing stand-up in front of a wall of screens. Displayed on each was the face of an audience member watching from home. Created by the stage designer and part-time comedian Bubba Ginnetty, it looked like the "Architect" scene in the second Matrix movie. I asked Tomlinson what it was like performing for rows of faces on screens. "Nothing replaces live shows," she said, "but this is the absolute closest thing." For two months, I avoided experiencing one of these shows, but as the nights got chillier and outdoor comedy became less appealing, my curiosity got the better of me.
For all InCrowd shows, which are announced on no particular schedule via Instagram, there are two ticket options: $15 to watch the show and $30 for a VIP ticket to be one of the faces the comedians see. I chose the $15 one because I'm always afraid a comedian is going to ask me what I do for a living, and I'll say, "Write about comedy," and it'll be a whole thing.
Right away, something unexpected happened. Host Tone Bell, a very good comedian whom I've never seen live because he lives in L.A. (the biggest bonus of any online show is it allows people who live outside New York and L.A. to see the best comedians in the country), tried to tell the audience a story about being in Texas the week before. An audience member responded in a plainspoken voice, "I'm from Dallas." This was a result of the lack of social norms for an event like this. All the VIPs' mics were on so their laughter could be audible, which meant their small asides were, too.
Soon after, another unexpected thing happened — I laughed. After spending six months thinking about how laughter could be literally infectious, I forgot that it is metaphorically infectious. At a show, the comedian talks and you laugh, partly to communicate to the performer "That's funny" and also to communicate to the other audience members: "This is funny, right?" The comedian is the conduit for audience connection. It's nice! For the InCrowd shows, headphones are suggested, so the laughs feel especially close. I found myself charmed by the people who are unconsciously compelled to say things like "Oh my God" or "That's so funny" when they laugh. Better yet was the guy who repeated a punch line he enjoyed: "Tickling my pizza."
It took a while, but each comedian was able to lock into a rhythm. Alonzo Bodden, a 58-year-old stand-up vet, was hysterical, but it took him half his set to realize it. "It's throwing me off," he said, "because every joke there's a moment delay before everyone laughs. And I'm like, Oh shit. That one didn't work. What the fuck else do I have? … I would hate to bomb in front of a simulated crowd at a warehouse in Sun Valley." When I caught my breath from laughing, I realized why I'd put this off for so long. I was enjoying it too much. I thought of what Tomlinson said: "Nothing replaces live shows, but it is the absolute closest thing." But does nothing replace live shows? Weren't Netflix stand-up specials and front-facing camera videos and podcasts replacing live shows even when live shows were still CDC-approved? At first, it's strange to feel like you are laughing with people when you're not actually with them. It was scary how quickly I was able to adapt. I'm Domhnall Gleeson in Black Mirror. I'm Neo. I'm in the Matrix from The Matrix. One blue pill, please. Next time, I'll pay for the VIP package.
*This article appears in the September 28, 2020, issue of New York Magazine. Subscribe Now!