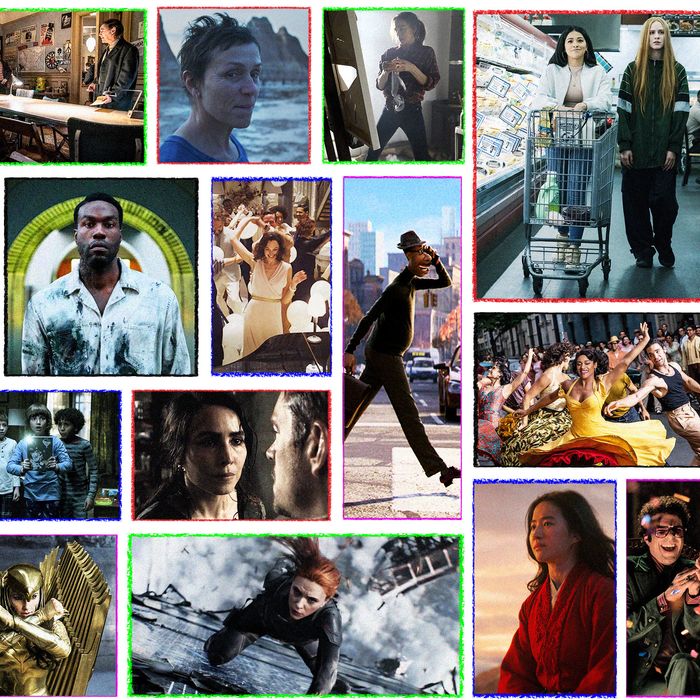 To release or not to release? That is a question for movie studios in 2020.
Photo-Illustration: Vulture/Courtesy of Studios
Amid the collective trauma of 2020, I think we can all agree that no one has it worse than editors who have been tasked with putting together fall previews for an entertainment landscape in which nobody's sure what will even come out, much less be any good. And so, to supplement our calendar of release dates that will surely become instantly outdated the second we publish, we have decided to turn the lemons of industrywide upheaval into lemonade. Presenting … Vulture's Fall Movies Fantasy League, where contestants stake their pride, and the respect of their peers, on their ability to predict the tumultuous next few months of cinematic releases. Will socially distanced multiplexes prove a safe and profitable answer to Hollywood's prayers? Or will they go the way of college classes, leaving the fall-movie landscape a barren sea of streaming and VOD releases? As in every fantasy league, the answer may be unknowable at the time you draft, but that doesn't mean you can't spend hours tinkering with your team as a mental distraction from everything else going on in the world.
I'll be running our staff competition, and we'll also have a league open to all readers. Enter, and you can look forward to an exciting autumn of endlessly refreshing Box Office Mojo and Rotten Tomatoes and quibbling over the precise definition of "wide release."
How the League Will Work
• Every contestant will select a lineup of eight films currently scheduled to be released this fall. Films are priced according to their quality; you will have a budget of $100 to work with.
• Each film on your slate will receive points based on the nature of its release. Wide releases earn more than limited ones, which earn more than streaming ones, which earn more than movies that go directly to VOD. Furthermore, as a hedge against a miraculous return to normal life later in the year, September/October releases score one point more than November/December releases. Films that do not come out in the U.S. in 2020 will, of course, receive zero points.
• On top of this, films also receive bonus points for accomplishing various feats. Blockbusters can rack up huge amounts of points if they hit certain worldwide box-office benchmarks. Smaller films can earn bonuses for good Rotten Tomatoes scores and for being named one of the top films of the year. But watch out! Negative reviews can also bring down a film's score. No matter their quality, films will also get a bonus for coming out on their scheduled release date.
• The league will begin Labor Day weekend and run into 2021, with our winners being announced in February, when the last 2020 films finish their theatrical windows.
Got all that? Here's the scoring breakdown:
Basic Point Structure
Date of release (if a platform release, by earliest release):
• 2 points for release in September/October
• 1 point for release in November/December
Size of U.S. release:
• 6 points for wide release (600-plus screens)
• 3 points for limited release in U.S. (even if also on premium VOD or subscription platform)
• 2 points for streaming *for free* on a subscription platform
• 1 point for releasing on VOD, on a subscription platform, or otherwise
Bonus Points
• 5 points for grossing over $100 million *worldwide*
• 10 more points for grossing over $500 million *worldwide*
• 2 points for topping the box-office charts
• 1 point for coming out on its current release date, as determined by Vulture's fall-preview list
• 2 points for a Tomatometer score over 80
• -2 points for a Tomatometer score under 30
• 3 points each for landing a spot on the AFI and NBR top-ten-films-of-the-year lists
Draft-Eligible Films
Below, please find the 80-something movies available for your team. Will you go high risk, high reward and stack your squad with films aiming to make a splash at the global box office? Or will you play it safe with a Moneyball-esque team of streaming releases, which seem a sure bet to hit their release dates, even if their ceiling is lower? The strategy is up to you.
$40
Tenet (September 3): Retsubkcolb gnitsiwt-emit s'nalon rehpotsirhc.
$30
Wonder Woman 1984 (October 2): Gal Gadot and Chris Pine take on the Reagan era.
Black Widow (November 6): It's been over a year since the last Marvel movie.
No Time to Die (November 20): The new Bond film's April release was shaken up. Will audiences stir?
Soul (November 20): Jamie Foxx explores the nature of consciousness in the latest Pixar adventure.
West Side Story (December 18): Could be the biggest hit of the year. Who knows?
$25
Death on the Nile (October 23): Kenneth Branagh's Hercule Poirot mustache cannot be stopped.
Dune (December 18): Timothée Chalamet gets spicy.
Coming 2 America (December 18): Eddie Murphy's comeback continues.
The Croods: A New Age (December 23): CGI cavemen encounter the most dangerous predator of all: neighbors.
$20
Ammonite (November 13): Victorian fossil-hunters Kate Winslet and Saoirse Ronan fall in love.
Nomadland (December 4): Frances McDormand hits the road in Chloé Zhao's awards hopeful.
The Trial of the Chicago 7 (October 16): Aaron Sorkin and Netflix shoot for Oscar with this late-'60s courtroom drama.
News of the World (December 25): Tom Hanks reunites with his Captain Phillips director, Paul Greengrass, in the Wild West.
Hillbilly Elegy (TBA): Relive the heady days of late 2016 as Ron Howard adapts the J.D. Vance best seller. On Netflix.
Mank (TBA): David Fincher brings the tale of Hollywood screenwriter Herman Mankiewicz to electrifying life. On Netflix.
$17
Antebellum (September 18): Janelle Monáe stars in a "social thriller" whose plot is shrouded in mystery.
Greenland (September 25): Gerard Butler versus a comet.
Dick Johnson Is Dead (October 2): Acclaimed father-daughter documentary out of Sundance. On Netflix.
Time (October 9): Acclaimed prison documentary out of Sundance.
Candyman (October 16): Nia DaCosta's remake of the '90s horror classic.
The Father (December 18): Olivia Colman and Anthony Hopkins in an Alzheimer's drama.
Free Guy (December 11): High-concept comedy with Ryan Reynolds as a video-game NPC.
$15
Mulan (September 4): Disney made a man VOD release out of you its former spring tentpole.
The Nest (September 18): Jude Law goes creepy in this family thriller.
Ava (September 25): Jessica Chastain as an assassin.
Honest Thief (October 9): Liam Neeson as a truthful robber.
The War With Grandpa (October 9): Robert De Niro didn't get nominated for The Irishman, and this family comedy is his revenge.
Connected (October 23): Computer animation about a computer uprising. It's a comedy!
Clifford the Big Red Dog (November 13): The dog from the books, now in a movie.
$12
Kajillionaire (September 25): Miranda July's quirky comedy about a family of petty hustlers.
Fatale (October 30): Hilary Swank as a femme, well, fatale.
Let Him Go (November 6): Kevin Costner and Diane Lane save their grandson from the clutches of Evil Lesley Manville.
Happiest Season (November 25): Kristen Stewart and Mackenzie Davis spent the holidays together. Harold, they're lesbians!
On the Rocks (October TBA): Sofia Coppola's latest is a Rashida Jones–Bill Murray father-daughter comedy. In theaters and on Apple TV+.
Let Them All Talk (TBA): Steven Soderbergh made an older-ladies-hanging-out comedy? Starring Meryl Streep? And it'll be on HBO Max?
Ma Rainey's Black Bottom (December TBA): Viola Davis leads the Netflix adaptation of the August Wilson play.
$10
The Owners (September 4): Maisie Williams goes horror.
Blackbird (September 18): Euthanasia drama with Susan Sarandon and Kate Winslet.
The Boys in the Band (September 30): Ryan Murphy brings the 2018 revival of the 1968 play to Netflix.
The Forty-Year-Old Version (October 9): Sundance comedy about an adult woman deciding to become a rapper. On Netflix.
The Glorias (September 30): Fresh off being played by Rose Byrne, Gloria Steinem gets a biopic in which she's played by not one but two Oscar winners.
Possessor (October 9): Andrea Riseborough controls people's minds!
Over the Moon (October 23): Animated musical about a trip to space. On Netflix.
Deep Water (November 13): The film during which Hollywood's greatest love story, Ben Affleck and Ana de Armas, began.
Voyagers (November 25): Colin Farrell in space!
The Prom (December TBA): Ryan Murphy brings the 2018 Broadway musical to Netflix, with a star-studded cast that includes Meryl Streep, Nicole Kidman, and James Corden.
$7
Unpregnant (September 10): Haley Lu Richardson in an abortion road-trip comedy. On HBO Max.
Rent-a-Pal (September 11): Quirky male-bonding thriller.
I Am Woman (September 11): Helen Reddy biopic.
Enola Holmes (September 23): Netflix takes this Millie Bobby Brown show to Victorian London.
Secret Society of Second-Born Royals (September 25): The Princess Diaries meets Sky High. On Disney+.
The Climb (November 13) Cringe-filled buddy comedy shot in a series of long takes.
Rebecca (October 21): Remaking Hitchcock? It worked for Gus Van Sant, sorta. On Netflix.
Holidate (October 28): Netflix holiday rom-com starring Emma Roberts.
The Comeback Trail (November 13): A remake of the 1982 Hollywood satire.
Uncle Frank (November 26): Paul Bettany is a closeted professor attending his father's funeral in the 1970s. On Amazon Prime.
Black Beauty (TBA): Kate Winslet voices a horse. On Disney+.
$5
The Devil All the Time (September 16): In which all your favorite hunks do their best southern accents. On Netflix.
The Secrets We Keep (September 16): Noomi Rapace Holocaust revenge flick set in postwar suburbia.
The Artist's Wife (September 25): Lena Olin is … the artist's wife!
The Babysitter 2 (September 25): McG now has his own horror franchise. On Netflix.
After We Collided (October 2): They made a sequel to the 2019 romantic drama After.
The Courier (October 16): Benedict Cumberbatch is a British businessman caught up in Cold War espionage.
Bad Hair (October 23): Black-hair horror-comedy from the director of Dear White People. On Hulu.
Come Play (October 30): A bad guy torments Gillian Jacobs's son through his phone.
The Empty Man (December 4): A grieving ex-cop encounters supernatural horrors.
Embattled (November TBA): Stephen Dorff as an MMA fighter!
His House (October TBA): Sudanese refugees make it to England, encounter a different kind of horror.
$2
Critical Thinking (September 4): John Leguizamo teaches underprivileged kids about chess.
Summerland (September 14): Music-festival catfish comedy. Not to be confused with the Gemma Arterton film of the same name.
Chick Fight (November 13): Malin Åkerman does mixed martial arts.
Death of Me (October 2): Thailand-set thriller starring Maggie Q and Luke Hemsworth.