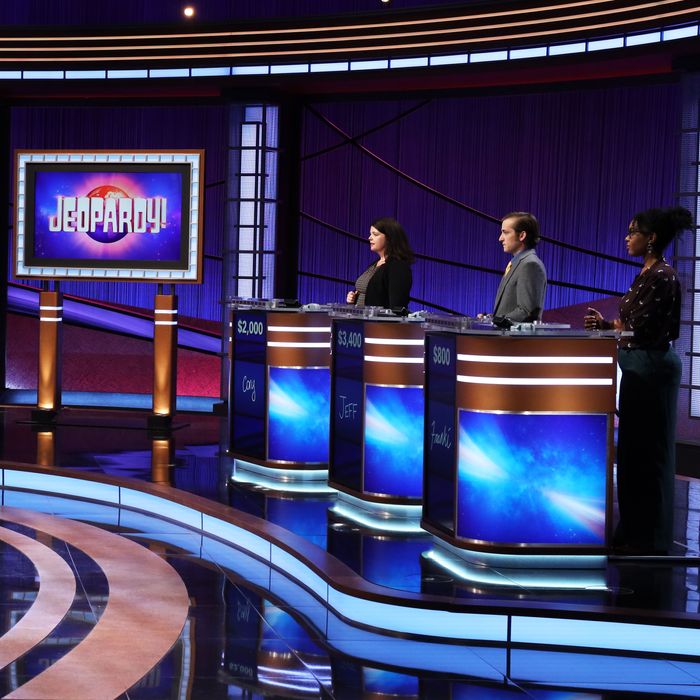 Cory Barger on the far left.
Photo: Courtesy of Jeopardy Productions, Inc.
After several months of a forced hiatus due to the coronavirus pandemic, Jeopardy! made its glorious return to the airwaves on Monday, September 14, with a snazzy new socially distant set and 75 percent more Ken Jennings. Cory Barger, an orchestra musician from Riverside, California, clinched the game's win while standing 6 feet apart from her fellow contestants, effectively ushering in a new era for the show. Below, Barger recounts her exciting Jeopardy! experience to Vulture, which began with a virtual audition and ended with a wide-angle commemorative photograph with international treasure Alex Trebek. What is … a terrific story!?
I had my audition in April over Zoom, but took the test in February before the pandemic started. I didn't know what to expect — I dressed up my bedroom as best as I could and tried to look professional with some good lighting. The producers asked personal questions, like biography, Alex Trebek-style questions, and we did a mock Jeopardy! game. It started as a group interview and everyone would be muted while you were spoken to directly. And then we did a mock game round. There were groups of four people at a time and we would rotate through each person.
I had maybe ten seconds of an internal back-and-forth when I got the call if I wanted to do it or not, but my gut reaction was yes. The show had explained the coronavirus protocols and all of the things they were doing for safety, which was more than sufficient. All I wanted to do was make sure my parents, who I was quarantining with at the time, were fine with me going off and leaving our bubble. Since the pandemic started, my work has basically been cancelled, so I came home to lay low with my parents in Riverside, which is a city about an hour and a half away from the studio.
When the day finally came, I got up super early at 4 a.m. since the call time was at 7 a.m. I'm not a morning person! So I was really stressed about waking up on time. Everyone had to drive themselves to the studio. I did my make-up in the car when I got there, as everyone also had to do their own make-up with the new precautions. I had a conversation with another female contestant about how stressed we were that our lipstick was going to smear underneath our masks when we were walking around the studio. [Laughs.] Every contestant had to have a negative COVID test within seven days of the tape day and they also recorded our temperatures in the morning when we arrived outside the studio. We were actually held in the Wheel of Fortune studio as our green room, which was weird in a good way. We were staring at the wheel totally covered in dusty plastic. After our morning orientation we were escorted to the actual Jeopardy! studio where the audience would normally go in, and a guy with gloves and a face shield clipped a microphone on me. That's the only time I was touched.
The studio was still intimating, unsurprisingly, but it was really nice and spacious. The podiums were 6 feet apart and they had us walking with a lot of space in between each other. We'd go to our podiums one at a time, and only there were we allowed to take our masks off. When I won, I had a little chat with Alex afterwards, and there was a good amount of banter despite being pretty far apart. But I had to be rushed off to change my clothes for the next show. It really was a dream, it didn't feel real. I remember thinking when I was walking out of the studio, That's real money I actually won? Wow. When I did my quick costume change, I also remember thinking I wish I wore different shoes. I was in heels and running back and forth and it became painful. [Laughs.] They didn't make any changes — at least they didn't say that they did — to the studio besides what has already been announced with the podium spacing.
Alex was great, very friendly, and kind. He seemed like he was very happy to be back at work. His voice was a little quieter than what I expected. But he was in really good spirits and would crack jokes before and in-between takes with the production team. All contestants got a "distanced" photo with Alex. We would stand on one side of the Final Jeopardy! screen and he would stand at the podium for a wide-angle photo. It was a little bit sad that I didn't get to shake hands with him, but I understood why that wasn't possible, and I was grateful that I was on the show at all. It was such a great atmosphere from the entire Jeopardy! staff. People were thrilled to be back and everyone was friendly and supportive. It was important for everyone to make it a safe experience, which it definitely was. Sure, there were a few kinks — people were still figuring out timing and where things were going to be. We were confused about where to be at times in regards to walkways and such, but in the grand scheme of things, who cares about directions?