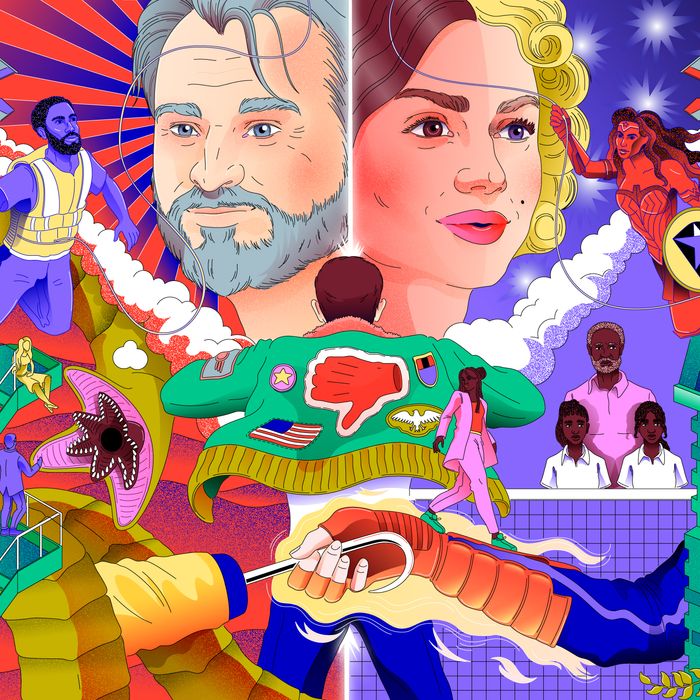 In the fictional absence of a global virus, we imagine what could have been.
Illustration: By Ari Liloan
We're living in the year of the Hollywood asterisk. After an entire summer movie season was postponed, the entertainment industry is existing on a prayer, hoping that movie theaters magically reopen this fall so studios won't have to keep releasing their blockbusters abroad and surrendering the rest to a willing streaming platform. The Oscars are delayed until April either way, pushing all the big awards-bait films to January or February as a result; it'll be eight more months before we even know what 2020 had to offer. In this fraught and chaotic new reality, up is down, light is dark, Elisabeth Moss in The Invisible Man is vying for Best Actress, and Hamilton is a film. It's hard not to think about the year of movies that could have been.
A pandemic lends itself to alternate-timeline fantasies, after all. And as the summer of 2020's breakout star, Jeff Goldblum, taught us when we were all too impressionable to know the difference between science and Michael Crichton, one subtle intervention can have far-reaching outcomes. A butterfly flaps its wings at the Cannes Film Festival and Parasite is 2019's early Best Picture champion. In the absence of a global, life-ending virus throttling the country, what films would have caught our attention at film festivals this May and beyond? Which stars would have captured the zeitgeist, promoting their films from the hull of an Italian boat instead of in masks outside a Dunkin'? What would Ben Affleck and Ana de Armas have been photographed doing?
The following 13 predictions are a bit of wishful thinking mixed with an iota of probability. Mind you, this isn't what would have happened in a perfect entertainment world, just what might have happened if the dominoes had been allowed to fall in 2020 rather than be knocked down all at once when COVID-19 slammed its fist on the table. It's a deep, melancholy sigh of an alternate universe, that is governed by nothing but a desire to imagine what this spring through awards season would have looked like if Mulan was never shunted to Disney+, the latest Bond movie was never pulled from the calendar, Wes Anderson's latest French-inspired film actually premiered in France, and life thereafter wasn't interrupted indefinitely.
1. Ana de Armas becomes an Oscar front-runner.
Unimpeded by the spread of an international contagion, No Time to Die, the 25th James Bond film, opens on April 10. It's immediately hailed as a rejuvenation of the franchise after the disappointing Spectre, and conversations quickly turn to who will be back for Bond 26. Ah, to imagine the future! Famously ambivalent about sticking with Bond, Daniel Craig is noncommittal, which leads to some well-sourced speculation that a new Bond movie might move in a radical new direction for its lead character, with the likes of Watchmen's Yahya Abdul-Mateen II or Spider-lad Tom Holland floated as possible recasts.
With screenplay contributor Phoebe Waller-Bridge and director Cary Joji Fukunaga getting the lion's share of credit for what some headlines are claiming is "The Best Bond Ever," Hollywood sets off on a hunt to snag the next witty British talent responsible for writing idiosyncratic TV to help continue refurbishing franchises. Paramount approaches Michaela Coel, hot off the HBO success of I May Destroy You, to see if she'd be interested in taking a pass at the next Star Trek movie, but as she did when Netflix offered her a truckload of money for her TV series, she takes a wise pass.
Meanwhile, though, the Ana de Armas hive is eating well. After giving a performance that critics say elevates far beyond the traditional "Bond Girl," de Armas is the hottest commodity in Hollywood. Netflix, catching the temperature of the moment, moves up the release date for Blonde, the Andrew Dominik–directed film in which de Armas plays Marlyn Monroe, to December. In late summer, Blonde plays the major film festivals in Telluride and Toronto, solidifying awards buzz for her performance, and by the time December hits — bringing with it a Golden Globe nomination — de Armas is the consensus front-runner to win Best Actress at the Oscars.
2. The French Dispatch wins the Frenchest film award.
As was originally planned, Wes Anderson's latest star-studded exercise in formalist whimsy, The French Dispatch, is selected by the Cannes Film Festival. In fact, the film is selected to open the festival, with the likes of Tilda Swinton, Léa Seydoux, and Timothée Chalamet dazzling the red carpet. Does Chalamet show up to the premiere looking deeply French with a goatee and perhaps a beret, causing Twitter to melt down in response? You know he does. The reviews hail the film as an ode to journalism in an age when Trump continues to try to destroy it. In a surprise decision, given the scuttlebutt among Cannes followers that the Spike Lee–helmed jury would opt to recognize Garrett Bradley's incarceration-themed documentary Time, The French Dispatch wins the Palme d'Or, and soon after, Fox Searchlight moves the film's release date to October to prepare for a proper awards-season run.
In other Cannes developments: The first three episodes of Steve McQueen's Small Axe miniseries premiere out of competition and are a huge hit with critics, sparking yet another round of the sort of "what is a movie anyway?" debates, the kind that also rage anytime certain circumstances force American entertainment to be consumed only in our living rooms. Also Viggo Mortensen's directorial debut, Falling, debuts, with Mortensen's performance as a gay man caring for his homophobic father with dementia garnering both Oscar buzz (big auteur energy!) and controversy (another straight man getting praised for a gay role!).
3. 2020 is the Year of the Action Heroine.
Wonder Woman 1984 opens on schedule on June 5 and the box-office numbers are insane. A $200 million opening weekend completely shatters early expectations, en route to the Patty Jenkins–directed sequel becoming the No. 1 box-office success of 2020. It's one of several female-centered action movies to drive major box-office in 2020, coming on the heels of Emily Blunt in A Quiet Place Part II, Liu Yifei in Mulan, and Scarlett Johansson and Florence Pugh in Marvel's Black Widow, standing in stark contrast to a few male-centered summer flops (more on that later). It does not go unnoticed, either, that Wonder Woman (Jenkins), Mulan (Niki Caro), and Black Widow (Cate Shortland) are all directed by women. With the American box office still reigning supreme, they're all hits in the U.S., and by the time director Chloe Zhao's Eternals opens in November, the Year of the Action Heroine has become the dominant box-office narrative of 2020.
The Wonder Woman success is also a massive boon to Gal Gadot's standing as an A-list movie star. Gadot's as hot as she's ever been, and Universal immediately begins plans to write her character back into the next Fast & Furious movie. She becomes such a valuable celebrity "get" that she's tapped by the Joe Biden campaign to appear at the bustling and very much in-person Democratic National Convention in Milwaukee. There, she presents a stifling video with all her closest celebrity friends singing a song near and dear to her heart, "Imagine," in support of Biden/Harris 2020 — a chilling reminder of … something. Probably the "Fight Song" debacle of 2016.
4. Christopher Nolan saves cinema.
Christopher Nolan's Tenet opens on July 17 without any delays or release-date changes, because why would there be? There is a lot of prerelease buzz about how you have to sashay (dainty teacup in hand) into the movie theater knowing absolutely nothing, and how important it is to see it on the biggest screen possible with the best sound available — the most annoying people on Film Twitter are really having their moment with this one. The reviews (from critics who have certainly not been hibernating in their homes for months only to be forced to resurface prematurely and risk infection to listen to an excruciatingly dense but exceedingly well-directed lesson on entropy) are pretty good, though not good enough to prevent the Nolan bros from swarming the few "rotten" reviews online (because the fanboys, they persist). Anyway, the box-office response is great. Oh, and if you thought the quest to untangle Inception's byzantine plot was an undertaking, the Tenet discourse blows it away. It's all anyone can talk about for weeks, with fans gleefully skipping back into theaters for fifth and sixth viewings to beef up their theories posted to forums, recited on YouTube, picked apart on Reddit threads. It's a carefree summer, right? What else do we possibly have to do?
When that furor dies down, the long view on Tenet becomes the triumph for original, non-franchise, non-sequel filmmaking: Christopher Nolan showed up and saved blockbuster cinema from the cinematic universes. In other words, no matter what, we were always going to get a Chris Nolan savior narrative.
5. The Summer of Hamilton? Try the Summer of In the Heights.
We all know how it went down. Disney announced in early February that it had acquired the rights to the filmed stage production of Lin-Manuel Miranda's smash Broadway hit and that it would release into theaters in October 2021, reigniting Hamilton fever and making it seem like it was 2015 all over again. In a world where COVID never happened, Disney+ never pulls the trigger early on the July 4 weekend, 2020, to much rejoicing in our claustrophobic living rooms. Instead, Disney keeps that 2021 date firmly in place. This is bad news for a certain streaming platform (though don't cry too hard, since in a no-COVID world, WandaVision is right on track to kick off the MCU's new TV universe), but for Lin-Manuel Miranda partisans, you still get your moment — because In the Heights opens on June 26.
The film, based on Miranda's 2008 Tony Award–winning musical, takes appreciation for that show to a whole new level. Demand begins to get louder and louder to release the recording of the original stage production, instigating a debate over whether live theater needs to be more accessible to the masses. Real ones are quick to remind these people that the original London production of Cats is already available.
Meanwhile, In the Heights' lead performer, Hamilton star Anthony Ramos, enjoys a major breakthrough en route to a Golden Globe nomination at the end of the year. On the Globes red carpet, he fields questions about the rumors that he's in talks to take over the Spider-Man role in the Marvel movies if Tom Holland is indeed cast as the new James Bond.
6. Both Top Gun and Ghostbusters reboots flop hard.
The movie studios' attempts to resurrect the mid-'80s, through science or magic, hits a couple real snags at the summer box office. Top Gun: Maverick opens on June 26 and it's highway to the flop zone. Tom Cruise trying to recapture his old flight-suit glory flies a little too close to the uncanny valley, making its nostalgia-soaked target audience just feel old. Talk once again arises that Tom Cruise can no longer open movies that don't have the words "Mission" or "Impossible" in the title. Undaunted — or perhaps quite daunted and eager to change the narrative — Tom Cruise immediately approaches Elon Musk about adding scenes to the next Mission: Impossible to be filmed in outer space, where no one can hear you age.
Two weeks later, Ghostbusters: Afterlife also opens to disappointing box-office numbers. The opening-weekend splat caps off a nightmare publicity tour during which the culture-war remnants of the 2016 Ghostbusters reboot get ignited, and Jason Reitman says at least one thing per day that gets him roasted online. Obviously, Donald Trump weighs in with a tweet in favor of "very important classic Ghostbusters," which is being unfairly maligned by fake news and the Obama administration.
7. The Woman in the Window Becomes the Cats of 2020.
Undeterred by how bonkers the trailer made it look, 20th Century Studios goes full steam ahead with a May 15 theatrical release of The Woman in the Window, director Joe Wright's adaptation of A.J. Finn's novel of the same name starring Amy Adams, Julianne Moore, and Gary Oldman. Film critics have their knives out for the movie, and opening-weekend audiences howl … but that laughter isn't entirely at the movie. Word of mouth spreads that The Woman in the Window is the best time you'll have at a movie since Cats, and savvy movie theaters begin to schedule rowdy screenings for clever hipsters looking to cosplay as Jennifer Jason Leigh cosplaying as Julianne Moore. Undaunted, Adams hosts the season finale of Saturday Night Live, delivering a headline-making impersonation of Kayleigh McEnany.
8. Candyman Gets Nia DaCosta the Captain Marvel Gig
Okay, this actually happened in the pandemic timeline as well, which just goes to show you that even a world gone all to hell can get it right on one or two occasions. In a COVID-free world, though, the Jordan Peele–produced, Nia DaCosta–directed reboot of Candyman opens on schedule on June 12 and becomes the sleeper horror hit of the summer. Peele is once again celebrated as a master of modern, socially conscious horror, but it's DaCosta who gets the most tangible career boost as she's tapped by Marvel to direct the upcoming Captain Marvel sequel.
Meanwhile, Tony Todd becomes the meme machine he was always meant to be but couldn't, because the original Candyman movies happened before social media. In an Instagram video, his deep, velvety voice guides viewers through a thoroughly unproblematic shallot-pasta recipe. (We're all too busy seeing movies and attending live theater to cancel a cookbook author.) It's the highlight of a very delightful press tour.
9. Ben Affleck and Ana de Armas prepare to walk the Oscar red carpet together as co-nominees.
There is a wave of optimism and possibility heading into the fall festival season, as international travel to places like Venice and Toronto is unencumbered and the prospect of gathering in cloistered film communities like Telluride is merely fraught with class consciousness rather than the fear of catching a deadly disease. The Toronto International Film Festival, among its hundreds of films screened, premieres director Adrian Lyne's psychological thriller Deep Water, starring real-life couple Ben Affleck and Ana de Armas.
The pair become the red-carpet darlings of TIFF, dazzling the paparazzi with photo ops not only at the premiere but "casually" strolling the Toronto waterfront, taking in the sights, and trying to mask Ben's clear disdain at having to accept Tim Horton's as a poor substitute for his beloved Boston-based ice-coffee brand. With Ana already firming up a campaign for Blonde, the Deep Water discourse centers on Affleck, who earns heaps of praise for his performance, which is said to lean heavily on his Gone Girl vibe. By the end of the festival, Deep Water is the surprise winner of the TIFF People's Choice Award and automatically becomes an Oscar contender, putting Affleck back where we have always wanted him: on a publicity tour, engaging in ever more outlandish rants about East Coast sports, including an instantly notorious appearance on Jimmy Kimmel Live where he drags Tom Brady through the mud for leaving New England for Tampa Bay.
10. The Many Saints of Newark ignites a nationwide Sopranos rewatch.
Festival season rolls happily on, as the New York Film Festival opens with director Alan Taylor's The Many Saints of Newark. Without the vast majority of Americans isolating in their homes, you might think there is no cause for the huge spike in people getting very into The Sopranos on streaming. You'd be wrong. But what does end up sparking Sopranos fever in this pandemic-free world is the premiere of this Sopranos prequel film, starring James Gandolfini's son Michael as a young Tony Soprano; Vera Farmiga as his manipulative mother, Livia; and Jon Bernthal as the oft-discussed patriarch, Johnny Boy Soprano. New York is the perfect launching pad for the movie, and the city gives it a warm welcome, with festival critics singling out performances by Farmiga and Billy Magnussen as a young Paulie Walnuts.
11. The Trial of the Chicago 7 is a political lightning rod ahead of the 2020 election season.
Without the pandemic, the Aaron Sorkin film about the arrest and prosecution of a group of anti-Vietnam War protesters who were charged with inciting a riot at the 1968 Democratic Convention in Chicago is released theatrically by Paramount instead of getting shunted to Netflix. The parallels to the Trump presidency, the police state, and the unrest surrounding Trump's in-person Republican Convention are thick, and the film opens in theaters in September to modest box office but a swirling gust of editorials, backlash, and counter-backlash in the weeks leading up to the election. (Somewhere at Blumhouse, its namesake is cry-watching The Hunt now that it's finally on demand.) At the same time, Shaka King's Judas and the Black Messiah also invokes a revolutionary moment of the 1960s with a film about the Black Panther Party's Fred Hampton, who was the target of an FBI takedown. As Hampton, Daniel Kaluuya gets the best reviews of his career, and when the film is released in time for an awards-season run, Kaluuya is tagged as a supporting actor contender.
12. Will Smith becomes your Best Actor Oscar front-runner.
Smith's role as Richard Williams, father of Venus and Serena, in the Warner Bros. film King Richard, starts getting good press even before festival season approaches. The only thing threatening an Oscar run are the summertime rumors from one August Alsina about an alleged affair with Jada Pinkett Smith. (Don't worry, the non-pandemic timeline still gets that epic Will and Jada Red Table Talk.) On July 2, Jada tweets that she's bringing herself to the Red Table, once again proving that the Smith family still owns Fourth of July weekend, which successfully puts Will in good PR standing for awards season. King Richard becomes the talk of the Telluride Film Festival, called the welcome return of one of the great movie stars, with Smith hailed for his best work yet. Neither Venus nor Serena can be there for the premiere because the U.S. Open is in full swing with fans in attendance as usual, because live sports without fans would be a deeply bizarre experience that you wouldn't even consider attempting. But the Red Table Talk with Will, Jada, Serena, Venus, and Richard Williams in January breaks all internet viewing records.
13. Oscars 2020 becomes a battle of Dune vs. West Side Story.
With plenty of star-driven biopics (in addition to Blonde and King Richard, there's David Fincher's Mank, about Citizen Kane writer Herman J. Mankiewicz) and politically charged polemics (including Spike Lee's Da 5 Bloods, which still gets stellar reviews for its summer premiere on Netflix) in the mix, the Oscar race for Best Picture becomes a battle of auteurs tackling huge-scope remakes. Denis Villeneuve's Dune and Steven Spielberg's West Side Story open on the same day, December 18, with intimidatingly high expectations for both. Villeneuve's Dune is hailed as a visual marvel and the Canadian director gets big praise for finally getting the sci-fi property right. But it's crushed at the box office by Spielberg's musical extravaganza, which gets the most broad-based acclaim for a musical since Chicago.
In addition to the films themselves, the press narratives are pretty irresistible. Dune's Timothée Chalamet versus WSS's Ansel Elgort in a battle of twinky LaGuardia classmates! Rita Moreno and Dave Bautista paired in the Variety actors-on-actors series! In January, the Oscar nominations are announced, and the top ten Best Picture nominees are Dune, West Side Story, The French Dispatch, The Trial of the Chicago 7, Da 5 Bloods, In the Heights, Mank, The Many Saints of Newark, Deep Water, and — after a heroic and canny campaign by Universal — Candyman. The box office enjoys a massive swell in the post-nomination weeks, with audiences flocking to see the nominees in theaters, without a care in the world about the recirculated air they're breathing.
In February, the Oscars are held on time and as planned. Host Ellen DeGeneres, plagued by controversy ever since the announcement that she'd host for the third time, gets up to her usual antics, which include attempting an even bigger Hollywood selfie (which falls apart when no one wants to pose with Ellen's special guest, former president George W. Bush) and having a staffer hide behind nominee Anthony Hopkins's seat and then jump out to scare him. Presenter Dakota Johnson causes a huge stir when she takes the stage with her dates for the evening: three disgruntled Ellen staff members who have organized a picket line outside the Dolby Theatre, alleging mistreatment while working on her show.
The Oscars themselves are an indulgent, luxurious affair, free from any need for social distancing or masks. Ana de Armas walks the red carpet in a replica of Gwyneth Paltrow's 1999 Oscar-winning pink dress. Kristen Stewart (a first-time nominee for the romantic comedy Happiest Season) stuns with a high-glam androgynous look. Timothée Chalamet and Ansel Elgort, their playful rivalry having turned actually serious, refuse to present Best Cinematography together unless accompanied by neutral third party Annette Bening. Billie Eilish performs the nominated song "No Time to Die," joined onstage by a full orchestra, composer Hans Zimmer, and the burning cars from the Crash Oscars.
The acting winners are Will Smith in Best Actor for King Richard (with Richard Williams in the audience waving an "It's a Willennium Party and No One's Invited" sign), Ana de Armas in Best Actress for Blonde, Vera Farmiga in Best Supporting Actress for The Many Saints of Newark, and, in a shocking upset over The French Dispatch's Bill Murray, Daniel Kaluuya in Supporting Actor for Judas and the Black Messiah.
When it comes time for Best Picture, Shirley MacLaine emerges to present, commemorating the 60th anniversary of The Apartment winning Best Picture. She's joined, famously, by her brother, Warren Beatty. The tension is ludicrously thick as Beatty opens the envelope, memories of the Moonlight/La La Land debacle still fresh, and he hands MacLaine the card. She checks it, then double-checks it, then triple-checks it, before leaning into the microphone and, with a mixture of bewilderment and delight, announces, "We have a tie."
This is the first installment in Vulture columnist Joe Reid's new ongoing series, Alternate Timelines.
For a rundown of our favorite films that managed to come out this year, head here.