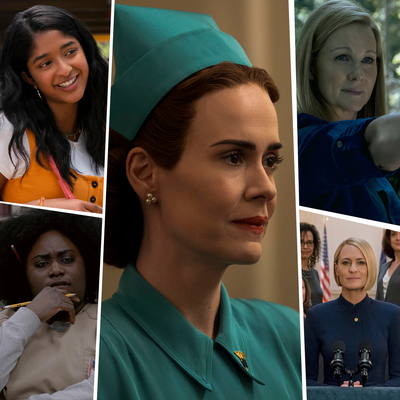 Photo Illustration: Ashlie Juarbe
Photo: Courtesy of Netflix
One half of a multi-million dollar money laundering scheme in remote central Missouri. A high schooler dealing with complicated teenage emotions, sometimes hurting her friends and family as she struggles to find herself. An inmate who takes a stand to fight for better prison conditions after the death of her best friend. The CEO of a non-profit organization who works her way up the political ladder to become president of the United States.
We put together this list to include the four fictional characters we'd love to invite to our dream dinner party — but also, these women are just a handful of the dynamic and badass female characters featured in Netflix original shows. The streaming service has made room for lovable, brave, and complex female characters and their unique stories.
In the upcoming original series Ratched, Netflix finds its next female lead in Mildred Ratched, the psychiatric nurse from One Flew Over the Cuckoo's Nest (best known as the novel by Ken Kesey that everyone read in high school). Created by Ryan Murphy and starring Sarah Paulson in the titular role, Ratched tells the never-before-told origin story of the famous villainous character, diving into Mildred Ratched's background in psychiatric hospitals to address provocative questions about medical ethics, the monsters inside of us all, and who gets to decide what is "sane" or "insane." Coming to Netflix on September 18, the unsettling and suspenseful series continues the streaming service's legacy of centering strong women who we can't help but root for.
Warning: This article contains spoilers for many of the series mentioned. 
Mildred Ratched, Ratched
The iconic literary character finally gets a new origin story in Ratched, complicating the woman whom we all remember as evil and heartless in Kesey's classic novel. Although she's the one-dimensional villain of One Flew Over the Cuckoo's Nest, on Netflix, Ratched unpacks her many layers, showing how this damaged woman became the calculated and ruthless nurse we see in the book.
When the show begins in the 1940s, Mildred (Paulson) seeks employment at a psychiatric hospital during a time when many institutions are practicing untested and unsettling experiments on patients. The show details her methods in dealing with patients, watching her become increasingly bitter and jaded as she delves further into mental health care. Through Paulson's jaw-dropping performance, we follow this emerging sociopath and her patients as they try to figure out whether she's showing them mercy, making them feel crazy, or something even more sinister — a combination of both. Despite it all, Paulson emphasizes Mildred's vulnerability and altruistic goals so we're forced to empathize with her: the true mark of a badass and complicated female character. (And Paulson knows a thing or two about playing complex, strong-willed female characters — see literally any of her previous roles for an example.)
Wendy Byrde, Ozark
From the beginning, Laura Linney's character of Wendy Byrde in Ozark defied the traditional tropes of a long-suffering wife married to a man who's gotten dangerously caught up in unsavory, illegal activities — whether it be cooking meth, life in the mob, drug dealing, or [insert your male antihero profession of choice here]. In the very first episode of Ozark, we learn that Wendy is aware of and complicit in her husband Marty's money laundering scheme, even though she doesn't appear to have an active hand in it.
As the series progresses, however, Wendy becomes a principal partner in his criminal activities, which he has relocated to the Lake of the Ozarks after a threat from a powerful Mexican drug cartel. She begins to make decisions about the money laundering scheme without consulting Marty, growing more ruthless by the episode — even taking out a hit on her own brother in season three. Her future is up in the air until Ozark returns for its fourth and final season, but in the meantime, we'll leave you with Wendy's perfect, scathing words to Marty after making a big decision without him in season one: "Quite frankly, I don't give a shit if you like it or not, 'cause I feel pretty good about it. It's a good idea, and I did it for our family. What'd you do today — for our family?"
Devi Vishwakumar, Never Have I Ever
Our teenage years are full of complex, confusing emotions that can lead even the best of us to make bad decisions. Never Have I Ever, which premiered earlier this summer, follows the hilarious 15-year-old Devi Vishwakumar (Maitreyi Ramakrishnan) as she copes with high school, friendships, and crushes — all in the aftermath of her father's recent death. Though Devi loves her friends (her BFFs Eleanor and Fabiola, and even her frenemy Ben) and her family (she lives with her mother, Nalini, and her cousin, Kamala), throughout the series she makes questionable decisions that end up hurting the people she loves. An incomplete list: leaving Eleanor and Fabiola in a moment of crisis because she's gotten a text from her hot crush Paxton, declaring "nuclear war" on Ben at a Model U.N. conference, and telling her mother that she wished she had died instead of her father.
Despite her choices, Devi is beloved by viewers for being relatable. She's prone to making mistakes as she navigates young adulthood and the teenage trials and trauma that come with it, but we always root for her because we see our (teenaged, lovesick, confused) selves in her. (Although, honestly, she's way more stylish and funny than most of us were at 15.)
Tasha "Taystee" Jefferson, Orange Is the New Black
Orange Is the New Black is the true definition of an ensemble show. In the series' seven seasons, there are dozens of main characters, with each episode switching the point of view and providing backstories via flashbacks. This format helps us grow attached to the slew of characters both inside and outside of the prison that makes up the primary setting of the series. However, in this ensemble show, one character stands out from start to finish: Tasha "Taystee" Jefferson, played by Danielle Brooks. After becoming a fan-favorite character in seasons one through three, Taystee assumes a larger role in the series after her friend Poussey Washington is killed by a prison guard in the season four finale.
Stunned and horrified by the lack of accountability following Poussey's death, Taystee helps lead a prison riot in season five to demand justice and better conditions for the inmates. Taystee's story turns heartbreaking in the aftermath of the riots: After a prison guard is killed, she becomes the government's scapegoat for the riots, and in a heartbreaking and harrowing season six episode, she is charged with a murder she didn't commit and sentenced to life in prison. By the end of the series, Taystee has become a GED tutor for her fellow inmates and started the Poussey Washington Fund, a program providing microloans for prisoners after they've been released, combined with education on how to manage finances. Perhaps the most beloved character on this list, audiences are drawn to Taystee because of her relentless ability to stand up for what she believes in, despite existing in a setting that makes it nearly impossible for her to do so.
Claire Underwood, House of Cards
Rising from the wife of a Democratic congressman to president of the United States in less than six seasons of television, Claire Underwood (Robin Wright) redefined what it meant to be a politician's wife. In the beginning of the series, Claire represented a modern-day Lady Macbeth figure, aiding and abetting her husband's political ambitions until she finally decided to put her own career in politics ahead of her husband's. After securing a U.N. post, she joined her husband's ticket as vice president, later becoming the president after his death.
Unlike many shows featuring a husband and wife pair, in House of Cards, the amoral, ruthless Claire quickly became more powerful and cunning than her husband. As her power and influence grew, so did her crimes — we'll never forget that last season six murder that took place in the hallowed Oval Office itself. Despite all of her illegal political maneuverings (and, oh yeah, those murders) Claire remained a compelling, nuanced character throughout the series, leaving the audience still rooting for her and empathizing with her all the way to the end. (Wright's performance was critically acclaimed throughout the show's run, and she plays Claire so terrifyingly well that we're honestly afraid to meet her in real life.)
Paulson's Mildred Ratched is in good company with these women, our favorite badass, dynamic, ultimately lovable Netflix female characters. The famous nurse will join the Netflix family and get to work in Ratched, which also includes femme fatale performances from Cynthia Nixon, Sharon Stone, and more. And don't worry about catching up on your reading homework — no prior knowledge of One Flew Over the Cuckoo's Nest is required. Settle in: It's time to binge watch.
Watch Ratched only on Netflix, September 18.
This advertising content was produced in collaboration between Vox Creative and our sponsor, without involvement from Vox Media editorial staff.