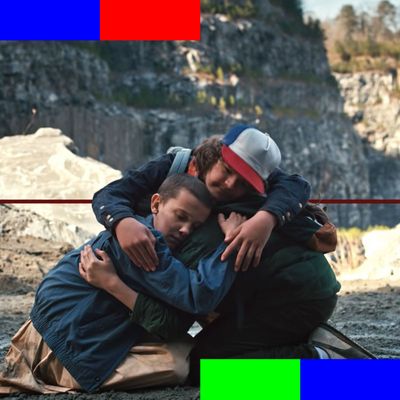 Photo-Illustration: Vulture and YouTube
Netflix spends hundreds of millions of dollars each year promoting individual movies and TV shows on the service. But now the company has decided to invest significant resources into marketing something far more general: Netflix itself.
Earlier this month, the streamer kicked off its first-ever global brand campaign, a 27-country promotional effort built around the tagline "One Story Away." Netflix will be attaching that phrase to digital, TV, and billboard advertisements around the world, starting with a 90-second video spot that combines clips from more than two dozen of its original titles and narration by different members of the company's creative family (including director Ava DuVernay in the United States). All of the ads will feature Netflix's familiar red progress bar, an artistic tool meant to underscore how the progression of a storyline can change how viewers see things. Eric Pallotta, VP of brand at Netflix, explained in a company blog post that the phrase "one story away" is meant to "encapsulate the passion for storytelling that lies at the heart of what Netflix — and the creators we work with all over the world — are trying to bring to our members."
Why Now?
Netflix has promoted itself (rather than its programming) a few times in the past, but those spots mostly came at points in the company's history when it was trying to educate consumers. Early on, that meant selling the concept of DVDs by mail or how to use the service; by 2010, campaigns used humor to let people know Netflix technology now allowed them to watch stuff "instantly" through their TV sets. But with nearly 200 million global subscribers, and almost universal awareness of the Netflix name in dozens of countries, there's no longer much of a need to tell audiences what Netflix is or how it works. Instead, the company wants to remind people of why the service is valuable, even essential.
While Netflix owned the streaming space early and continues to dominate, there's a downside to being so synonymous with a category: It's easy to lose brand identity. The classic example of this is the word Kleenex, which people regularly use to describe any kind of tissue paper, even if they're talking about Puffs or Scotties. Something similar has happened with streaming. It's common for folks who don't closely follow the ins and outs of the entertainment business to label anything on a streaming platform as "a Netflix show," or to even think of platforms interchangeably. This hasn't been a big problem for Netflix just yet because, quite frankly, no other rival streamer has come close to matching the breadth and depth of Netflix's combined original and library offering.
That has changed, of course, over the past year. Netflix is still arguably best in class among streamers, but the advent of well-funded rivals such as HBO Max and Disney+, as well as the giant strides Hulu has made in upping its content game, has dramatically increased the competitiveness of the streaming game. What's more, the era of Too Much TV — which Netflix played a key role in creating! — means even Netflix needs to work harder to stand out from the pack and keep its current membership from even thinking about canceling. "One Story Away" seems designed to help the streamer do just that.
According to Pallotta, the campaign is meant to build a connection between the Netflix brand and its most popular titles. "We're living in such a fast-paced world, with so many things to watch, we wanted to take a beat and slow it down," the exec told me. Indeed, the initial 90-second "One Story Away" pretty clearly goes for an emotional response: The inspirational music, touchy-feely clips (the Stranger Things kids hugging, for example), and the solemn narration all try to make the viewer think of Netflix as their TV BFF.
Global Twists
As befits Netflix's status as the first true global TV platform, the "One Story Away" campaign is being customized and expanded to appeal to viewers in different countries:
➽ While DuVernay is the voice of the American ad, and also is heard in a few other countries, Netflix Australia audiences will hear Hannah Gadsby, while Jasmine Jobson of Top Boy narrates the U.K. version. Other narrators include Maja Schöne (Dark) in Germany; Yalitza Aparicio (Roma) in Mexico; and Naruna Costa (Brotherhood) in Brazil.
➽ Most of the shows and movies featured in the U.S. ad pop up in the global versions, including Stranger Things, Tiger King, Marriage Story, Ozark, The Crown, The Witcher, Cheer, Big Mouth, Orange Is the New Black, and Never Have I Ever. But some titles only pop up in specific countries and territories, such as Elite in Spain or BoJack Horseman and Kingdom in the Asia Pacific region. Netflix let marketing execs in individual regions choose which shows to include and which narrators to use. They also tweaked the wording of the ad copy as needed.
➽ Local Netflix execs have also started to expand "One Story Away" by producing social-media content for their regions. Netflix India, for instance, has a series of video interviews with creators discussing the inspirations for their projects, while Netflix's U.K. and Brazil teams have used the red-progress-bar iconography of the campaign in social-media memes.
What's Old Is New
As modern as Netflix's new branding campaign feels, I also think it's interesting how much of a throwback the strategy is to an earlier era of television. During the glory days of broadcast TV — i.e., the 1970s and 1980s — networks would spend serious money on lavishly produced (for the time) marketing campaigns aimed at doing exactly what Netflix wants to do with "One Story Away." Whether it was ABC reminding viewers it was "Still the One" for hip, trendy sitcoms and dramas, or NBC urging us to "Come Home" to the Golden Girls and Family Ties, the campaigns used images of favorite shows and stars to evoke warm, fuzzy feelings about the network in question.
Execs then wanted audiences to think of ABC or NBC rather than just the generic idea of television. "You found the place where your friends will be," the "Still the One" jingle went. "That's why we hope you'll be watching ABC." The goal was to get folks to fall in love with a network, so much so that they would simply turn on one channel when they got home and watch through the night. Netflix's campaign is infinitely more sophisticated as well as global in scope. But I think the idea behind it is pretty much the same: Netflix isn't just another streaming option; Netflix is Netflix.
The Coming Device Wars
Get ready for a slew of news over the next few weeks from a front in the streaming "wars" that doesn't get a ton of attention: The battle between device-makers. As sexy as Netflix vs. HBO Max is, there's an equally fierce rivalry going on with companies such as Roku, Amazon, Apple, and Google. All are looking to get consumers to invest not only in the hardware they make but also, even more importantly, in the onscreen ecosystem that houses all of those streaming services. Starting today, several of those device-makers are planning to announce significant refreshes to their product lines.
➽ Amazon is first out of the gate today. Just before this week's Buffering shipped, the company unveiled updates to its Amazon Fire TV products, and while there was nothing game-changing, the company did say it would begin rolling out a new Fire TV "experience," which is a fancy way of saying the user interface is getting an overhaul. You'll now be able to make individual profiles for up to six people, and the voice integration with Alexa will apparently be even deeper and more refined than it is now (including a separate hub on the Fire TV menu devoted to stuff Alexa can do). The platform is also adding video call capability for the Fire TV Cube, though you'll need to buy a separate camera for that. Amazon is calling it "the biggest experience update" the company has ever done.
The tech giant is also updating its Fire TV stick, making it 50 percent faster and adding Dolby Atomos and HDR support. The new Fire TV stick will cost $40, while a less-powerful Fire TV Stick Lite will sell for $10 less. Finally, Amazon today also announced that users of its Echo Show devices will now be able to stream Netflix (which until now wasn't possible somehow) and said it's rolling out a gaming subscription service called Luna that will be integrated with Fire TV (and, of course, Amazon's Twitch). While Fire TV is a relatively tiny part of the overall Amazon empire, the platform is actually very popular, with market researchers estimating that Fire TV has roughly the same market share globally as Roku, thanks no doubt to Amazon bundling the service with a number of its consumer products.
Still to come in the weeks ahead:
➽ Google has scheduled a "Launch Night In" event for Wednesday, September 30. While the new Pixel phones will be a big part of the event, a streaming-industry source confirms to Vulture something multiple news outlets have already reported, which is that Google plans to introduce a new version of its Chromecast streaming device. The big news, though, is that this new device could carry a new name (I've heard everything from Google TV to Nest TV), and it will, for the first time, include a remote control. Chromecast users previously operated the device via a phone app, but a remote would make it much more competitive with Roku, Apple, and Fire TV among those of us who have no desire to use their phones to control their TV sets. As we've noted on Buffering before, there are also signs Google plans to radically revamp its user Chrome TV interface to make it more in line with YouTube TV.
➽ There's nothing official yet, but I've heard from sources that Facebook may also be getting ready to refresh its Portal video-call device, which last year added TV-streaming capability.
➽ Roku last announced a new product lineup in September 2019, and usually updates its offerings at least once a year. It would make sense for the company to make some news soon.
➽ Apple is likely to have another media event next month to unveil the new iPhones. Will it also roll out a new version of the Apple TV, possibly one with an easier-to-use remote control? I've seen conflicting reports about the timing of any such updates, but Bloomberg last month suggested an updated device might not ship until next year.
These device wars aren't just about who can appeal to the tech geeks of the world with the flashiest hardware. There is serious money at stake, since hardware manufacturers have become increasingly intent on grabbing a share of the revenue generated by both subscriptions and ad sales from streaming platforms. That's what the just-ended standoff between Roku and NBCUniversal's Peacock was all about, and why Roku has been playing hardball with WarnerMedia's HBO Max.
Who Wants to Buy Quibi?
➽ The virtual Emmy ratings were, as expected, pretty awful. Despite what those on the right would suggest, the decline has nothing to do with politics (trust me, celebs were making plenty of political speeches back when awards shows drew 25 million viewers). The fact is, linear TV in general is seeing massive ratings declines across the board, and awards shows simply aren't as special at a time when celebs livestream their every move on social media. And this year, it didn't help that the Emmys had to face off against both the NFL and the NBA playoffs.
But all those excuses aside, the TV Academy and the TV business should find a way to get the Emmys in front of more eyeballs.
One suggestion: Renegotiate the current "round-robin" agreement, where the Big Four broadcasters take turns airing the show, so that the Emmys actually air on multiple networks each year. At the very least, companies should be able to plaster the show across all the platforms they control, the way ViacomCBS puts events like the BET Awards or MTV Awards on a dozen channels. Why couldn't this year's show air live on ABC, Freeform, ESPN2, and even the basic version of Hulu (i.e., the plan with no live-TV component)? Better yet, strike a deal with YouTube or Twitter so that the shows stream free on those platforms in addition to networks. The broadcast networks would want to pay a lot less for a nonexclusive telecast, but Google has deep pockets and an interest in reaching folks who watch live TV (and might want to subscribe to YouTube TV). Figure something out so that the millions of Americans who no longer pay for cable or even a live-TV service can easily watch the show. It won't reverse much of the decline, but it might stop the bleeding.
➽ Quibi is thinking about putting itself up for sale, per the Wall Street Journal. It would be ironic if the service devoted to content under 10 minutes essentially folded in less than 10 months. While I've long agreed with the industry consensus about Quibi — i.e., why? — I also think it doesn't deserve to be considered a complete joke. The actual Quibi app is actually quite beautiful and a very elegant way to watch streaming content (even if the whole Turnstyle thing is dumb). And there are some good shows, such as Chrissy's Court and the Quibi-fied version of 60 Minutes. I still think one of the biggest mistakes Quibi made was spending the year before it launched generating hype for every single project and talent deal it signed. Much better to sneak in quietly and try to surprise the industry than build up expectations you can't possibly meet.
➽ The folks at Screen Junkies are pretty genius, but they've topped themselves with their latest Honest Trailers effort. This one takes on "Every Streaming Service," and it mercilessly identifies the weaknesses of Netflix, CBS All Access, Hulu, and, well, every streaming service — and then exploits said weaknesses to hilarious effect. I'm not going to spoil even one joke. Just watch.
Party With the WB
While my favorite network image ads of yore were from the 1970s and '80s, attention must be paid to one marking its 20th anniversary this year: "The Night Is Young" from the late, great WB Network. Campaigns where all the big stars of a network got together and pretended they were all best friends and co-workers even off the set of their shows had pretty much gone extinct by the early 1990s. But at the start of the century, the marketing geniuses at the WB (and they really were geniuses) decided to revive and dramatically modernize the idea.
Using a funked-up cover of the Four Seasons' "December, 1963 (Oh, What a Night)" — by Vitamin C! — the ad campaign featured WB stars such as Jamie Foxx, Keri Russell, Michelle Williams, Katie Holmes, and Sarah Michelle Gellar hanging out and getting rowdy in a club filled exclusively with Beautiful People. They stare seductively at the camera (and each other), looking cooler and hipper than any mere mortal could ever hope to be — and never once let on that they're trying to get you to watch a television network. The WB didn't last, of course: Corporate politics had it merge with UPN to become the CW (which still caters to a youth demo). But marketing like the "Night Is Young" campaign is one of the reasons so many folks still fondly remember the WB.
Parting Shot
"Doing an awards show where all the winners are at home is a strange experience. It was probably the first time in history that someone won an Emmy – and then, ten minutes later, put a load of laundry in the dryer."
— Emmy host Jimmy Kimmel, talking about this year's virtual ceremony Monday during his ABC talk show.