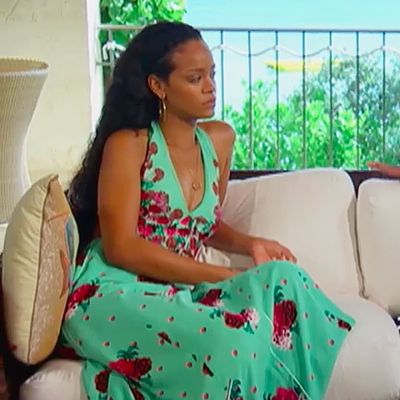 Rihanna and Oprah, talking in 2012.
Photo: OWN
News, broadly…
➽ Parcast is moving to form a union, which means that all three podcast content companies acquired by Spotify are organizing. Here's The Verge on the matter.
➽ Edison Research posted a quick update webinar on listening habits during quarantine in late August, and found that podcast consumers have expanded listening time up to 6 hours and 45 minutes per week on average over the second quarter of 2020. That's about a half hour per week growth since the previous quarter. The big takeaway from this? After the consumption drops in the early stages of the lockdown, it seems that podcast listening might end up actually seeing some growth through these conditions. Here's the link to the webinar.
➽ Take with a grain of salt given the source, but still interesting: a podcast advertising analysis effort by Magellan and Westwood One suggests that ad volumes have recovered since the drops during the early stages of lockdown and are poised to surpass prior levels. Here's the official blog post.
Audible has announced the launch of an upcoming Sesame Street audio show on its platform. Two notable things: firstly, Audible is really pushing hard on the "podcast" language, to a point where the McClatchy press service is now describing Audible as a "podcast service." Secondly, and this isn't a podcast-specific point, but Sesame Street is really a gated community now, huh?
➽ Curtis Flowers, the subject of In The Dark's second season, is officially a free man, after the Mississippi attorney general announced that the state was dropping charges against him. Here's the New York Times on the matter.
➽ ESPN has a new podcast franchise in the form of "ESPN Investigates," which is presumably separate from its 30 for 30 Podcast exploits. The first series released under the banner is "Bloodlines," written and hosted by senior writer Wright Thompson, and not to be flip, but it's about horses.
The Good Fight
Critical Frequency began the year with the wind behind their backs. The independent podcast network led by veteran climate reporter Amy Westervelt had secured a sizable grant — in the hundreds of thousands of dollars — that would have gone far in helping their plans to grow the company, bring on more shows, and expand Drilled, its flagship podcast that has garnered acclaim for its true crime-esque approach to climate reporting.
But things hit a roadblock about a month into the year, when it became apparent that the grant money had come with considerable strings attached. As it turned out, the foundation behind the money had interest in influential coverage, which was something that didn't sit well with Westervelt, so they sent the money back.
And then, of course, came the pandemic.
"Dammit Westervelt, you and your fucking ethics," Westervelt laughed, recounting the episode over the phone last week. Inopportune timing, but what can you do. The following months saw the network scrambling for more revenue. They launched crowdfunding campaigns for Drilled and another show in the portfolio, Hot Take. They leaned on their ad sales partners to find more cash. They also started reaching back out to all sorts of other grant funders as well.
Since then, things have stabilized, and Westervelt argues that, if anything, the events of the past year have made the company more resilient, which is probably what you want from an independent journalistic operation. Today, the company is set to be cash positive through the end of the year, it's making about half a million dollars in revenue, and most importantly, the network is set to follow through on their plans for expansion.
Over the fall, Critical Frequency will be launching several new shows, including: Generation Green New Deal, which will offer listeners an in-depth look at climate politics, the Green New Deal, and the Sunrise Movement; Inherited, which seems to be a StoryCorps-esque project that will feature personal stories from inside the climate movement; and Hazard, an investigative podcast that will follow journalist Amy Roost in her quest for answers to her children's brain malformations. There will also be a new season of Drilled, along with the rollout of an initiative called the Accountability Reporting Network. (More on that in a bit.)
Still, it was a tough stretch for Critical Frequency, which is already committed to the hard work of being independent in an increasingly consolidating business. And by "independent," they mean that absolutely, with substantial pains taken to push hard against any possible scintilla of external influence. Westervelt is the kind of person who speaks critically and incisively of native advertising, consolidating media, and news organizations that don't consciously reconcile the tension inherent when they carry advertising from certain kinds of companies. And as illustrated previously, she even views grants with considerable suspicion. "I'm under no illusions that grant money is somehow cleaner than corporate advertising," she said. "Foundations were basically created to launder the money of shitty rich people."
It's a steely skepticism that comes out of years working on the climate beat, an area of journalism and discourse that has been consistently distorted, manipulated, and suppressed by corporate power for decades.
Critical Frequency was founded back in 2017. Their story starts in the mid-2010s when Westervelt, who had worked as a print reporter for about fifteen years, decided to try something new with her career. She found herself interested in audio production and called up her local public radio station, KUNR in Reno, asking if they wanted an older intern. The station was game, and she ended up becoming a staff reporter at the station, where she'd work for a few years. At one point, she started a podcast with a colleague, Julia Ritchey, called Range, which produced stories about the New American West. The show made episodes about Tesla fanboys, a cowboy poetry festival, racial politics in the West, that kind of thing. The podcast eventually drew interest from the station, which offered to license it, but the trade-off would have required Westervelt and Ritchey giving total control over to the station. Again, this was not an arrangement that sat well, given the risk of having to make editorial compromises to fit into the specific way public radio tends to tell its stories.
So Westervelt and Ritchey rejected the opportunity, and continued working on the show by themselves. Soon after, they started hearing from like-minded podcast creators, who reached out to request help on their shows. In the manner that a small collection of buildings yearns to become a town, Range and these other shows ultimately opted to band together, forming what is now the Critical Frequency podcast network.
But there was the question of how, exactly, this network was supposed to operate as a business. Having come from the print and digital media worlds, Westervelt was wary about what happened in those industries — particularly with what happened around native advertising — and had concerns that the very same things will inevitably happen in podcasting as well, so she sought to forge something different with relatively low-stakes, such that if the whole thing fell apart, it wouldn't be that big of a deal.
Radiotopia ended up being a model for the network, both in terms of the way it is structured as a relatively disparate but connected entity as well as its emphasis on creators owning their own material, though Critical Frequency would be somewhat different by virtue of its journalistic needs, which involves a solid fact checking process — which, by the way, remains a somewhat uncommon feature in the podcast business — as well as an affordable First Amendment lawyer on call. (For those interested, that lawyer is James Wheaton, senior counsel and founder of the First Amendment Project.)
The network spent its early goings doing a good deal of experimentation, bringing on a wide range of shows that were all united by a broadly journalistic and slightly alternative orientation. It focused on being a home for beats, interests, demographics, and geographic locations that are typically under-invested or under-emphasized by mainstream organizations. On the Critical Frequency roster, you'd find shows like Katherine Goldstein's The Double Shift, which covers motherhood in America, and Lewis Raven Wallace's The View From Somewhere, which is an extension of his work critiquing the notion of objectivity in journalism, but you'll also find less newsy projects like Queen of Shit Mountain, a music interview podcast hosted by the frontwoman of the rock band Thelma and the Sleaze.
Today, as the network rolls into the last quarter of 2020, it's firmed things up quite a bit. Shows that are no longer active were trimmed off the roster, and the business has pushed hard to diversify its revenue. Critical Frequency was one of the first launch partners for Supporting Cast, the direct revenue platform, and they have also started co-producing projects with bigger podcast publishers, including Stitcher's documentary arm Witness Docs and Crooked Media's This Land series.
This month, they are also launching a reporting infrastructure initiative called the Accountability Reporting Network, in which the network will hire three dedicated reporters based in Louisiana, Texas, and the Ohio-Pennsylvania natural gas corridor to track environment regulation rollbacks by federal and state governments. The initiative came of something they had started noticing at the outset of the pandemic. "At the time, the Republicans were saying that the Democrats were going to use COVID to try to push radical climate policy — and I was like, 'Have you met Nancy Pelosi?'" Westervelt said. "So that must mean that, actually, the fossil fuel companies were going to push policy, which of course they did, and we found that it was primarily happening at the state level." The state of the local news business being what it is, there was a high chance that those rollbacks would take place without much notice, and so the Critical Frequency team worked to raise money in order to put some eyes on the matter.
Westervelt is perhaps the first person in the podcast space I've encountered in a long time that possesses about the same level of apprehension as I do about what the future will almost certainly bring to podcasting. She expressed concern about the pitfalls that come with podcasting going the same corporatizing path as every other media channel, about how the lack of regulations around podcast advertising makes it ripe for exploitation by bad actors and purveyors of misinformation, and about how all the stuff we worry about with the media and the world equally applies to podcasting, even as it continues to see itself as a young, scrappy upstart.
All this amounts, ultimately, to a good kind of paranoia fitting for a distressingly chaotic era. Which is why I feel fairly confident we'll be seeing Critical Frequency around for a long time, grant funding or no.
When Archives Cause Regrets
By Caroline Crampton
On September 1, 2020, the Oprah's Super Soul Conversations podcast released a curious episode that contained an interview with Rihanna. After the pre-roll ads and a generic introduction to the show, the very first piece of audio that a listener hears is Oprah saying, "I just recently came back from Barbados with Rihanna…" What follows is the audio of an encounter between the two women, which includes both a drive around the neighbourhood where the singer grew up and a sit-down interview. In that conversation, Rihanna made a rare public comment on her 2009 domestic violence case involving Chris Brown, saying she "truly loves" him and that they were "working on their friendship again." Those quotes set off a medium-sized frenzy in the tabloid press and on gossip sites, with TMZ, the Daily Mail, Yahoo News and others all running with the story.
The problem? The interview is from 2012, and it's been eight whole years since Rihanna made those quotes. However, when that Super Soul Conversations episode originally dropped earlier this month, there was nothing in the podcast episode to provide this context. That left the internet rumour mill completely free to spread the news of the pop stars' 2020 friendship reunion far and wide.
TMZ eventually took their account of the interview down altogether, and other publications amended their stories to add "…in a resurfaced interview from 2012" to the end of their "Rihanna says she'll 'always love' Chris Brown" headlines, but not before it had gone far enough that places like Newsweek were publishing SEO-friendly articles debunking the whole incident.
I've found myself puzzled by Oprah's Super Soul Conversations in the past for this same reason, because the podcast feed mingles fresh interviews with repurposed audio from Oprah's TV shows with little-to-no clue in the episode description or audio about when the conversation you're listening to was actually recorded. The interview that I remember particularly throwing me for a loop was with Stephen Colbert, which appeared on the podcast feed in June 2020 but was first aired as part of a TV show called Oprah's Next Chapter in 2012. The political context he was addressing was… not very recognisable in 2020, shall we say.
In the age of dynamic ad insertion, when fresh sponsor reads can be easily introduced into old episodes to keep them bringing in revenue, having a large archive can be a great asset for a podcast. And where a publication or personality has content from another medium like a TV or radio show that can be repurposed and monetised afresh, that's low hanging fruit. Listeners are also pretty used to the idea that long running shows will occasionally repeat an episode from the archive as a way of taking time off without missing a drop. For a high profile example of this, look no further than Reply All, which has been taking a break from publishing fresh episodes for the past few weeks and instead has been reintroducing old classics into the feed.
Setting aside the sheer capitalistic juice-squeezing of re-monetizing old content, the brief storm over Rihanna's interview with Oprah shows the importance of good context and metadata when repurposing content. Ideally, I think there would be some kind of acknowledgement in the audio itself that an episode isn't recent, especially if it features quotes  from a newsworthy public figure that could be misinterpreted, but there are other ways to signal a republication beyond an audio preface. Numbered episode titles can indicate an out of sequence episode, as can clear labelling in the episode's description. It doesn't have to be a big announcement, but even the smallest indication can go a long way to preventing avoidable misunderstandings.
There is also a way of going further, though, and turning the labelling of a past episode into something more. When thinking about the Rihanna kerfuffle, I thought of Answer Me This, the long-running British comedy podcast hosted by Helen Zaltzman, Olly Mann, and Martin Zaltz Austwick. That show has been running since 2007, initially releasing new episodes weekly, then fortnightly from 2014, before going monthly in January 2017. Their first 200 episodes are now behind a paywall, but once a month they temporarily release one onto the main feed.
Every time they do this, Zaltzman and Mann record a new intro in which they add context for the archive recording by discussing where they were in their own lives at the time and talk about any regrets they had upon relistening to it. This is on top of all of the surrounding signalling that it isn't a new episode — the title prefix being "Retro", the lack of the usual theme music, the explanation in the episode description, and so on.
I caught up with Zaltzman on the phone late last week, and asked her why they put this extra effort in when they re-release material from the archive. "I think it was to make it feel like there was added value in listening to a repeat," she said. "They do get lower downloads and I've noticed that with my other podcasts as well. But I think we've always wanted to feel like people are getting something extra."
As for the monthly discussions of their regrets over past language or jokes, that "just happened", Zaltzman said — it wasn't planned. "We chose ones that were maybe less regret-based in the beginning, because we had all of them to choose from," she explained. "But it just comes to a point where you can't really avoid some bad stuff in the back catalogue, even if it's minor. It's still there. So I don't remember that being intentional."
In the latest "retro" episode to be released, from 2008, the hosts express regret over their naivety at early examples of fake news and wonder why they had it in for British tabloid celebrity Kerry Katona. Previously, they've discussed language around gender and sexuality they used in the past but wouldn't repeat now as well as providing commentary on their evolving attitudes and political beliefs.
"I still feel like one needs to apologise for past misdemeanours," Zaltzman said. "I think that's very clear at this moment in time, and particularly before someone tells you that they were bad. You need to realise that they were bad in your own time and not expect someone to call you out and do the work for you."
The interaction between the personalities of the hosts today and the versions of themselves captured in their show over 13 years is fascinating. "It's a learning process, that's what's so rewarding about listening back, sometimes," Mann says in the introduction to the latest retro episode. "It's good to know that we've developed as people and acknowledged our own ignorance, which feels like an immeasurable task to me," Zaltzman replies. Although the podcast is, in Zaltzman's words, "a stupid entertainment show about a lot of random shit," these segments introducing the archive episodes work as miniature reflections on big ideas like ageing, nostalgia and mortality. Not bad for a preamble to a recycled chat show.
Before we move on, quick note: in the wake of the headline brouhaha, the Oprah's Super Soul Conversation podcast appears to have tweaked the episode description to include "In 2012…" at the top. At this writing (Monday morning), the change can be seen on the Apple Podcasts and Spotify, but it hasn't taken on other podcatchers just yet.
Rich Text
At least as far back as the earliest iteration of Acast, when it sought to be a mere fancy listening app, there's long been some belief by certain corners of the community that podcasting would eventually evolve to incorporate other media into its default experience. Sometimes, this idea would take the form of layering text or visual elements onto the listening flow to immediately provide audiences with additional context for whatever is being discussed in a given episode. Other times, the idea is simply rooted in advertising imperatives, like embedded a "Buy" button somewhere in the listening app to radically reduce the distance between someone hearing an ad and acting on the call-to-action.
But the essential problem with these ideas is that realizing them involves having some control over the podcast apps that listeners are using to consume shows. Specifically, if you wanted to make this brand of fetch happen, you'd typically have to do so by making your own app where you could build in the features that support this new way of listening, because there's likely very little you can do to get Apple Podcasts to build those features themselves. And if you were to try and build that app by yourself, the challenge that comes after lies in the fact that you actually have to get people to download and use said app, which is a really hard thing to do these days. (Just ask Luminary or Quibi.)
Because of this challenge, the dream of "rich media podcasting" was largely stagnant for a long while, stuck in place with no viable path forward. Things are marginally different these days, particularly since Spotify decided to toss its hat into the video ring once again with its bet on "vodcasting" hat could theoretically open up a pathway to combine and consolidate a given podcast's audio and YouTube audiences.
It's still too early to discern whether that particular gambit will work, but very soon, we'll see an experiment by another company that gestures towards these questions of "post-audio podcasting." Curiously enough, that other company happens to be Apple.
Next Tuesday, the book publisher Macmillan will launch a new project that involves a significant collaboration with Apple across its ecosystem of services. Called "Driving the Green Book," the project will primarily take the form of a living history podcast featuring the broadcaster Alvin Hall and the activist Janée Woods Weber as they drive from Detroit to New Orlean to retrace the path laid out by the titular historical resource that was made to help Black Americans travel safely and with dignity across the country during the height of segregation. In what is being billed as a first, the podcast will take advantage of the new Guides feature that recently rolled out on Apple Maps — which provides users with recommendations on places to visit and things to do in a specific place — by delivering in-app content tied to the material discussed in the show. The podcast is also being adapted as a book to be published by Flatiron Books, an imprint of Macmillan, which will probably involve further collaboration with the Apple Books service as well.
Macmillan, of course, is no stranger to podcasts. It was perhaps the very first book publisher to seriously take up a position in the podcast ecosystem when it forged a partnership with Mignon Fogarty's Quick and Dirty Tips network in the late 2000s, and it has since steadily built out a vibrant in-house podcast publishing division. For Macmillan, the potential here is rooted in the possibility of building a bridge between books and on-demand audio that goes deeper than mere audio books. This project appears to be yet another expression of that on-going enterprise.
I should that this piece of news is also noteworthy for the Apple of it all. Now that the whole story about Apple getting into original podcast production largely turned out to be a situation where Apple is building marketing products to support its original content efforts in other media businesses — most notably, Apple TV+ and Apple Music — this specific development can perhaps be interpreted through that lens. This Macmillan-Apple collaboration, then, seems to be a fascinating piece of co-marketing more than anything else.
That said, it does make me a little more interested in the notion of "rich media podcasting" than I was before. As a fan of the now-defunct Detour augmented walking tour app, I have my own notions about the appeal of using podcasts as a component of a larger augmented reality tool, and I kinda hope that we'll see more of this stuff in the future.
➽ In tomorrow's Servant of Pod. The multi-talented Chenjerai Kumanyika is on the show this week, and over the span of a thirty minute episode, we try to build a profile that adequately captures his incredibly interesting path up to this point as well as his robust worldview, which is grounded in a radical orientation that feels especially salient right now.
Most folks reading this newsletter probably know Chenjerai from his work as the co-host of Uncivil, the Gimlet Media podcast that sought to "ransack" the official history of the Civil War, along with the two seasons of Scene on Radio that he co-hosted with John Biewen, "Seeing White" and the more recent "The Land That Has Never Been Yet." But his podcast work is just one of the many ways he engages with the world. In addition to making podcasts, Kumanyika is also an academic, an organizer, an artist, and a journalist, with the thread unifying all these roles being his distinct interest in voraciously interrogating the way things work.
I really enjoyed speaking with Chenjerai, and I'm pretty happy with how the episode turned out. Still, it's a shame that Servant of Pod is committed to the brevity thirty-minute episodes, because our conversation sprawled for over an hour and it hit on a bunch of things — political economy, fomenting a worker's revolution, etc. — that didn't end up in the final cut. At the end of the day, the format defines the choices. Next time, perhaps.
You can find Servant of Pod on Apple Podcasts, Spotify, or the great assortment of third-party podcast apps that are hooked up to the open publishing ecosystem. Desktop listening is also recommended. Share, leave a review, so on.