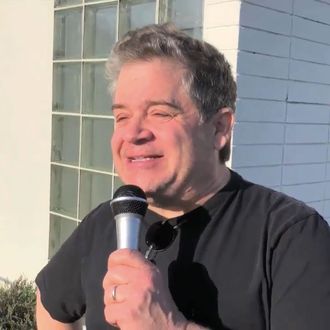 Patton Oswalt
Photo: YouTube
Since it's not yet possible to embark on a live theater tour, comedian Patton Oswalt has found another way to work out new material in front of a crowd. Oswalt will perform a virtual comedy show for fans in October called Arm's Length via On Location Live. It will include an hour of all-new stand-up material followed by an "after-party" where he will field questions from the audience. "I am sparing NO expense to bring you the best-looking, best-sounding at-home comedy experience," Oswalt tells Vulture. "I just checked this one corner of my living room for lighting and acoustics, and I plan to check another corner maybe next week." Check out a promo for the show below, in which Oswalt (understandably) loses his mind and calls the show Fatty Fatty Sad Sad:
Oswalt went further into detail in the press release for Arm's Length, adding, "I've traveled all over the planet bringing laughter and joy and healing but now I am walking ten yards into my guest room to yell at a computer screen while the world burns down outside. Experience the horror. Take my hand. We shall die together and become immortal. Also, there's some dick jokes." Oswalt's most recent stand-up special, I Love Everything, debuted on Netflix back in May.
Tickets for Arm's Length, which takes place Friday, October 23, at 9 p.m. ET, are $15 and available on the On Location Live website. A portion of the proceeds will go to the nonprofit organization Alice's Kids, which provides short-term financial help to children in need. The organization also happens to share a name with Oswalt's young daughter, who we very much hope will make a Arm's Length cameo to show off her piano skills.
Update, September 24: Oswalt has now changed the name of his virtual comedy show from Keep Your Distance to Arm's Length after it was brought to his attention that another comedian, Kevin Fredericks, a.k.a. KevOnStage, has already been hosting a virtual comedy show called Keep Your Distance for months. After Oswalt tweeted an apology, Fredericks assured the stand-up that it's "all good" and invited him to join the original Keep Your Distance sometime to perform, to which Oswalt replied, "Hmmmmm….." When it comes to conflicts about accidentally swiping another comedian's live-virtual-comedy-show name, we feel confident in saying that this saga has thankfully concluded with a happy ending.