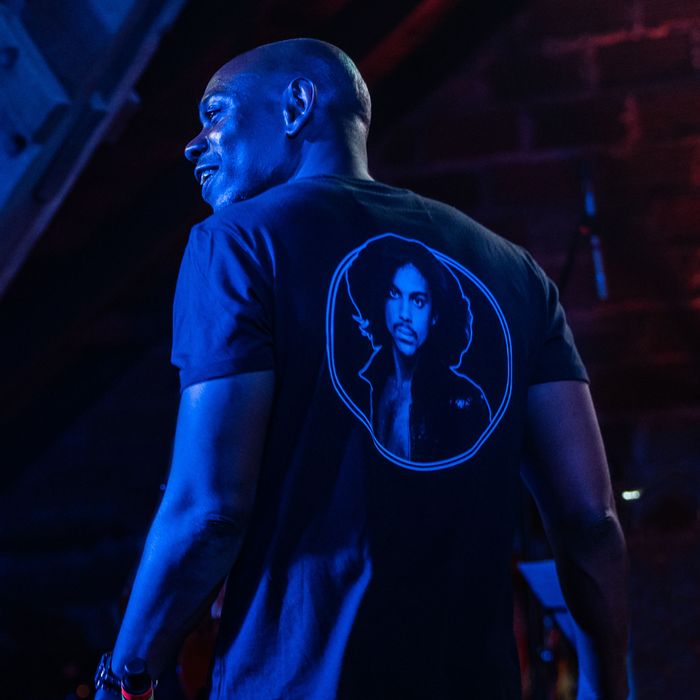 If any year were fitting to reissue Prince's pivotal record Sign o' the Times, it'd be 2020, a year marked by a pandemic, protests for racial justice, the rapidly developing climate crisis, and a consequential election in the U.S. But the Prince Estate didn't plan any of this, of course. "Sign o' the Times was the one that organically raised its hand because of the sheer amount of love that it has, first of all, and second of all, the volume of ancillary material that we thought would be able to support it in a meaningful way," says Michael Howe, Prince's archivist who worked on assembling the reissue. "The serendipitous element of it is that we're living in such a volatile time at the moment, such an unpredictable time, that the issues Prince was exploring on the album seem to be just as relevant today."
It's a fitting testament to Prince's continued relevance as a musician over four years after his death. So is the fact that the reissue of Sign o' the Times, out September 25, features a bounty of new material, the most for a Prince reissue yet. The superdeluxe edition includes 45 never-released tracks, along with two full live performances (from Utrecht, Netherlands, and Paisley Park, the latter including a guest appearance by trumpeter Miles Davis). It's only two-thirds of the material they considered, says Howe, adding that he still makes weekly discoveries in Prince's mythical vault. One of his favorite songs on the reissue is a 1979 cut of "I Could Never Take the Place of Your Man." "Nobody knew it existed," he says. "It's kind of astonishing to think that he had that song in his pocket the entire time and decided to wait and reimagine it for inclusion on Sign o' the Times." As for the release as a whole, Howe only wants it to strengthen the intentions that were already in Prince's music. "I hope it brings people joy and that it has the same kind of emotional resonance that I think Prince viewed as most important in his art," he says. "And the other thing I hope is that people see how wildly creative the guy was and how he was able to do pretty much anything he wanted to."
The superdeluxe edition also includes a book with a stacked cast of liner notes, including Dave Chappelle, Lenny Kravitz, Prince's engineer Susan Rogers, Prince | Official Podcast host Andrea Swensson, and author Duane Tudahl. For Chappelle's contribution, the comedian reflects on his friendship with Prince along with the social relevance of Sign o' the Times. Read an exclusive excerpt from Chappelle's liner notes below, in conversation with photographer Mathieu Bitton.
Do you remember where you were when you first heard Sign o' the Times?
It was a spring day in 1987. I was listening to Casey Kasem on a local Dayton, Ohio, radio station. I remember being struck by the way Kasem introduced the song. He actually read the lyrics before he played the record. That really impressed me. When would you ever hear a DJ read lyrics on a Top 40 countdown? The words were profound.
In France, a skinny man died of a big disease with a little name

By chance his girlfriend came across a needle and soon she did the same At home there are 17-year-old boys and their idea of fun

Is being in a gang called the Disciples

High on crack and totin' a machine gun
I didn't realize it at the time, but in hindsight, he was singing about what would be the two definitive crises of my generation: crack and AIDS. Our story was being told in hip-hop, but as a genre, it was still in its infancy. Prince was the first mainstream artist to wax poetic and tell our community's story, establishing himself as one of the preeminent lyricists for my generation.
He literally was a sign of the times.
I found a radio interview recording on YouTube where Prince was asked about your skit, and this is what he said: "I loved it, loved it! That's a true story, by the way," to which the DJ asked, "So you got game?" He responded, "Oh definitely! And he [Murphy] don't! And 2 be honest, it ain't that I'm that great, he's just so bad." He continued: "U know what was cool 2 was Dave came to one of my shows after, and he's going, 'Hey, did you see the skit?' and I say, 'Yeah, yeah, come over and sit down.' And we're just sitting, chillin', we've been there for like 2-3 hours or whatever, and then out of nowhere I said, 'Dave, want some pancakes?'"
[Laughter]
When I left Chappelle's Show, not only was Prince the only person I could relate to, he was one of the few people who truly cared about what was happening in my life.
There's a thing I say that "the last sane man on earth is going to think he's crazy." He was the only one I knew who had already done it. In the loneliest corners of that experience, there was always a sign, like "Brooks was here," that he had been there and lived to tell about it.
The mere sight of Prince reminded me that I'm not the last sane man on earth, and I'm not crazy.
He was the first person I knew who didn't question my choices. In fact, he didn't even ask me about them. He just told me, "Whatever it is, you're right."
He helped me understand that it might not be over and that there might be another side to it … and whether or not there is or isn't, at least you're free. Or, as he would say, "U gotta B free."