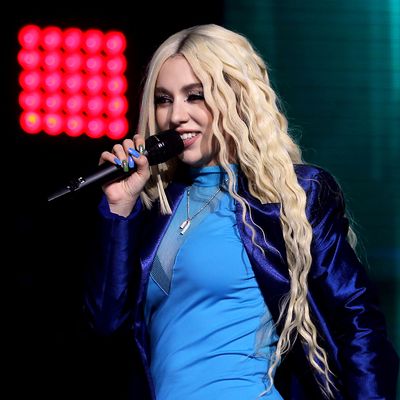 Photo: Isabel Infantes - PA Images/PA Images via Getty Images
Ava Max can't escape the comparisons to Lady Gaga. It's easy, between the platinum wigs and the big-synth pop anthems, but it also gives critics an easy knock on her for lacking the personality and weirdness that made Gaga such a star at the turn of the 2010s. I think Max is really going for Katy Perry, though. During the first part of the 2010s, she was an unstoppable force making pop for the biggest tent she could, and everything she touched rocketed to the top of the charts. Max got a taste of that with "Sweet But Psycho," her breakout hit that made a six-month climb on the Hot 100, topping out at No. 10 in May 2019. Once you get past the slight stigma in the lyrics, it's a great dance-pop song, always thumping forward, with a chorus that reaches for the sky.
Max has tried to replicate that success with six more singles off her debut album Heaven & Hell, released September 18, and it's worked across Europe — yet with the American charts and top 40 radio dominated by hip-hop like never before, it takes a huge pop song to break through, like Lady Gaga and Ariana Grande's "Rain on Me" or Dua Lipa's "Don't Start Now." Ava Max hasn't had an American top 40 hit since "Sweet But Psycho" because, well, none of her songs have been quite as big. (The rightful closest has been "Kings & Queens," with a chorus somehow catchier than "Sweet But Psycho," currently sitting at No. 66 on the Hot 100 thanks to an American radio rerelease in August.)
Now, Max is trying again with "Naked," which she dropped a music video for alongside the Heaven & Hell release. It stands out as the record's closest thing to a ballad, but fully an Ava Max one, retaining the pickup of her most dance floor–designed tracks. Like most of the album's songs, you can tell the lyrical trope from the title — it's about getting emotionally naked, with the sort of lines made for vague Instagram captions — but the obviousness is easy to forget when those lyrics are backed by such delicious melodies and production that glimmers like this (courtesy of new hitmaker Cirkut). The song actually passes "Sweet But Psycho" as Max's best vocal performance, and when she lets loose on that last bridge and chorus, we hear her best attempt yet at channeling her true pop icon, Mariah Carey.
"Naked" isn't going to crack the top of the charts. Maybe a dance ballad like it could've in the early '10s, when pop dominated and hits still came from the radio. Surely it would've done numbers on adult-contemporary stations, and maybe it still will. But even something that would've been a surefire hit last decade like "Kings & Queens" can't catch on Stateside in 2020. (If Max's team is going to keep trying this, though, I'd love to see a single rollout for "Born to the Night," Heaven & Hell's best song, and one that's just begging to soundtrack a teen movie.)
That doesn't make Ava Max a bad pop star — singers like Carly Rae Jepsen still make wonderful music for hungry fans while barely touching the charts anywhere. But unlike Jepsen, Max still seems to want to be the next big American pop star, for her half-cut hair to become a ubiquitous symbol. You could hear the chorus to "Naked" as Max steeling herself for the spotlight: "You could take off all my clothes and never see me naked." But she doesn't have to do that. She already has fans, across Europe and even in the U.S., that other musicians would kill for. Her best songs are immensely fun. She can let her guard down.