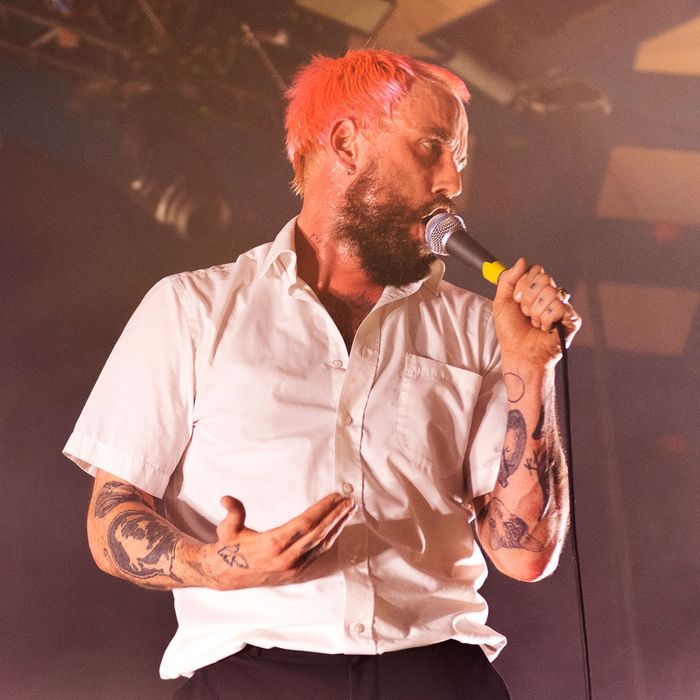 Photo: Roberto Ricciuti/Redferns
One of the only constants with each day is new sources of anger. The past week has been especially generous, from the death of Supreme Court justice Ruth Bader Ginsburg to the lack of justice in the Breonna Taylor case to President Trump's continued efforts to undermine the election to the American coronavirus death toll passing 200,000. Even when we're stuck at home during a pandemic, music remains a channel for rage we can turn to. And few bands right now channel more rage than the English rockers Idles, who blow up punk ideals to arena-rock proportions once again on their third album, Ultra Mono. The band intends its music for times like these, righteous anger in the face of injustice. But the opening track, "War," shows the anger of Idles to be the opposite of what we need right now.
Idles may not be facing the exact issues we are in the U.S., but their broader anxieties are the same: abuses of power, racial injustice, the future of their country. From their first record, Brutalism, NME heralded the band as an "utterly vital" voice in British rock; a Guardian profile later called Brutalism "the most honest album of 2017." Their follow-up, Joy As an Act of Resistance, caught on stateside, making a great showing on year-end lists while being shortlisted for the Mercury Prize back home. Ultra Mono is Idles' attempt to take Joy even bigger, teaming with hip-hop producer Kenny Beats and promising more honest songwriting.
But bigger means worse in Idles' case, from the first notes of Ultra Mono. The riff that opens "War" sounds like royalty-free punk music. Maybe it would get the job done in a mosh pit, but on its own, it's boring. But the main criticism levied against Idles is for their platitudinous, buzzword-filled lyrics, which they brush off. "Fuck you, I'm a lover!" singer Joe Talbot retorts on a later song. "War," though, just opens with pure nonsense. "Whaching! That's the sound of the sword going in," he screeches, with a line he compared to the Wu-Tang Clan. Lines like "Clack clack clack a clang clang! That's the sound of the gun going 'bang bang'" don't even work on a literal level.
This isn't to ruin the band's fun — the lyrics emblematize a larger problem on "War," and on all of Ultra Mono. Talbot's chorus is a simple cry: "This means war! Anti-war!" The band's supporters see a bunch of gruff white guys standing against violence and praise it as subversive. But in the context of the song, what is Idles actually doing? It's not just unclear what we're fighting; it's unclear if we're supposed to be fighting at all. Explaining his straightforward lyrics, Talbot told the New York Times, "If you avoid nuance, you won't be misunderstood." But for a song to accomplish anything, it needs a level of clarity.
Idles tend to fall in the "When they go low, we go high" camp, preaching positivity and love in response to oppression. That has earned them droves of fans, most of whom will love Ultra Mono. But when Talbot warns in "War" that things are getting bad — "We're dying for the stone-faced liars" — while also preaching peace, he doesn't give the fans much direction. Anger can be useful, as we've seen time and again this year. Idles' anger, though, is as empty as the gestures that fill the rest of their album. You can sing about screaming "Black is beautiful" and insist you want to welcome women of color in your music, but if you won't pay them what they're worth to open for you on tour, then you're just yelling.