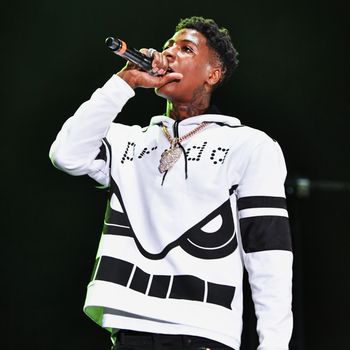 Photo: Erika Goldring/Getty Images
YoungBoy Never Broke Again spends most of his new album Top trying to prove himself worthy of its title. He flexes on his critics, keeps pace with Lil Wayne and Snoop Dogg, flashes his pistols in every other song. It's technically his second studio album, but calling it a sophomore effort is a bit of a misnomer — it's the latest in a prolific streak for the embattled 20-year-old from Baton Rouge who effortlessly hits No. 1 on YouTube, following two chart-dominating mixtapes earlier this year. But it's not his productivity, or his popularity, or his controversies, that make NBA YoungBoy stand out as a rapper. He's mastered the blend of rap's sacred and profane, sliding between deliberate aggression and codeine-coated anguish from track to track, or sometimes in the same song. Given the album's premise, most of Top's 21 tracks fall in the former camp, making "To My Lowest" a surprisingly unguarded moment among the rest of the collection, and also its weakest.
"To My Lowest" is a passionate breakup song, something of a rarity in today's landscape of chart-topping hip-hop. YoungBoy shifts from a dejected drawl to emotional yelps in just four bars in the chorus, easily his most heartfelt on the album. "It ain't no reason another man should have to raise my son," he sings to a former lover — although it's unclear which, after he fathered two more children from different women earlier this year. Vulnerable moments like this, when he sets the guns down, make the listener want to root for YoungBoy; they're the lines his listeners will praise as "relatable" and "deep" all over the internet. "I been fallin' out, ain't crying loud, no one to comfort me," he raps in the first verse. "Suffer from somethin', you don't love me/ Once you thug me, I say, 'Fuck you'/ Even though after I still be feelin' wrong." NBA YoungBoy has no problems showing that he's flawed, as long as it's in the same ways as the rest of us.
But YoungBoy's flaws are more serious than that, and when he gets a chance to face them headfirst on "To My Lowest," he turns away. His violent tendencies are no secret, especially when it comes to the women in his life; he took a plea deal at the end of last year that led to felony assault and kidnapping charges against him — stemming from an incident with a now ex-girlfriend — being dropped. "Shit, I guess that's 'cause you're scared of me," he raps as an aside in the first verse. By the second, when he's describing a fight with the girl he's addressing, he pleads in the background, "I ain't gon' hit you." It's haunting, because listeners have every reason not to believe YoungBoy. His fever-pitch delivery by the end of the song is frightening.
NBA YoungBoy's masterpiece "Lonely Child," off his 2019 mixtape AI YoungBoy 2, found the rapper at a moment of reflection:
"The way I came in the game

The image that I had put out

They wouldn't expect me to have feelings

Know it probably don't seem like it

That's why they talk about me like I ain't human, but we all is"
That's the central takeaway from YoungBoy's music that makes him so appealing, especially to Gen Z: We're all passionate, sad, fucked-up humans. But the thing about struggling through being human is we try to get better. Three projects later, his platform has grown, but he still personally hasn't. He said it then, just after those lines, "But I'm still being me"; nearly a year later, it's echoed in his refrain on "To My Lowest": "I ain't never stop, just keep on flowin'." NBA YoungBoy doesn't bring anything new to the table on Top, just more good rapping. He's still attempting the sleeve-baring emotional honesty he could hit even last year, but it's starting to ring hollow.