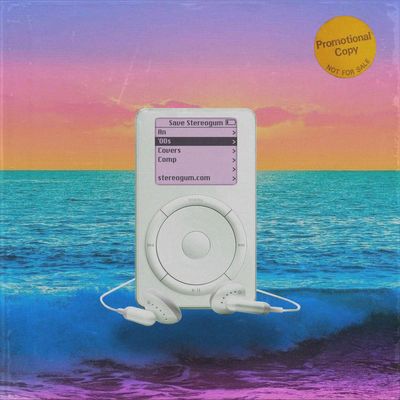 Oh man, I feel so old. Lucy Dacus covered a Hinder song, [and] everyone's like, "Oh, middle-school vibes." I'm like, "I don't even think I remember the song!"
Photo: Stereogum
A few thousand lucky people received a welcome pick-me-up in their inboxes on September 9: a download code for Save Stereogum: An '00s Covers Comp, a perk for donating to Stereogum's recent wildly successful Indiegogo campaign. Stereogum editor-in-chief Scott Lapatine, who started Stereogum in 2002 and bought it back from the Hollywood Reporter-Billboard Media Group last year, put together the compilation exclusively for the campaign, meaning it will never hit streaming or be reissued. The comp — along with other perks including T-shirts, a Zoom party with performances, and a personal edition of Tom Breihan's Stereogum column "The Number Ones" — helped raise over $370,000 for the site, well past the $250,000 goal, which will help Lapatine relaunch the site.
Stereogum revealed the list of artists in advance, but their cover choices came as a surprise on Tuesday. Needless to say, it's a guaranteed 2000s time capsule, not to mention a perfect collection of some of the year's best covers. A non-exhaustive list of highlights includes: Illuminati Hotties singing Britney Spears's "Lucky" over Jet's "Are You Gonna Be My Girl," Lucy Dacus turning Hinder's "Lips of an Angel" into a tender acoustic ballad, rap group clipping. going hard on J-Kwon's 'Tipsy," Moses Sumney leaning into autotune for T-Pain's "Can't Believe It," Julien Baker giving a tearjerker performance of blink-182's "Anthem Part Two," and Half Waif turning Avril Lavigne's "I'm With You" into something truly transcendent. Bethany Cosentino of Best Coast covers Ashlee Simpson's "Pieces of Me," Ryley Walker covers Switchfoot's "The Shadow Proves the Sunshine," and yes, Mac DeMarco "covers" Nickelback's "Photograph" (it's … haunting). Vulture spoke with Lapatine about putting together the compilation, 2000s nostalgia, and the covers that didn't make the cut.
How did it feel to get so much support for the site?
We are so grateful for everyone who has come to donate to a website that has been around for a long time and has undergone a lot of changes, and is basically just happy to still be around. It's really heartening to see that it means so much to people.
It's really exciting what you were able to do. So where did the idea for that part of the project come from?
I've always been a fan of covers compilations. In the '90s, if you were gonna spend 17 bucks on a CD, it's like, Oh wow, here's 15 artists I know! It's not the songs you want by those artists, but it's like, I get all these artists on one comp. I grew up reading British music publications like Uncut and Mojo that often came with covers compilations. We've done a number of them for Stereogum over the years — we have done track-by-track tribute albums for R.E.M. and Radiohead and Björk. We haven't done one in a long time, but I thought to incentivize people who maybe don't even know who we are to contribute to this campaign, we would try to offer something pretty spectacular.
And why the 2000s?
If I'm being honest, it's probably my least favorite decade of music. [Laughs] Last year we finished our coverage of the 2010s in music, and I was thinking 2010s at first, but the nostalgia cycle seems to go in periods of 20 years. I can't really think of an '00s covers album that's been done — though I'm sure it has — but it just worked out. Like, this is good timing, everything will be back. We'll be wearing Juicy Couture, and — what were those hats? — Von Dutch, and everything.
Oh my God. How was it to see this strike such a nostalgic chord even if it's not a decade you particularly connect with?
Oh man, I feel so old. Lucy Dacus covered a Hinder song, [and] everyone's like, "Oh, middle-school vibes." I'm like, "I don't even think I remember the song!" [Laughs] I was, like, trying to start a blog and was an adult by then. You could tell by the final track list, we're really all over the place. I don't know if it's a full representation of the decade in music, but it's hopefully something for everyone.
Some of these songs were so reinvented that it might make you appreciate them in a way that you didn't at the time. Especially with all these pop songs being covered by quote-unquote indie artists. I certainly had my hopes that some artists would pick, like, Phoenix's "Listztomania," or an MGMT song, or Outkast.
It's a fun experiment with these indie rock artists who came up in the last three, four years, since the 2000s are starting to become its own influence on them.
Yeah, I totally agree. I also think that this new generation of younger artists are so much more genre-agnostic than 20 years ago. So it was not surprising at all that artists might have gravitated towards Britney Spears or Ashlee Simpson. I guess some of the picks did surprise me, [laughs] but I welcomed anyone who wanted to cover something that is maybe not your typical indie rock song.
It seems like it's coming from a genuine place for these artists.
Oh, yeah. I think what someone might think is maybe a joke cover is really not a joke at all … maybe Mac DeMarco — that's funny, okay.
My editor said that I should ask just "how?" and "why?" for the Mac DeMarco cover of Nickelback's "Photograph" [laughs].
I think that is immediately what he gravitated toward. There might be more to Mac DeMarco's relationship to Nickelback that I'm not aware of, but I think the Mac DeMarco heads are amused by it.
You mentioned surprises — what are some of the other ones you weren't expecting?
[Laughs] One of the first submissions that I got was from a band I love called Cloud Nothings, and it was a cover of "American Idiot" by Green Day. I think Dylan [Baldi] from the band was trolling me, because I did not recognize it was a Green Day cover. [Laughs] So that will have to be a lost B-side, because it's a little out there. Beyond that, one of the first artists we approached also was Father John Misty, who joked about doing a solo piano take on "Lisztomania" — which would be awesome, but then he, I think, was joking, so thanks for the joke, Josh. Also, Lucy's cover [of "Lips of an Angel"] surprised me, and that Ryley Walker wanted to cover Switchfoot.
I was so glad to see Switchfoot on it.
Yeah, I have to say, I have not spent a lot of time listening to them, but people who are well-versed in Christian rock tell me that it's an important song. [Laughs] And then also, the band DIIV recorded a song for this, and they couldn't get it produced sounding the way they wanted it to. So it'll come out eventually. Not from us, but there's a DIIV cover of an '00s song on the way that will be really cool.
That's awesome. I saw a conversation happening on Twitter where some people were joking around like, "I don't play music, but here's the song I would've done." Do you have a 2000s song that you would've chosen to cover?
Well, Stereogum gets its name from a song by the band Air, their song "Radio Number 1." Any song by them from the 2000s would be cool, but I feel like that would be apropos.