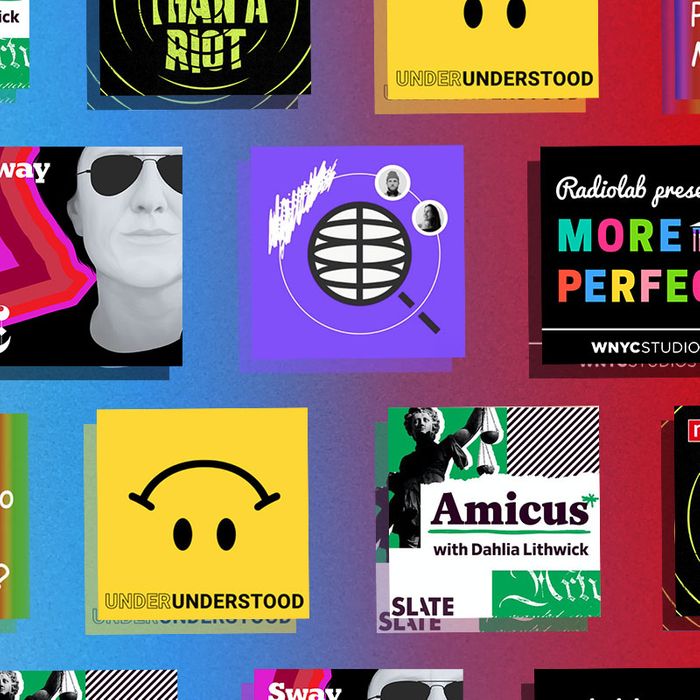 Photo-Illustration: Vulture and the Studios
If you wish to consume only one piece of media in the wake of Justice Ruth Bader Ginsburg's death, make it this scorcher by Rebecca Traister. If you wish to consume only two, make the second this tribute by Nina Totenberg.
However, if you have the time and the stomach to stare down where this road leads, you're certainly not short of options in podcastland. You may turn to the deep bench of daily news podcasts; you may turn to the spiraling galaxy of political podcasts; you may even turn to your favored emotional-comfort pod.
But in this edition of 1.5x Speed, we're going to run the clock back a little and look at two projects that attended to a slightly broader view of Ginsburg, her lifelong fight, and the Supreme Court.
Oh, and tell me what you're listening to. Find me on Twitter or hit me over email: nicholas.quah@vulture.com. Let's jump in.
Slate Amicus: "The Class of RBG"
Apple Podcasts | Spotify | Stitcher
Earlier in the summer, Slate ran a great editorial package that centered the spotlight on the nine other women who were also members of Justice Ginsburg's law class at Harvard — they were the class of '59, just six years after Harvard Law School started admitting women — and as part of that package, the site published a special two-part audio miniseries through Amicus, its long-running podcast on the Supreme Court hosted by Dahlia Lithwick.
That two-parter is an excellent piece of oral history, and the experience of actually listening to the women talk about their time as part of that class is a genuine pleasure. Ginsburg features prominently throughout the two episodes, periodically popping up as the anchor figure around which those other women were organized. There is a fuller, extended version of Lithwick's interview with Ginsburg, and when "The Class of RBG" originally rolled out, it was kept as an exclusive feature for Slate's paid members. The site pulled that interview out from behind the paywall on Saturday, following the news of Ginsburg's death.
Despite Ginsburg's presence, the heart of "The Class of RBG" sits squarely with those nine women: how they came to enroll in the law school, how they thought about their lives at the time, and who they eventually became. The project is a lovely exercise in generational empathy, opening up a clearer bridge between the struggles that existed then and the ones that are around now.
Radiolab Presents: More Perfect
Apple Podcasts | Spotify | Stitcher
Radiolab's spinoff series, in which the team applies its whiz-bang sensibilities onto matters of jurisprudence and the Supreme Court, makes for an obvious pick here, especially given that it has an entire episode dedicated to an early battle in Ginsburg's long fight for equality between the sexes. It's a really great story, too. Reported by Julia Longoria, that episode, called "Sex Appeal," tells the story of how Ginsburg, then a young lawyer with the ACLU, helped carry forward parts of the failed Equal Rights Amendment effort by making a Trojan horse out of a case that was premised on discrimination against men. (Imagine that.)
But aside from "Sex Appeal," I'd also like to train your attention to another episode tucked somewhere in More Perfect's first season: "Kittens Kick the Giggly Blue Robot All Summer." Don't worry about the title; it comes out of a somewhat cutesy attempt to develop a mnemonic device meant to help you remember the names of all the Supreme Court justices at the time. (The mnemonic device is now outdated, of course, as are parts of the episode; for instance, the fuller version of the device accounts for "maybe Merrick Garland," which, you know, hoo boy.)
At any rate, the episode tells the story of how the Supreme Court came to possess the stature it has today, which honestly ends up seeming pretty chaotic. The episode also impresses upon you a sense of how eminently moldable an institution like the Supreme Court happens to be. That is perhaps the most interesting takeaway from the episode, along with the More Perfect project more generally. They express the sense that the legitimacy of an institution, at the end of the day, is a piece of political fiction that should come out of a collaborative project. It's not something set in stone but something that can always be broken down and built back up again.
Meanwhile…
• NPR Music is launching its first audio documentary series next month. Called Louder Than a Riot, the show is pitched as focusing on "the interconnected rise of hip-hop and mass incarceration." The first episode drops on October 8.
• Speaking of music podcasts, the latest season of KCRW's Lost Notes is fully written and hosted by the poet, essayist, and critic Hanif Abdurraqib, and it premieres on Thursday. I've heard some early cuts, and it rules.
• Sway, Kara Swisher's new podcast for New York Times "Opinion," made its debut yesterday, and I gotta say: It's really hard to make an interview show sound distinctly fresh and modern, and they've done it.
• Is it passé to rec Reply All, a show that's probably in the running to dethrone This American Life as the standard-bearer for nonfiction anthology podcasting? Because its latest episode, "Country of Liars," is something you should be listening to right now.
• I was really sorry to hear that Thirst Aid Kit, Bim Adewunmi and Nichole Perkins's podcast communion of celebrity lust and sexual desire, has come to an end as a weekly show (though it might come back someday as a live event production). To honor the show's retirement, and to acknowledge a recent spicy development, here's a link to that one time Chris Evans joined the show.
• Given the recent Quibi news, it's a big week for Streamiverse.
• Quick shout-out to Whatever Happened to Pizza at McDonald's?, a show that you can find hidden somewhere in the archives of this week's reader pick …
Reader Pick: Underunderstood
Apple Podcasts | Spotify | Stitcher
This week's choice comes from Lindsey Weber, one-half of the mighty Who? Weekly podcast, which is a show worth recommending all on its own.
"The concept of Underunderstood is solving mysteries unsolvable by the internet — be it what happened to the McFlurry, if it's safe to eat a suitcase full of chile peppers that have been missing for three days, or why so many Pennsylvania homes have freestanding toilets in their unfinished basements. (The last one is real, and it's a great episode.)
It's genuinely nice to know that there are still things out there that are truly unsearchable, whether it's information lost to time, or maybe even something that's been asked but never quite properly answered. Who needs true crime when you can learn the twisted history of an uncanny photo taken on 9/11 that went viral. The four hosts are journalists who don't take themselves too seriously, but they do take their mysteries seriously, no matter how utterly stupid the initial queries may seem. As the host of an independent podcast, I also can't help but appreciate that Underunderstood is completely independent as well — and they just launched a Patreon in preparation for their new season. Maybe one day I'll have a mystery for them to solve." —Lindsey Weber
Postscript: I, Nick Quah, would like to enthusiastically endorse the above message. Another great gateway episode is actually its most recent one, which focuses on the reality-competition TV show The Circle and pursues a few different lanes into the question of what exactly is the best approach to winning a such a TV show. As someone who watches a crap-ton of shows in this genre, and as someone who has spent a lot of hours developing strategies for The Amazing Race and Survivor, it's a greeeeeaaat listen.
And that's a wrap for 1.5x Speed! Hope you enjoyed it. We're back next week, but in the meantime: Send podcast recommendations, feedback, or just say hello at nicholas.quah@vulture.com.