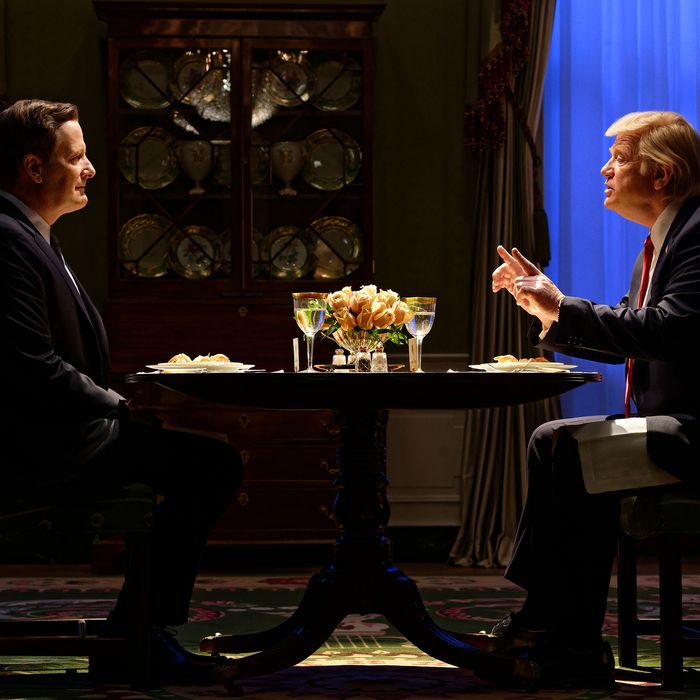 Comey (Jeff Daniels) and Trump (Brendan Gleeson) having a pleasant and very normal meal.
Photo: Ben Mark Holzberg/CBS Television Studios/SHOWTIME
The Comey Rule largely unfolds like a reenactment of every news story you've ever read about Hillary Clinton's emails, the Russia investigation, and President Donald Trump's decision in 2017 to fire FBI director James Comey. Or maybe it's more accurate to say it's a reenactment of much of what's in Comey's book, A Higher Loyalty: Truth, Lies, and Leadership, upon which this two-episode limited series — two-part movie? Two-night television event? — is based.
It's hard to miss the fact that Comey's work of nonfiction provides the basis for The Comey Rule since, in an early scene, Rod Rosenstein (Scoot McNairy) pulls it off his bookshelf while telling Comey's story, via flashbacks, to Justin (Dalmar Abuzeid), an aide in his office. Rosenstein, the deputy attorney general who played a role in Comey's firing, continues to serve as a frequent narrator throughout the miniseries, laying out major events that include Comey's appointment as FBI director; the birth, death and rebirth of "Midyear Exam," the FBI investigation of Hillary Clinton's misuse of a private email server; the evolution of "Crossfire Hurricane," the probe into the Trump campaign's collusion with Russia; the aftermath of Trump's election; and the disintegration of his relationship with Comey.
It's an odd choice to make Rosenstein's narration the framework for the story, partly because Rosenstein's disparaging view of Comey — "He's a showboat," he says — clashes with The Comey Rule's not always flattering but certainly humanizing portrayal of its titular subject, played by Jeff Daniels. But it's also odd because Justin sits there listening to all this for seemingly an entire workday, even though he probably already knows a lot of these details. The poor guy isn't a human so much as a sponge designed to soak up the wisdom that dribbles out of a bitter Rosenstein.
There are times while watching The Comey Rule where you, too, may feel like a Justin, stuck in a chair and being bombarded with information that you've already digested elsewhere. Written and directed by Billy Ray, whose credits include Shattered Glass, Captain Phillips (as screenwriter), and the remake of Secret in Their Eyes, the series has a sensibility that's as traditional and straight-arrow as Comey thinks of himself. But it does get more compelling as it progresses, particularly in part two, when Donald Trump fully enters the picture. I know: I hated typing those words as much as you hated reading them.
Over the past four years, when Donald Trump has been portrayed in pop culture, he's usually a comedic figure: the blustery Alec Baldwin on Saturday Night Live, the confused moron in Sarah Cooper's TikTok videos, or an actual cartoon on Our Cartoon President. With Brendan Gleeson in the role, the Donald Trump of The Comey Rule comes across as crude and narcissistic, but also imposing and intimidating. Gleeson, wearing tangerine-tinted makeup and a perpetual scowl, channels the president's body language and the cadence of his voice, right down to his frequent loud inhalations and sniffles. He becomes the man without ever slipping into caricature. Here, Trump is actually scary, particularly in a scene where he looms over Rosenstein in the Oval Office and insists that the letter explaining Comey's dismissal must say that Comey told Trump he was not being investigated with regard to Russia. Gleeson is shot from a low angle as he gives his order, making Trump look massive and monstrous. Rosenstein, as we know, complies, and while his complicity is completely unjustified, one can at least viscerally grasp why he felt bullied into phrasing the letter as he did.
Comey is more confident — some would say (and do, in The Comey Rule) arrogant. So during his famous one-on-one dinner with Trump at the White House, when the president demands loyalty, Comey has the wherewithal to initially demur. He promises honesty, and Trump replies that that is what he wants: "honest loyalty." Comey, aware that he's going in circles, ultimately says, "You will get that from me." The scene, in which the two eat in a dimly lit room and Trump scarfs down his dish of ice cream, is odd and uncomfortable. It might make you think that some administration officials may just go along with whatever Trump says simply so they can get away from him as quickly as possible.
While Gleeson's Trump is overbearing, Daniels plays Comey as a good man, the kind who asks about the families of his staff, all of whom refer to him simply as "boss," and comports himself with dignity, even when he's just been informed by a CNN chyron that he no longer has a job. Daniels infuses him with a sense of calm that comes from having unwavering belief in his own sense of integrity. Plenty of people will watch this series and think that it makes him into too much of a hero, especially in its closing moments, when Comey gives a West Wing–worthy good-bye speech to his colleagues.
Ray does make it clear that Comey's commitment to his own moral code makes him blind to the bigger picture. The most egregious error he makes is his decision to announce the discovery of more Hillary Clinton emails that need to be investigated, just 11 days before Election Day 2016. Comey's wife, Patrice (Jennifer Ehle), who, along with Comey's two daughters, support the election of Clinton, begs him not to divulge the information because the damage it may do outweighs whatever responsibility Comey thinks he has. He announces it anyway, but while the series shows how much backlash he receives from the public, Patrice lets it go, as if there would be no lingering resentment between the two of them. The Comey Rule could certainly have wrestled more aggressively with the ramifications of what Comey did.
This story is so big and involves so many people that even those who are well-versed on the details may feel overwhelmed. Every time The Comey Rule introduces a new key character, from Andrew McCabe (Michael Kelly of House of Cards), who would eventually become the acting FBI director after Comey's departure, to former national intelligence director James Clapper (Jonathan Banks of Better Call Saul), to Sally Yates (Holly Hunter), their names and titles are displayed onscreen. It is a lot to keep track of, and when the stand-ins for some of the more notorious Trump administration figures show up, it can be distracting. It's hard not to laugh at the sight of Philip Riccio replicating the blank expression of Jared Kushner, and even harder not to when Joe Lo Truglio of Brooklyn Nine-Nine shows up as Jeff Sessions.
As exhausting as revisiting this period may be, there is value in remembering what happened back in 2016 and 2017, particularly with regard to the influence of Russia on that presidential election. At one point in The Comey Rule, two Russians are shown by the Reflecting Pool, which looks nothing like the actual Reflecting Pool, discussing their efforts to spread misinformation online, including articles that say Hillary Clinton has Alzheimer's. That same type of information is currently being spread via false allegations that Joe Biden has dementia. A final title card at the end of part two of The Comey Rule reminds us of this by noting that intelligence officials have found that Russians are actively interfering with the 2020 election, but "the president has yet to acknowledge this finding."
The history in The Comey Rule is repeating itself right now, as the election inches closer and closer. The people who most need to understand and confront that fact, sadly, are probably not going to watch The Comey Rule, a flawed but still important retracing of the decisions that led to our current democratic crisis.