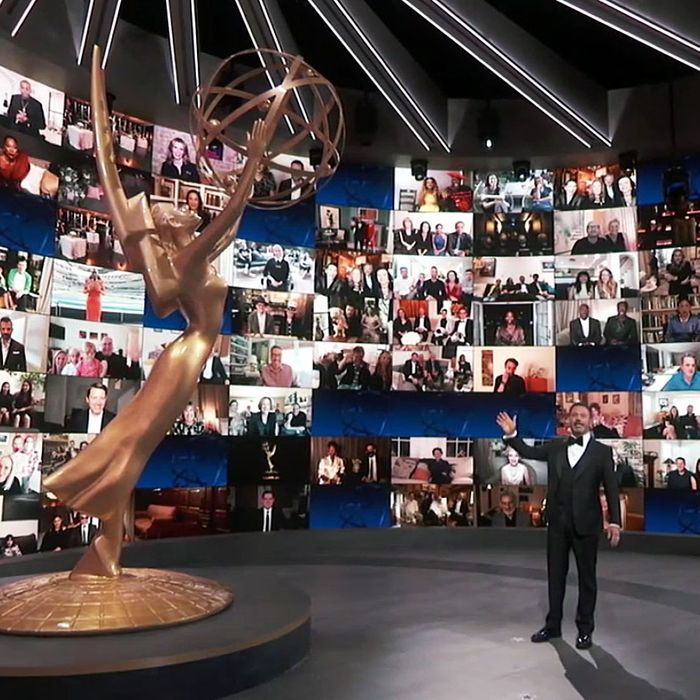 Jimmy and the big Emmy Cerebro.
Photo: ABC
For as disastrous as a socially distanced pandemic Emmys could've been — and it could've been rough — the 2020 Emmy awards mostly ranged from pleasantly benign to actually pretty fun. There were some missteps, sure, including one extremely gross joke from host Jimmy Kimmel and a somewhat perplexing Governor's Award. There was an unfortunate programming decision to push all the comedy awards into the first hour, which meant that Schitt's Creek's historic comedy sweep landed a bit flat. By and large, though, it was a smooth and often funny ceremony, even after Jennifer Aniston's dangerous brush with nearly burning down the stage. Here are the night's highs, lows, and hmms of an Emmys night like none before.
HIGH: The strange, disorienting audience reaction shots pasted in from Emmys past during Jimmy Kimmel's monologue. At first, as Kimmel monologued to an auditorium full of laughing stars, our reaction was Is this safe? Then, remembering this is clearly canned footage, we pivoted to Oh, this is a sort of Mulholland Drive surreal moment, sure. Then, as they revealed that Kimmel was monologuing to an empty audience, plus a few cardboard cutouts and the actual Jason Bateman, we gave up any hope of making sense of this night and went with the flow, which was the best preparation of all.
HIGH: Jen and Jimmy nearly burn the stage down in the middle of a bit about "burning the germs off" the winner envelopes. You're supposed to discharge the entire fire extinguisher when you use it, and if you don't, you can end up like Jen, who does a little extinguisher spritz only to look back and discover a roaring conflagration. It's a goofy accident, and we can enjoy it because they did not burn the stage down and thus did not start another wildfire in California!
HIGH but also LOW: There's something pleasantly bonkers about the Emmy Award winners being handed a statue by a person in a hazmat suit printed to look like a tuxedo? But it'd have been much better if the hazmat-suited award people didn't have to also appear in a Kia ad about delivering Emmys.
HIGH: The thought of the hazmat people lurking outside the Emmy nominees' houses, and then promptly leaving if they do not win, is deeply pathetic in a whole 19th-century "emotion that is too large to process in this time" way.
LOW: The Schitt's Creek cast appearing together in their own Emmy party, flaunting how much safer things are in Canada than for us in the U.S., a fact repeatedly underlined because everyone at the relatively large party seemed to win something. More important, how dare you rub this competency in our faces, Canada!
LOW: As fantastic as it is to see recognition for so much of Schitt's Creek, especially for a performer like Annie Murphy who so deserves it, the Emmys decision to clump together all the comedy awards meant the gradual Schitt's sweep felt less like a surprising achievement and more like an obvious, unavoidable march toward their Best Comedy win. TV Academy, please sample from the wide variety of great comedy on TV, a lot of which isn't just about white, rich families, and consider spreading the love.
HIGH: Schitt's Creek is a good show! Congrats to them.
LOW: While introducing The Kominsky Method, Morgan Freeman said that he found the show while "channel surfing." The Kominsky Method is on Netflix. This will haunt us.
HIGH: John Oliver surprised, and genuinely concerned, by his at-home pop-up Emmy winner box.
REALLY LOW: Jimmy Kimmel joking that he was going to report John Oliver to ICE after Oliver beat Kimmel in the Variety Talk Series. Ugh.
HIGH: Great awards for Watchmen! Regina King won Best Actress in a Limited Series, and after he won for writing, Cord Jefferson had the opportunity to thank his therapist, something people should do more often! Yay for therapy! The show also won for Best Limited Series, and Damon Lindelof ended his acceptance speech with "I'm going to go throw up!" Not sure if anyone at Vulture mentioned this in the past year, but Watchmen — really good show! Yay for Watchmen!
HIGH: Yahya Abdul-Mateen II's acceptance speech for Watchmen, in which he dedicated his award to all the Black women in his life, "the people who believed in me first." A lovely, direct, heartfelt sentiment, and the best speech of the night.
HIGH: The celebrities have not been all that sure about what to do with themselves during quarantine, and the Emmys check-in with various celebs about how they've spent the last several months was … surprisingly charming! The best were Margo Martindale describing her gardening project (and swigging wine) and 91-year-old Bob Newhart saying that his schedule is mostly the same, other than quitting skydiving and alligator wrestling. The most Good Doctor moment of this sequence was when Freddie Highmore put on a medical mask and then greeted himself, as if he were a person recognizing Freddie Highmore on the street. "Hey, it's the Good Doctor!"
HIGH: Uzo Aduba reacts to her much-deserved win for Mrs. America by shouting off camera, "Mom, I won!" She ended her speech by shouting, "Mommy!" once again, though the show rudely cut away before her mom could get her on-camera moment.
LOW: ABC somehow feeling the need to bleep out Anthony Anderson saying WAP. It's just gynecology.
HMM: The 2020 Governor's Award went to Tyler Perry, and people like Chris Rock and Oprah talked a lot about how much TV and money Perry's made. There was a lot less talk about whether he's made great TV, or whether shooting three to four episodes in a week is a model other people should emulate.
HIGH: Zendaya wins Best Actress in a Drama for Euphoria, becoming the youngest winner in the category at 24 years old. Capping it off, she did so in her second glam outfit of the night, shouted out organizers on the streets, and elegantly tied in that whole youth thing: "There is hope in the young people. I know our show doesn't really show that."
HIGH: Succession racked up several wins, including for writing (for "Hunting," a.k.a. the boar on the floor episode), and for daddy's No. 1 boy Jeremy Strong. Additional winners included everyone who got to stare at the very strange room where Jesse Armstrong accepted his award. Giant fish tanks and beautifully appointed homes are boring. Give us rumpled rugs and gloriously clashing patterns!
HMM: Congrats to Apple TV+ for securing an Emmy award for Billy Crudup in The Morning Show! Crudup's performance in The Morning Show is a lot of fun, and the whole show would benefit from taking more inspiration from Crudup's chaotic energy. But Succession's three nominations in this category probably split the vote for Matthew Macfayden, Nicholas Braun, and Kieran Culkin, and all of them were robbed.
HIGH: In the middle of Jesse Armstrong's acceptance speech for Succession's Best Drama win, the phone rang and the very strange room suddenly made sense. It's room service! They're in a hotel! Plus, just to round out the very strange but surprisingly entertaining Emmys, Sarah Snook held a foil Emmy award and then Kimmel ended the night by saying "Baba Booey!" It was an occasionally awkward, sometimes bad, often pretty nice awards show.
Bababooey.