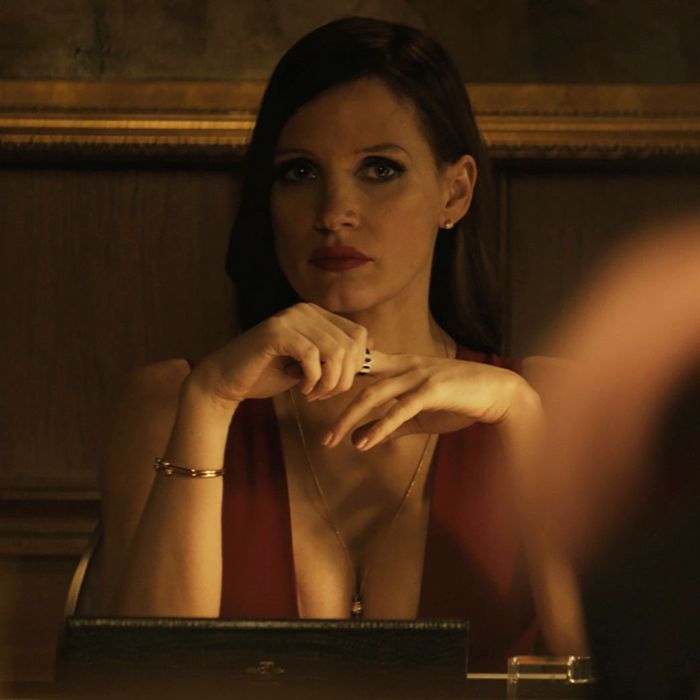 It's a story of greed, excess, hubris, and bandage dresses; it's a story about Hollywood.
Photo: STX Films
Every week for the foreseeable future, Vulture will be selecting one film to watch as part of our Friday Night Movie Club. This week's selection comes from staff writer Hunter Harris, who will begin her screening of Molly's Game on September 25 at 7 p.m. ET. Head to Vulture's Twitter to catch her live commentary, and look ahead at next week's movie here.
A basically meaningless anecdote that I think about often is Aaron Sorkin describing the nightclub 1 OAK. For his directorial debut Molly's Game, Sorkin went to the notorious celebrity haunt to research a scene that would take place in a nightclub; he needed to know — and I quote — "what went on there." (Those four words alone, my God!) "You know 1 Oak? I'd never been to a club before, so just knowing I'd have to film a scene at one, I had to know what one looks like and what went on there," he told Entertainment Weekly in August 2017. "So I went and sat in 1 Oak for about half an hour." I think about this a lot: Sorkin wearing his glasses, sitting at the bar, just looking around. At that year's Toronto Film Festival, Sorkin asked Vulture why we (coincidentally, I) found his research methods funny enough to blog. Jessica Chastain interjected: "I think for me, I would like to imagine what Aaron Sorkin even wears to 1 Oak. [She gestures to his tan suit.] Did you wear this?"
The club scenes in Molly's Game are basically blink and you'll miss them; it makes sense why Sorkin only needed to spend 30 minutes observing the nightclub. But there is something hilarious and thrilling about that contrast — the hyperverbal, moralistic Sorkin setting up shop in a place where words don't really matter — that gets to the appeal of his movie Molly's Game. Rich (and occasionally super-famous) people get dirty; an exceptionally discrete 20-something — wearing a lot of eye shadow and a lot of sequins — cleans up fistfuls of cash. It's a story of greed, excess, hubris, and bandage dresses; it's a story about Hollywood. I'm fascinated by gossip and the Pussy Posse and self-righteous monologuing. Molly's Game makes good on all these interests.
So, the story: In the early 2000s, Molly Bloom managed a high-stakes poker game in the basement of the Viper Room, and later, in hotel suits. Her clients included Tobey Maguire, Leonardo DiCaprio, Macaulay Culkin, Matt Damon, Ben Affleck, Alex Rodriguez, the Olsen twins, and more. At first her game was just a well-kept secret vice. But in 2013, Bloom was arrested and charged as part of a money laundering and illegal sports gambling operation. Molly's Game, based on her book of the same title, follows the rise and arrest of the "poker princess," by then based in New York City.
Before she took the Viper Room gig, Bloom was a talented normal. In what feels like another life, she was an Olympic-hopeful skier. When the story really starts moving, she's another young woman living in Los Angeles, not really sure what she wants to be doing. With a little luck and a good pitch, she developed and sold access to a particularly Sorkian fantasy: a place where men can play, moralize, and sulk. It's his first movie with a female protagonist, but it has most of his trademarks, for better or for worse: There are underdog heroes and sell-out villains. There are daddy issues, meaningless trivia flaunted as genius, sanctimonious digs at tabloid gossip. There's all that freaking talking: talking your way into trouble, talking your way out of it, talking your way through literary references that really don't make sense but, hey, I didn't take junior year English for nothing. It's slick like a Soderbergh movie, but not as flirtatious; it has the irresistible momentum of a good caper. Idris Elba — Stringer Bell himself! — is the lovingly gruff defender of Molly's honor. (And he also puts on a truly punishing American accent, which I've always found very charming.)
The thing about Molly's Game is that no matter how Sorkin-y it is, it's a good time. This Friday night, I'll be livetweeting it on Vulture's account. Are you all in? (No, I don't know any other poker terms.)
Molly's Game is available to stream with a Netflix subscription, and is available to rent on YouTube, Google Play, Vudu, Prime Video, and iTunes.