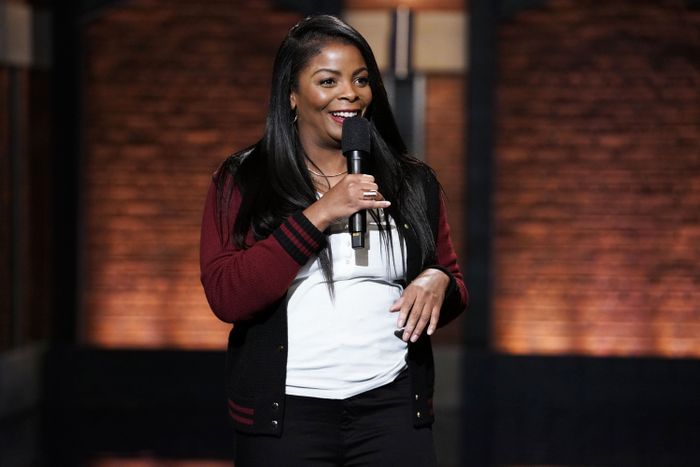 Janelle James.
Photo: NBCU Photo Bank/NBCUniversal via Getty Images
The comedy-podcast universe is ever expanding, not unlike the universe universe. We're here to make it a bit smaller, a bit more manageable. There are a lot of great shows, and each one has a lot of great episodes, so we want to highlight the exceptional, the noteworthy. Each week, our crack team of podcast enthusiasts and specialists and especially enthusiastic people will pick their favorites. We hope to have your ears permanently plugged with the best in aural comedy.
You in Danger Gurl — Fucking Beth (With Amelie Gillette)
Comedian Janelle James loves all movies about sex, lies, and murder. On her new podcast, You in Danger Gurl, she and a guest review erotic thrillers, though the "review" part of that is loose — every movie is James's favorite, and they all get as many stars as possible. On the inaugural episode, James is joined by writer Amelie Gillette to discuss perhaps the mother of all erotic thrillers: Fatal Attraction. While picking it apart, the two get into their first impressions of the film when they were younger (like the idea that throwing water on a person is what sex is), discuss the use of the word crazy versus their new term romantically impaired, and try to spot the red flags from a mile away (Alex's eyes say "crazy," er, "romantically impaired" from the start). And the red-flag discussion goes beyond what's in the film. Before diving into the movie of the week, James reads some listener-submitted red flags, offering warnings against men who don't have jobs or women who buy you pet rabbits to keep at your place. The podcast serves double duty as a joyful and laugh-filled source for dissecting a hyperspecific movie genre and giving advice against unhinged relationships. —Brianna Wellen
Listen: Spotify | Apple | Website
Why Won't You Date Me? — The World Is Really Shitty and I'm Alone (With Ziwe) 
Although dating may seem like a thing of the past, Nicole Byer is here to prove that romance can survive the bleakness of quarantine. Having taken a brief hiatus from online dating herself, Byer revealed this week that she's back on the apps and ready to mingle. Since returning, one thing still rings true for our host: She continues to hate Coffee Meets Bagel. I mean, what's with all those beans anyway? Outside of her ongoing disdain for the app, Byer also points out the rise of performative activism she's noticed in many dating profiles. Luckily for her (and us!), Byer's guest this week is a professional caller-outer of performative allyship. Cue Ziwe Fumudoh (Desus & Mero). Off the bat, you can tell Ziwe is a fan of the show. She even mentions using older episodes of Why Won't You Date Me? as research for her smash-hit Instagram Live interview show. While the two are able to commiserate about their difficulties with dating during the pandemic, Byer and Fumudoh end on a high note by describing their dream partners to each other, one of which is nicely summed up as a "hot genius." Tune in for a fun one, folks! —Tom Rainey
Listen: Spotify | Apple | Website
This Sounds Serious Presents: Grand Casino — Jeremy, Kenny, Karl, Klaus, and Kirk
True crime continues to be one of the hottest genres in podcasting these days, and comedic handling of true crime — such as My Favorite Murder — is a way to make criminality palatable. Going one step further is fake true crime, and that's where This Sounds Serious steps in, debuting its eight-episode third season this week. Part Serial, part Tiger King, and part sly, unmitigated spoofery, the podcast follows investigative podcast journalist and 911 call aficionado Gwen Radford. This time she's digging into the seamy underbelly of Hollywood to get to the bottom of the story of Kirk Todd, "a con man who became a filmmaker, but who never stopped being a con man." In this episode, Radford uncovers the many aliases of the slippery dude who got $5 million to make a movie that never got made back in 1991. Now she's on his trail to find out what happened to him 30 years later. TSS's producers have captured the tropes and styles we've become familiar with, laced with delicious bits of character-driven weirdness. Besides series regular Carly Pope (Arrow, Suits) as Radford, there are plenty of familiar comic voice talent, like Paul F. Tompkins and Gary Anthony Williams, lending their skills. —Marc Hershon
Listen: Spotify | Apple | Website
Review Revue — Haunted Houses (With Ryan Gaul)
Coming in hot an entire day before spooky September started, Review Revue set its sights on haunted houses. Dedicated to finding the "most absurd reviews on the internet," hosts Reilly Anspaugh and Geoffrey James invite a guest to join them as they read and riff on the reviews before using them as a springboard to improvise an even more absurd scene. This week, Ryan Gaul joins in and discusses "absent boyfriends, costumer [sic] service, and Groupon" before sharing a Yelp review of Blackout, a walkthrough horror house that requires visitors to sign away their rights before entering. The customer's experience sounds more S&M than scary, resulting in maybe the worst first date ever. The reviewer is not, however, on the romantic outing. She simply witnesses it, which leads to an improvised version of the date featuring the doomed couple, a few disgruntled employees, and a misplaced oyster. It's funny and also a cautionary tale, because it becomes clear that going to a haunted house with an absolute stranger probably won't end well, especially for those trying to avoid getting spanked in public. —Becca James
Listen: Spotify | Apple | Website
Other Podcasts We're Listening To:
Fraudsters — Miss Cleo, Pt. 2
Listen: Spotify | Website
My Neighbors Are Dead — Halloween H20 (With Lauren Ash)
Listen: Spotify | Apple | Website
Got a comedy podcast recommendation? Drop us a line at comedypodcasts@vulture.com.
If you like comedy and you like podcasts, we recommend you subscribe to Vulture's own Good One podcast, which releases new episodes every Tuesday on Apple Podcasts, Spotify, Stitcher, Overcast, or wherever you get your podcasts.