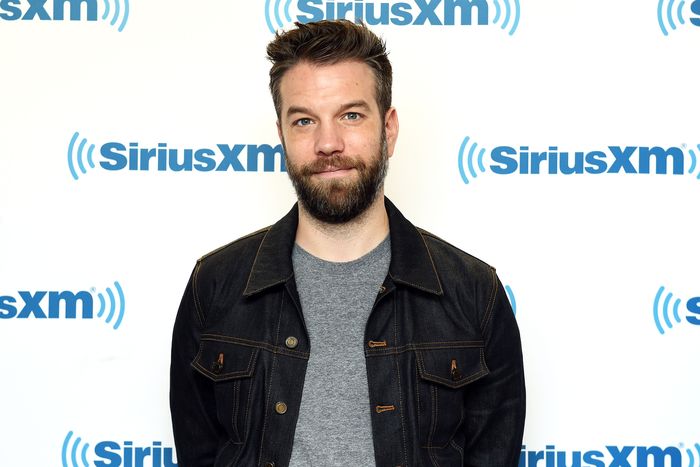 Anthony Jeselnik.
Photo: Ilya S. Savenok/Getty Images for SiriusXM
The comedy-podcast universe is ever expanding, not unlike the universe universe. We're here to make it a bit smaller, a bit more manageable. There are a lot of great shows, and each one has a lot of great episodes, so we want to highlight the exceptional, the noteworthy. Each week, our crack team of podcast enthusiasts and specialists and especially enthusiastic people will pick their favorites. We hope to have your ears permanently plugged with the best in aural comedy.
The Jeselnik & Rosenthal Vanity Project - Pizza! Pizza! Candle! Candle! Epstein!
These last five months have been some of the darkest in our country's history, but at last there is a light at the end of the tunnel: The Jeselnik & Rosenthal Vanity Project has returned. Sure, JRVP is now on All Things Comedy instead of the Comedy Central podcast network, but it's basically the same experience, catching up on birthdays and summer headlines of note and stopping by Erica's corner. Everyone seems to be thriving — they're just as happy to be back together as we are to hear them shoot the shit about watching Girls Gone Wild videos on the exercise bike. We get to hear our old friends hang out with their old friends, and it feels almost like normal life again. It's a pretty damn wholesome experience, plus we finally get more of those book recommendations everyone's so horny for. —Kathryn Doyle
Dads: The Podcast - Gone to Carolina with Fortune Feimster 
Hosted by Rory Scovel and Ruthie Wyatt, Dads: The Podcast unpacks "the mysteries of fatherhood, parenting, and the weirdos who raised us." Joined by "their hilarious celebrity friends," Scovel and Wyatt's show is billed as one for dads and non-dads alike, and this week guest Fortune Feimster arrives as the first non-dad guest. A North Carolina native, Feimster bonds with Scovel over their shared Southern roots and shares stories about her dad, who goes by "Tiny." A lot of the conversation focuses on food at first, as Scovel and Feimster crack up over the amount of fried food they grew up on. "I can't tell you how many people in my life… since college [have told me] I need to eat something green after they've spent like a weekend with my family," says Feimster. Later, when discussing family, Feimster reflects on the differences between her mom and dad that influence her. "So, I knew the country-club world and how to behave and manners and the education thing. And then I had the like, you know, NASCAR, chicken wings, titties," she says. It's a combination that makes for a good comedian and a perfect guest for this funny podcast about families. —Becca James
Listen: Spotify | Apple | Website
Blocked Party - Jack Allison v. Hoarse Whisperer
Longtime Twitter users will remember @Horse_ebooks, a Dada-esque spambot account beloved for its nonsensical tweets before it was bought and turned into an art project. Twitter users of the last few years will surely recognize another horse account, @HoarseWhisperer, an account that vehemently promotes centrist policy solutions to hundreds of thousands of Resistance followers, all while pretending to be a horse. Well, that was his username until the horse made an enemy of comedy writer Jack Allison. Each week on Blocked Party, hosts Stefan Heck and John Cullen welcome an Extremely Online guest to talk about a noteworthy block they've received on social media. And in what they call their most requested guest ever, Allison joined the two to discuss his long-simmering feud with a fake horse who really hates Medicare for All and raising the minimum wage. It turns out that the Hoarse Whisperer had a vested interest in maintaining corporate ties to the Democratic Party: The horse is actually a marketing consultant for places like Exxon and Citibank! In a wild episode, Allison explains how he found the horse's identity, how he raised $125,000 for Bernie Sanders during the primaries off the horse's name, and finally, how he used U.S. trademark law and Twitter's notoriously byzantine support system to literally take the Hoarse Whisperer's handle and become the horse himself. —Pablo Goldstein
Listen: Spotify | Apple | Website
Go Fact Yourself - Wink Martindale & Arden Myrin
Who's a great "get" in the world of podcast game shows? How about a paragon of TV game-show royalty? We're talking Wink Martindale, with more than six decades of hosting chops (Tic Tac Dough, High Rollers, Trivial Pursuit), but this week he's a contestant on Go Fact Yourself, pitted against comedian and actress Ardin Myrin (Insatiable), with them both fielding questions from the show's moderator J. Keith van Straaten. Comedian Helen Hong serves as the show's judge and scorekeeper. One of the hooks of this show are the guest experts they have on who specialize in one particular topic each contestant claims to be extra-knowledgeable about, and there's a delightful moment during this episode where Myrin (whose expertise is the stage production of Little Shop of Horrors) ends up singing an impromptu rendition of "Suddenly Seymour" with her guest expert Lee Wilkof, who originated the Seymour role in the show's 1982 premiere — a show Myrin had seen as a girl in New York. While Martindale comes through with some awesome anecdotes about his time in radio and TV, we find out that he's not quite as together playing a game than he is at hosting one. —Marc Hershon
Listen: Spotify | Apple | Website
Other Podcasts We're Listening To:
The Ajumma Show - Moon Manifestations
Listen: Spotify | Apple | Website
The Mortified Podcast - I'm Obsessed with my BFF (w Anna Konkle and Maya Erskine)
Listen: Spotify | Apple | Website
Got a comedy podcast recommendation? Drop us a line at comedypodcasts@vulture.com.
If you like comedy and you like podcasts, we recommend you subscribe to Vulture's own Good One podcast, which releases new episodes every Tuesday on Apple Podcasts, Spotify, Stitcher, Overcast, or wherever you get your podcasts.