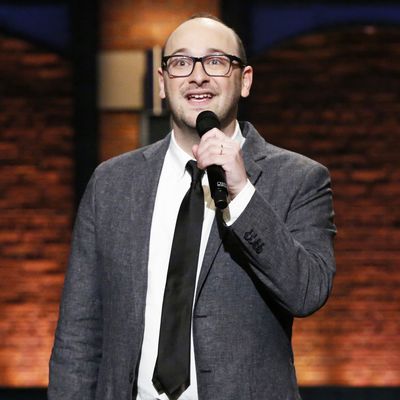 Josh Gondelman, that is.
Photo: NBC/NBCU Photo Bank/NBCUniversal via Getty Images
The comedy-podcast universe is ever expanding, not unlike the universe universe. We're here to make it a bit smaller, a bit more manageable. There are a lot of great shows, and each one has a lot of great episodes, so we want to highlight the exceptional, the noteworthy. Each week, our crack team of podcast enthusiasts and specialists and especially enthusiastic people will pick their favorites. We hope to have your ears permanently plugged with the best in aural comedy.
Good Christian Fun — "Awesome God," by Rich Mullins (With Josh Gondelman)
Good Christian Fun takes listeners into "the strange upside-down world of Christian pop culture." Hosted by Kevin T. Porter (Gilmore Guys) and Caroline Ely, it's "a show for skeptics and believers alike" but skews toward the former, or at least toward former Christians to the listeners' benefit. This week, Josh Gondelman drops in to discuss "Awesome God," by Rich Mullins. Many may be familiar with this contemporary worship song from 1988, which rose to the No. 1 spot on Christian radio before landing on late-night infomercials for Christian compilation CDs. Once queued up, the humorous commentary begins. "[The song] sounds like it's from a movie where God comes into town to kick some ass," says Gondelman, later elaborating, "It sounds like Christian Road House … if Patrick Swayze's character from Road House also read the Bible to the other characters at the bar." In addition to riffing on the song, they consider its legacy, which includes Mullins saying, "It's one of the worst-written songs that I ever wrote; it's just poorly crafted." Then they rate it, offering a well-rounded take on the "weird and hilarious world of faith-based entertainment" that's sure to crack listeners up. —Becca James
Listen: Spotify | Apple | Website
Black Men Can't Jump [In Hollywood] — Mulan, ft. Kat Lerner, Angel Yau, and Donald Chang
For the latest episode of Black Men Can't Jump [in Hollywood], Jonathan Braylock slides over to the guest seat to welcome comedians Kat Lerner, Angel Yau, and Donald Chang to get to the bottom of the new live-action Mulan. There's no usual "watch the movie before listening to the podcast" with this episode; Braylock actually suggests that listeners wait until December, when Disney releases it for free, and Yau's most positive feedback is, "I'm just happy that Forever Dog is giving me $30 to watch it." While they do recognize the movie's pros, its cons require much more airtime. After the four sift through the tornado of politics surrounding the remake's writing, production, and release, their critiques of the film itself mostly lie in questioning all of the confusing things Disney added, from Chi to that one weird Me Too moment to Mulan's distractingly far-more-interesting sister. Lerner, Yau, Chang, and Braylock have varying levels of disappointment with the retelling as a whole, which makes their conversation helpful for anyone who has seen the film and needs to process what they just spent $30 to see (and/or to get pumped up to rewatch the original). There is one thing these four can definitely agree on, though: They miss Mushu. —Anna Marr
Listen: Spotify | Apple | Website
You Up With Nikki Glaser — Trevor w/ Sara Schaefer
Back in one of the earlier phases of "everyone has a podcast," Sara Schaefer and Nikki Glaser hosted the podcast You Had to Be There. The joy of the show came from their incredible chemistry, which eventually led to two seasons of Nikki & Sara Live on MTV. The podcast ended in 2014, and there has been no other reunion I have anticipated more than these two recording something together again — and I know there has got to be other hobots and brobots (deep cut) out there hoping for the same thing. After years of patiently waiting, that reunion podcast was finally recorded. They chat mostly about Schaefer's new book, Grand (which, in addition to this podcast, I also recommend!), as well as the damage social media is doing and the pressures that come with comparing yourself to other people. Glaser has been putting out daily episodes of You Up throughout the pandemic, chronicling her life living back home with her parents. In her stream-of-conscious recordings, she's open about what she's going through, how she's feeling, and how she's getting through it all. The show is a great source of comfort for anyone who's not having the best time right now, which I'm going to go out on a limb and say is a lot of people. —Leigh Cesiro 
The Whaley Family Hour — One Ball One Strike
Desperate times calls for … well, you know. And in this case, the desperate measures include actor Frank Whaley (Pulp Fiction, Field of Dreams) and his wife, author Heather Waley (Eat Your Feelings: Recipes for Self-Loathing), swaddling themselves in blankets in a closet of their house. Why? Because Heather learned how to produce a podcast from YouTube. Ever since being locked down in March, the Whaleys have taken to the closet every week to get their thoughts and feelings out in podcast form. This week, Heather tries to convince her man to sacrifice one of his testicles as a lure to get President Trump voted out of office. And he almost goes for it, especially when the idea of it being a big money-making streaming special starts to percolate. But alas, Frank gets cold feet (in spite of the blankets), and the couple gets down to the business of raking the current administration, their policies, and their kids over the coals. ("I think people would pay to see Don Jr. locked in an enclosure with a bear," suggests Heather.) It's good, short fun with 20-minute episodes, but you better hurry: Frank says there are only 11 more shows to go before they hit 50 and get out of the closet. —Marc Hershon
Listen: Spotify | Apple | Website
Other Podcasts We're Listening To:
Double Threat — Now My Wife Kicks! (With Rian Johnson & Karina Longworth)
Listen: Spotify | Apple | Website
The Jock Doc Podcast — Sarcoidosis/Dr. Mark Budro
Listen: Spotify | Apple | Website
Got a comedy podcast recommendation? Drop us a line at comedypodcasts@vulture.com.
If you like comedy and you like podcasts, we recommend you subscribe to Vulture's own Good One podcast, which releases new episodes every Tuesday on Apple Podcasts, Spotify, Stitcher, Overcast, or wherever you get your podcasts.