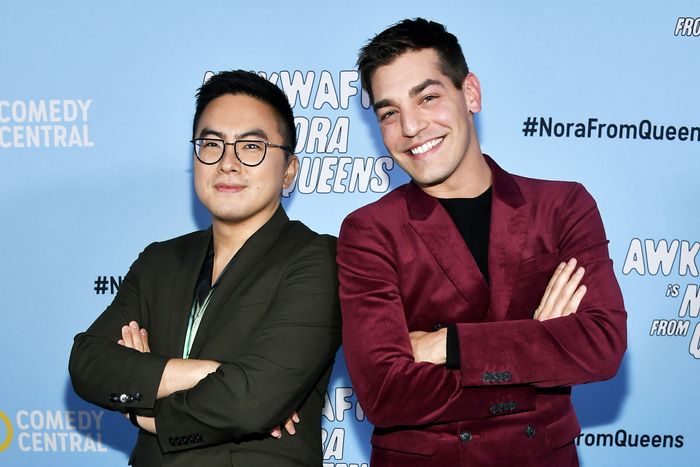 These two!!
Photo: Frazer Harrison/Getty Images for Comedy Central
The comedy-podcast universe is ever expanding, not unlike the universe universe. We're here to make it a bit smaller, a bit more manageable. There are a lot of great shows, and each one has a lot of great episodes, so we want to highlight the exceptional, the noteworthy. Each week, our crack team of podcast enthusiasts and specialists and especially enthusiastic people will pick their favorites. We hope to have your ears permanently plugged with the best in aural comedy.
Las Culturistas - Here's Good Thing!
At a time when it can be hard, dangerous even, to catch up with our own friends, it feels safe and comforting to listen to other people catch up with their friends. Which is exactly what hosts Matt Rogers and Bowen Yang do on this week's guest-less episode of Las Culturistas. After a brief check-in on the status of the rhythm of their friendship, Matt and Bowen finally answer the question that's on everyone's mind: What do they think about the new Mulan? They've got a lot to say on the matter, none of it positive but all of it hilarious, and as Rogers succinctly puts it, he was "dehydrated with boredom." They also cover other recent cultural touchstones like The Vow, Housewives updates, and the trailer for the Kate Winslet–Saoirse Ronan lesbian fossil-digger movie. I don't know if it's sacrilegious to other culturistas to say this, but these corona-era guest-less episodes of Las Culturistas have truly been a source of pure delight in these otherwise dreadful times. And from what I can gather, listening to this one is a better use of your time than watching the new $30 Mulan movie. —Leigh Cesiro 
Listen: Spotify | Apple | Website
Culture Kings - Getting Vulnerable with Ego Nwodim 
It's been a hell of a big week for Ego Nwodim! With the announcement of her promotion from featured player to main cast member on Saturday Night Live, there is much to celebrate in the comedy world. Although this was recorded before the news broke, Nwodim's appearance on Culture Kings offers great insight into why she is a beloved member of the comedy community. In the show's preamble, hosts Jacquis Neal and Edgar Momplaisir show a ton of admiration for Nwodim and talk about how everyone around her knew she was going to be a huge star one day. Once Nwodim joins, the three very quickly get into a self-described Culture Kings therapy session. Although we are given plenty of great laughs throughout, this episode really tugs at the heartstrings. Nwodim, Neal, and Momplaisir get into an insightful conversation about family, personality tests, and crying. Although Nwodim kicks things off by saying "I try not to be earnest on the internet in any way, shape, or form," the vulnerability on display here really makes for a great listen. Much like any good therapy session, finishing things up with a "shitting your pants" story definitely makes for a nice ending. —Tom Rainey
Listen: Spotify | Apple | Website
Chilluminati Podcast - The Tomte ft. Dodger!
Comedy and the paranormal makes for a potent (and popular) mix in Podcastland; witness faves like The Last Podcast on the Left, The Cryptonaut Podcast, as well as And That's Why We Drink. With just 66 episodes under its belt, Chilluminati Podcast is a relative newcomer to the field. Hosts Mike Martin, Alex Faciane, and Jesse Cox bring a mixed bag of skepticism, semi-belief, and actual fear to the proceedings: "Those things creep me the fuck out," admits Martin as he learns more and more about the history of "tomte," the precursor to the modern garden gnome. All of this episode's gnome ramble is information cobbled together by the guys' second-ever guest, a woman named Dodger who is a bit of a mystery herself — other than claiming to be an inveterate D&Der and a mom, there's not a whole lot more revealed. But her gnome-based research goes deep ("The Roman version was legs with a huge penis-shaped upper body …"). Dodger's relating of the über-creepy Redcaps of the British Isles (their caps are that color because they dunk them in the blood of their victims) will have you looking hard at the next innocent-looking garden gnome you spot. —Marc Hershon
Listen: Spotify | Apple | Website
Ruined With Alison Leiby and Halle Kiefer - Funny Games 
Each Ruined episode pairs horror-movie aficionado Halle Kiefer and scaredy cat Alison Leiby to discuss a "popular, classic, and/or extremely trashy horror movie." While not the first podcast of its kind, Kiefer and Leiby's stab at this setup offers a new layer of hilarious commentary. This week's focus is placed on the 2007 remake Funny Games, a movie where two psychopathic young men take a family hostage in their cabin, that's known for its meta-commentary and creating a creeping sense of dread. As Kiefer begins giving a play-by-play, the hosts identify what they consider red flags about the two young men (Michael Pitt and Brady Corbet) that the homeowners (Naomi Watts and Tim Roth) unfortunately missed. The list hinges on the men's appearance, and taking the actors out of the movie to evaluate their good looks cuts the tension of the film, lending some much-needed levity to the atrocities being recounted. As Kiefer describes a "20-year-old in tennis whites with a long blonde bang" and "pillowy lips," and Leiby concludes that they're like the "blonde Mendez Brothers," the horror turns to humor in this fast-paced and fun podcast. —Becca James
Listen: Spotify | Apple | Website
Other Podcasts We're Listening To:
Mental Health Comedy - Chris Mancini: Comedy, Horror & Mental Health, A Love Story
Listen: Spotify | Apple | Website
Got a comedy podcast recommendation? Drop us a line at comedypodcasts@vulture.com.
If you like comedy and you like podcasts, we recommend you subscribe to Vulture's own Good One podcast, which releases new episodes every Tuesday on Apple Podcasts, Spotify, Stitcher, Overcast, or wherever you get your podcasts.