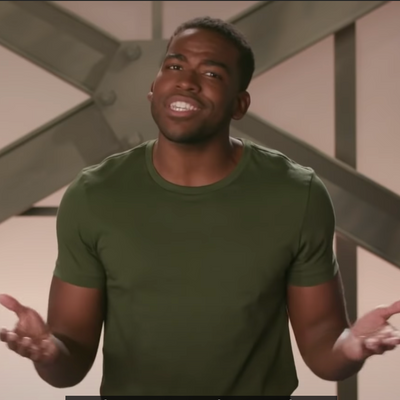 A personal trainer for all your quarantine moods. Photo: Late Night With Seth Meyers
How are we all holding up? With the death of Ruth Bader Ginsburg, the president refusing to guarantee a peaceful transfer of power, and the complete and utter lack of justice for Breonna Taylor, it's been an incredibly rough week, so I wanted to check in. As we continue spiraling further into the worst of all possible timelines, late-night television is forced to take on the seemingly impossible task of making anything seem funny right now. However, the hosts pressed on, finding the yuks wherever they could and doing their level best to make their audiences crack a smile. Dry those eyes, wipe those tears away, and get ready to laugh as we count down the best moments in late-night this week.
5. Bethenny Frankel Talks NYC Housewives on Watch What Happens Live
Sometimes, during rough patches, it's nice to reconnect with old friends. And sometimes, those old friends are not actually friends but a former Real Housewives of New York City star that you've never met but feel a deep affinity for. On Thursday, September 24, Bethenny Frankel, the latter type of old friend, dropped by Watch What Happens Live, and it was a true delight. Bethenny is one of those people who's just built to be on-camera. You can tell from the ease with which she shared her initial distaste for Erika Jayne to the shocking reveal that she is still technically married to Jason Hoppy, she knows what the people want to see. She's also tried to use her platform for good and not evil, donating over 20 million masks and counting via her charity B Strong (the B stands for Bethenny). Having her back on Bravo was very reminiscent of the titular number from Hello, Dolly! when Dolly Levi returns to the Harmonia Gardens, and the waiters are so excited they sing a song about her and start pirouetting. Come to think of it, I'd love nothing more than to see Bethenny Frankel star in the next Hello, Dolly! revival. She might not be able to sing it, but she would certainly be able to land the punch lines. And Jill Zarin can take over the role for the matinee performances. Wow, I may have just single-handedly saved Broadway.
4. Michelle Obama Reveals She's Sick of Her Family on Conan
I don't love to include moments we've already covered on the site on this, the highly official and incredibly important list of the top moments in late-night of the week, but I will make an exception for our former FLOTUS, Michelle Obama, complaining about spending time with her family. On Wednesday, September 23, the best-selling author and podcaster appeared on Conan and revealed that even the former First Family has gotten tired of spending time with each other in quarantine. Just like the rest of us, at the beginning they enjoyed the added family time and even had special events like a family game night and an "art show" night, but six months later, that's all worn thin and they are starting to get on each other's nerves. I must say I understand where Michelle is coming from and appreciate her candor, as I spent the first three months of quarantine with my immediate family, and we, too, had big plans at the start that we didn't necessarily follow through with. And by big plans, I mean we started a 2,000-piece puzzle in March and finished the outline. It has been sitting on the dining-room table collecting dust since the beginning of April, mocking our inability to buckle down and finish. In our defense, puzzles are boring.
3. Samantha Bee Honors RBG
Everyone is still reeling from the loss of our nation's last hope American icon Justice Ruth Bader Ginsburg, and Samantha Bee's guttural scream at the top of Full Frontal really summed up what I have to imagine most of us are feeling right now. After the expletive-laden scream, Bee offered a segment on Ginsburg that was respectful, touching, and full of jokes — a tough balance to strike. She touched on Ginsburg's history — not only her 27 years on the Supreme Court, but her time as a lawyer successfully arguing five out of six cases in front of the Supreme Court (hey, you can't win 'em all, even if you're Ruth Bader Ginsburg). Bee then mapped out exactly how bleak the future looks now that Ginsburg's seat is vacant on the Court (it's pretty bleak) without inducing full panic mode (okay, I am panicking a little). Bee broke down the most likely of Trump's nominees for the Supreme Court, including Judge Barbara Lagoa, who recently blocked hundreds of thousands of formerly incarcerated people from voting, and Judge Amy Coney Barrett, who has repeatedly ruled against abortion rights and would likely repeal the Affordable Care Act and isn't not involved with something akin to a Christian cult. Okay, strike what I said about full panic mode, but at least Bee paid tribute to Ginsburg while reiterating how high stakes the election is. Vote.
2. Schitt's Creek Sweeps Into Jimmy Kimmel Live!
I've gotta be honest. I'm not really a huge fan of Schitt's Creek. For me, it's one of those shows that I'll play while I'm doing laundry or cleaning my apartment — enjoyable enough, but nothing to write home about (huge exception for the Herb Ertlinger wine episode — that was inspired). That being said, I didn't mind that Schitt's Creek won big at the Emmys because (a) it's not Modern Family, (b) Eugene Levy and Catherine O'Hara are iconic, (c) they all seem like really nice people (duh, they're Canadian), and finally (d) Dan Levy is the best type of nepotism, I think. When the whole crew dropped by Jimmy Kimmel Live! post-win to talk about their historic Emmy night, my warm feelings for the Rose family only grew. Levy holding a broom to make a "cleaning the house" joke? Inspired prop comedy. Catherine O'Hara, a.k.a. Moira Rose, sitting next to a bouquet of pink and yellow roses? Poetic. Annie Murphy wearing a sweater with polar bears on it making an armpit-fart-noise joke? Okay, maybe I need to revisit the series. When they all went around and did Eugene Levy impersonations (lots of eyebrows, lots of throat clearing), I decided that I would officially start Schitt's Creek from the beginning this weekend with an open mind and heart. And that's the power of a good impersonation (and an Emmys sweep).
1. Jeff Wright's COVID-19 Workout on Late Night
If you couldn't tell from my multiple cries for help throughout, I've been feeling a little, well, unstable this past week due to the state of the world. Thankfully, comedian Jeff Wright unveiled a sketch on Late Night With Seth Meyers that really touched upon the three main moods of quarantine. Wright, who joined the Late Night writing staff this summer, depicted these three states of being in his sketch "Intro to COVID-19 Fitness," which aired on Thursday, September 24. In the sketch, three versions of Wright — a normal version (Jeff 1), a depressed version (Jeff 2), and an unhinged version (Jeff 3) — attempt to work out together. Jeff 2 can't get off the mat because "we're all gonna die anyway," while Jeff 3, who is in the midst of a manic episode, is happy to have the extra time to work out until he realizes he's wasting the best years of his life in his "raggedy apartment." Jeff 1, the normal Jeff, is trying to hold it all together as these two other facets of his personality run wild. As the kids say these days, "It me."
Before joining Late Night, Wright made a name for himself on TikTok and Instagram with his fast-paced, quick-cut comedy videos, featuring himself playing a host of characters in conversation with each other, and his "Intro to COVID-19 Fitness" is another hilarious entry into that genre. It's high-concept yet easily digestible and instantly relatable. I am all three versions of Jeff. We all are all three versions of Jeff, and until "Intro to COVID-19 Fitness" I had not seen the full spectrum of how quarantine is affecting our delicate, delicate psyches. Representation matters.