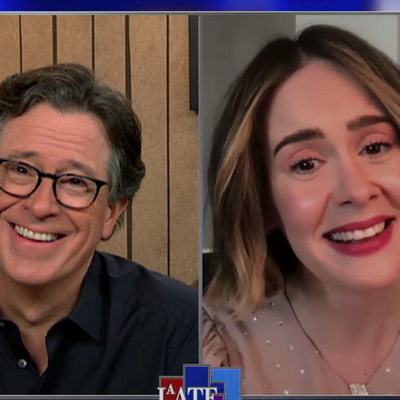 Let's get these two on
Two Friends
!
Photo: The Late Show With Stephen Colbert/YouTube
This was actually a pretty big week in late night. The five-night lollapalooza that is the 2020 Creative Arts Emmys took place, wonderfully hosted by Nicole Byer. The big winner, unsurprisingly, was Last Week Tonight With John Oliver, which took home its fifth Emmy in a row for Outstanding Writing in a Comedy Series. We love when an award is both deserved and boring. Wow, I wonder who's going to take home the Emmy for Outstanding Variety Talk Series at the Primetime Emmys this Sunday. Just kidding, I think Last Week Tonight will win, and I'm willing to bet my life savings on it. For the record, my life savings is about $237. I'm not a good saver.
In other, considerably more exciting news, Amber Ruffin unveiled her writing staff for The Amber Ruffin Show, which premieres on Peacock on Friday, September 25. Congratulations to comedians Dewayne Perkins, Shantira Jackson, and Demi Adejuyigbe on their new gig, and congrats to Ruffin for having great taste.
Here are our favorite late-night moments of the week:
5. James Corden and Dua Lipa Debut "New Rules" for Dating in Quarantine
Remember that thing where James Corden was the first late-night host to interview a guest in person last week since the beginning of the pandemic, and how I sort of wondered aloud whether or not that was a good idea? Well, my concern may have been warranted, as Corden announced on Monday that he was exposed to someone with COVID-19, so he would be hosting the show virtually all week out of an abundance of caution. So you're telling me that the first late-night host to make the premature decision to host an in-studio guest had to go back to hosting his show virtually after one (1) interview? This is what we call in showbiz "dramatic irony." Look, I'm not gonna lie, I don't even think Corden's video with Dua Lipa is all that great; I just really wanted to include it so I could say "I told you so." So consider this slot on the list as my way of respectfully saying "I told you so" to Mr. Corden. His parody of "One Kiss" and "New Rules" with Dua Lipa is cute though.
4. Melissa Villaseñor Describes Perfecting a Lin-Manuel Miranda Impression on Conan
I try very hard not to write about things that we've already covered on this site, but some clips are too good and must be talked about again. This week, that distinct honor goes to SNL star Melissa Villaseñor's description of doing a perfect Lin-Manuel Miranda impression on Conan. It's not even the impression that got me but, rather, the description of said impression that really blew my mind: "The way he sings, it's like he's in the sea and he's drowning." When Villaseñor said that, the clouds parted and a rainbow appeared. It's like she had the key and unlocked a door. I've been listening to Miranda sing for over a decade (In the Heights hive, what's good), and I've never been able to pinpoint what it is about his voice that is so … that way. That's why he sounds that way. It's because he's drowning — literally, he's taking in water in the middle of the sea, every time he sings, and gasping for air. It's so simple yet so clear. This is why Villaseñor is one of the best impressionists in the biz and is returning to SNL for season 46.
3. Cynthia Nixon Talks Progressive Policies on Late Night With Seth Meyers
For work-related purposes (read: for an alt-comedy show called Sex and the SimCity), I really dove back into the Sex and the City franchise this week. Well, imagine my surprise when after spending a good portion of my week with Carrie, Samantha, Miranda, and the other one, none other than Miranda Hobbes popped up on my television screen on Late Night With Seth Meyers. Yes, Cynthia Nixon — the Emmy, Grammy, and Tony winner; onetime gubernatorial candidate; and lifelong New Yorker — dropped by Meyers's show to discuss her role on Ryan Murphy's latest disaster series, Ratched, and to talk about how far New York has come in regard to implementing progressive policies. While Nixon didn't really get into her own experience running for governor of New York against Andrew Cuomo (it's probably too raw), she did list a number of progressive policies that have been implemented since she ran. "We've been able to pass the Green New Deal for New York. We've done major bail reform. We've had driver's licenses extended to everyone, including undocumented people. We've updated our abortion laws. We've passed the Gender Expression Non-Discrimination Act. It just goes on and on and on," Nixon said. Let's keep enshrining progressive policies into law and get Ms. Nixon that Oscar!
2. Maya and Anna Were Almost in a Cult in PEN15
It's back-to-school season, which means we luckily get to go back to middle school with Maya Erskine and Anna Konkle on Hulu's PEN15. The best friends stopped by The Tonight Show Starring Jimmy Fallon on Monday in Jimmy's first use of a three-way Zoom interview — the three-way phone call of this generation — to chat about the new season of their show. In the interview, Konkle revealed that one of the original concepts for the series involved cults: "Our first show idea was we were in a cult and we were escaping a cult — it wasn't convoluted at all. And then we hide in a foster family and then we just, like, start attending middle school to hide? Right, Maya?" Maya revealed that their cult plans were foiled by Tina Fey, who had just released her own cult-based project, Unbreakable Kimmy Schmidt. While I love PEN15, I'm sad that Maya and Anna underestimated the public's capacity for cult-based content (the limit does not exist), and I encourage them to follow up PEN15 with a cult-based project because I truly can't get enough. Come to think of it, in many ways, middle school is a cult, so they didn't stray too far away from their first impulse. There's a lot of volleyball in both.
1. Sarah Paulson Doing Shoddy Accentwork on The Late Show
Late-night television, at its core, is about the interviews. Before there were viral bits and games and bells and whistles, it was just Johnny Carson sitting at that big desk of his shooting the breeze with someone. It's nice to see two talented, funny people enjoy each other's company, tell stories, and riff off of each other. That's what we got on Thursday, September 17, when Sarah Paulson dropped by The Late Show With Stephen Colbert to plug her latest show, Ratched. Paulson, always a goddamn delight, had such great chemistry with Colbert that it was truly infectious. The two talked about the difference sonically between performing comedy and drama live (Comedy: laughs! Drama: You can hear a pin drop), and Paulson told a story about filming a seen from Carol (swoon) with Cate Blanchett (double swoon) in which they decided to "do it hot" and drink real martinis throughout the takes, resulting in Ms. Paulson being absolutely plastered by the end of the shoot. We stan a method actress.
My favorite part of the interview had to be Paulson's penchant for breaking into accents, at first British and then later an Australian-Kiwi mix. Honestly, hearing Paulson do middling (though still pretty solid) accentwork made me feel better as a performer. See, even Paulson struggles with accents! Colbert, feeding off Paulson's energy, also dropped into some light accentwork as well — and unsurprisingly nailed it. Did Paulson come in "hot" for this interview? We'll never know, but she was loose and ready for a good time, and I love that energy. The interview ended with an incredible Captain America dick joke from Colbert that made Paulson laugh, which implies that they both have absolutely seen Chris Evans's NSFW pic. Simply put, Paulson is a delight, and I support her in everything she does. However, after reading the reviews of her latest project, I will heed the advice of this incredible TikTok and maybe skip Ratched and just watch Paulson's interview with Colbert instead.