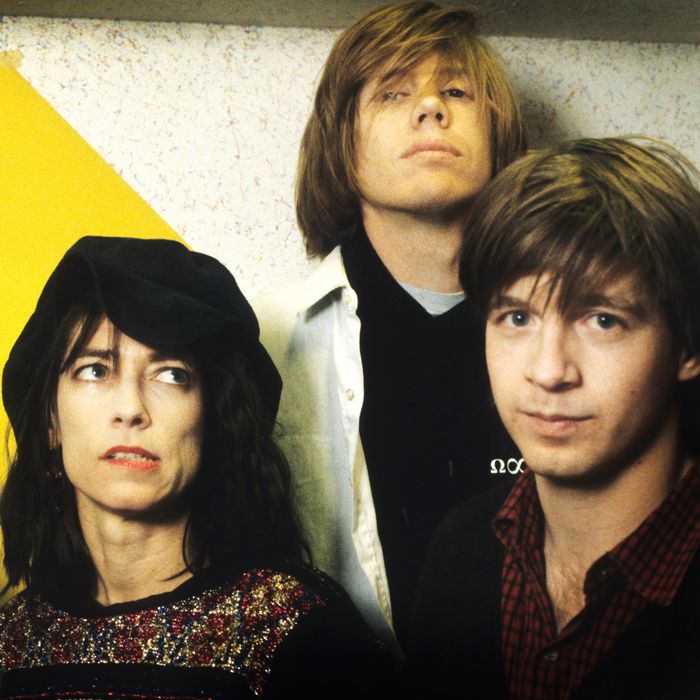 Photo: Gie Knaeps/Getty Images
Thurston Moore never meant for his seventh solo album, By the Fire, to be a reflection on the unceasing torments of 2020 — it just sort of happened that way. He finished recording just prior to the world going into lockdown in March, then completed it in isolation, sequencing the LP's nine songs to go from upbeat, straight-ahead rock to more introspective-yet-cacophonous cuts, one of which is over 16 minutes long.
"As soon as we started getting into this forced isolation, I wanted it to come out as soon as possible. I wanted it to exist during this situation that was so fraught with anxiety and questions, to put something out there that had that quality of being benign," Moore says from his home in London, where he's been since the start of lockdown. "Something with a different narrative than the one that is flooding the airwaves, and one that dealt with shared and personal emotion."
With the album out now and a socially distant, masks-mandated European tour set for later in the fall, if this year allows it, the 62-year-old former Sonic Youth front man is in good spirits now looking back on some of the funnier, stranger, and more poignant times from his famed career. Here, he tells Vulture about his upcoming book, his many random gigs and encounters, New York versus London, and the Sonic Youth deep cuts he considers among the band's best work.
Moment of 2020 you'll actually want to remember
Within the context of this situation, which is so anxious and conflicted, the best part about it is to be staying in one place for an extended period of time. I've never really been able to do that, and I've always desired that because I've always wanted to get involved with a writing project I had in mind for many, many years. [It's] essaying about music and talking about my own personal experience of being a teenager coming to New York in the '70s, what the city was at that time, the underground music scene downtown, and the records coming out of this 1976, '77 and '78 cavalcade of punk rock, No Wave, New Wave, and post-punk. This downtime period allowed me to do this, so I have this manuscript called Sonic Life that I probably will publish at some point in 2021. That's the bright moment, being able to actually execute that.
Thing about New York you miss most
I miss my family members who live around there, particularly my 26-year-old daughter [Coco Gordon Moore], who lives in Brooklyn. I miss having that physical closeness. To have that blocked because of the travel restrictions has been really a bit of a stone bummer.
What I miss, living in London now, is the liberty of being able to engage with what a major city has to offer at any given time of the day or night. London's really exclusive in respect to most major cities on the planet in that it literally shuts down from 10 o'clock onwards. That took me a while to get used to, coming out of living in New York all those years, where it was alive and kicking at all times. There's this history of where the royal family has this condescending attitude towards its citizenship, that they must go to bed early so they can rise early to get to work. That's sort of what it stems from. At first, it was completely and utterly annoying, but I have learned to appreciate it in my old age. It's like, "Go to bed at eight o'clock? Why not?" But I do miss New York's specific energy.
Most underrated Sonic Youth song
Some of the more arcane tracks that I thought were really Sonic Youth at their best would happen on certain 7-inches or as a B side. There's a song called … Oh, my God, it's so underrated I can't even remember the title of it. Let me see here — I have it in my files.
Well, one song was called "Mariah Carey and the Arthur Doyle Hand Cream" that we did as a split single with this group called Erase Errata. The lyrics were collaborative. Usually, the singer would bring in their own lyrics — if I sang, they were my lyrics; if Kim sang, they were hers — but this situation, we actually bounced lines off of each other, which was fun. We never really did that before. It was based on reading about Mariah Carey having a bit of trouble with her record label that day. That was [in] the news. And the free-jazz saxophone player Arthur Doyle, who's no longer with us, sent a gift to our house and it was hand cream. He just thought it was a nice gesture. It was something to write about, so we jammed them together and wrote this song.
There's also "Helen Lundeberg." It's a 7-inch we put out ourselves about this amazing painter I was reading about that day. I took all these lines from this dissertation on this artist that I thought were really evocative and used them as the lyrics [e.g.: "Helen Lundeberg / Illusory landscape / Five decades of paint / Helen Lundeberg / Illusory landscape / Four expressions of elegance"]. Then I had a poem that I sort of cut up and used for the B side of the record and it was called "Eyeliner." They only exist on the Japanese version of the Rather Ripped LP, so they're pretty buried. I would say they're my two favorite songs we ever wrote, but nobody knows about them.
Most properly rated album
Well, the critical feedback I've gotten for the record I just put out —I feel like it's been "got" more so than any other solo record I've done. As far as Sonic Youth, Daydream Nation certainly gave us more of a pronounced profile, critically. It was all based on the idea that we could put a double album out, as audacious as it was. The precedent was seeing the Minutemen and Husker Dü do it on SST records. We thought, Let's do that, too. Let's be the New York City version of that. That was the big inspiration. The irony is that it wasn't released on SST, which was the label we were also associated with at the time.
Best advice you've ever received
The best advice I got — and it really stuck with me early on — I remember getting from the musician Alan Vega, who was in the band Suicide. In the late '70s, I was in a band called the Coachmen in downtown New York and we played a lot at this artist-run performance space on Broome Street called A's, which stood for Arleen Schloss, who ran this series of Wednesday nights at this loft space she lived in with other artists. It was an amazing time. Jean-Michel Basquiat was always doing music there, playing electronic noise stuff with his Test Pattern lineup. It's where I first met Richard Edson, who became the first drummer in Sonic Youth.
There was a New Year's Eve show in 1979, going into '80, and it was one of the last times the Coachmen were playing. It was a great night. I remember running into Alan on the street and he was commending me like, "Your band is really good," blah blah blah. I was like, "Yeah, it's really hard to get gigs. Hilly will sometimes give us a Tuesday night as CBGBs or whatever, but I feel like we're not getting the love of all the other bands I see around town." And he said, "That's because you have to make a record. If you make a record, it will validate what you're doing to everybody." That's all he said: "You've got to make a record, man!" I remember thinking, That makes so much sense. The Coachmen had recorded a couple of demos but the idea of taking the next step, pooling our money and actually making a record, that seemed so far-fetched. But Alan put that in my mind to such a degree that as soon as Sonic Youth started, the first order was, "We need to make a record."
Most regrettable song
There's a few songs that, in retrospect, I would have chosen to put into the dustbin. We wrote one called "Screaming Skull," it's a bit of a jokey song. The lyrics were taking a stab at what had become of SST records, where they had a superstore on Hollywood Boulevard or Sunset or whatever. It wasn't because of animosity — it just had everything to do with being kind of silly. In the context of the songs of Sonic Youth, I felt like silly songs were the weakest entries. Some bands can get away with having some fun and silly songs; ours sounded a little too in-jokey, maybe a little bratty. I feel totally responsible for that. I say that not having heard them for some time. Now, maybe if I go back to them, I can have a reappraisal. But I don't think so.
Favorite collaboration
The most amazing collaboration was in the late '80s, when we were playing at Brixton Academy in London. We were just starting to get fairly well-known to a point where we had a healthy turnout for that gig, and we were joined onstage by Iggy Pop, who sang "I Wanna Be Your Dog" with us. We had met him just the day before, because we were rehearsing in the same studio complex. That was exciting enough. We took a break, standing around, and then here comes Iggy walking towards us. He has all these chains around his trousers — I can hear him clanking down the hallway. He goes, "Hey, are you guys Sonic Youth?" and I was like, "Yeah, we guess we are." He goes, "I really like your version of 'I Wanna Be Your Dog.'" I said, "Well, we're gonna play it tomorrow night. You should come by." He goes, "Okay, put me on the list," and I didn't expect him to come.
But after our set, we're walking off the stage and he's standing there. I said, "We're gonna do 'I Wanna Be Your Dog.' Do you want to come out?" He's like, "Yep, sure." So he came out, and we did this totally burning-down-the-house "I Wanna Be Your Dog" with Iggy, and I don't think I slept for three years after that. It was one of those out-of-body things where I was like, in the middle of night lying in bed like, "Did that just happen?" That was the ultimate payoff for me being in a band, to actually collaborate with somebody like that. I've gotten to know that guy through the years. He's a sweetheart, but at that time, I was still of this mindset where he was just majesty.
Strangest place you've heard your music
The band was on a ferry going from England to Holland. It's a journey that takes a few hours, so these ferries have different things you can do: restaurants, bars, a couple stores. This one had a small little cinema, so I remember we decided to go watch whatever movie was playing. As we were waiting for the movie to start, there was a kid sitting in front of us and he had headphones on. I remember Lee [Ranaldo] grabbing my arm and going, "Check it out. Listen," and you could hear our Bad Moon Rising album coming out of his headphones a bit, which was very strange because nobody listened to us. I mean, we were kind of a critics' darling art-rock band, so the fact that some kid would randomly be playing Bad Moon Rising in front of us on a ferry going to Holland… We had to tap him on the shoulder. He was annoyed. He turned around like, "Who the hell is tapping me on the shoulder?" and then he looked at the four of us sitting there. It was wonderful, just sort of seeing the process in this kid's head, like, "The obscure post-punk band I'm listening to on cassette right now is sitting behind me in a little cinema on a boat." That was cool. Hopefully, he's out there, he'll see this piece, and get a hold of us and say, "Hey man, it's me!"
Your daughter's favorite Sonic Youth track
There's a song called "The Empty Page" we used to play when she was coming of the age where she could really relate and pass comment on what we were doing. She was on tour with us, and if we didn't play that song, she would be very upset. She would stand by the side of the stage waiting for us to play "The Empty Page" and then she'd critique the performance of it. I thought that was so sweet.
Strangest gig
In 1989, we went to the Soviet Union when it was still the Soviet Union and played some shows there. That will always stay with me because it was at a time when very few Western musicians had gone there. Nobody had ever heard of us, let alone heard us. We would play in front of audiences that were basically Russian families who were coming out for a night's entertainment. It was like no PA to speak of, just a couple of beat-up guitar amps that we would have to sing through. We were really out of our element. People just watched us in curiosity and wonder. There was hardly any response. We were doing like drumsticks under the guitars, Confusion of Sex material. It was pretty crazy. One of the gigs just got released recently, a Live in Moscow album. It was just confusion by these Russian families sitting there. It's a memory I'll never forget — not just the gigs, but just the entire experience of being in the Soviet Union as this kind of sort of poor art-rock band. The food was inedible. It was really an experience and education, seeing these real failed aspects of what should have been progressive socialism but wasn't progressive. We actually went down and played in Georgia, which was a little hipper. There were actual punk rockers.
But I did meet somebody who actually saw one of those shows. He said that it changed his life and he left the Soviet Union, came to America, and started a band called Gogol Bordello. Eugene Hutz was a kid at one of our gigs in Kiev [Ukraine] and I met him many years later. He introduced himself to me and said, "When I was a teenager, I saw you play in the Soviet Union and that was my catalyst for getting out of there and doing music and art." If there's anything great about going to Russia besides these funny, weird memories, it's that.