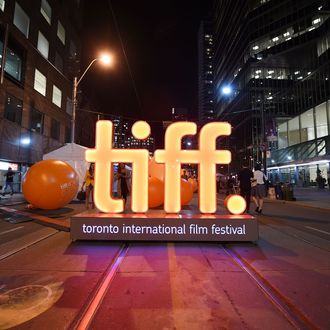 Miffed, more like!
Photo: Brian de Rivera Simon/Getty Images
All the tears and snot that will surely be flying during screenings of Francis Lee's Ammonite should be reason enough to require masks in theaters at this year's Toronto International Film Festival. But the festival — which is going forward with in-person screenings along with virtual ones — will allow attendees to "remove their masks once they are sitting in their assigned in-cinema seats." TIFF's safety policy is much more lax than those of major American cinema chains, which require masks in seats, as well as other festivals, including Venice. According to The Hollywood Reporter, "Toronto organizers insist they're strictly following the advice of public health experts, which limits the Bell Lightbox venue to 50 socially distanced patrons per screen, among other safety precautions." Even though masks are required when "moving through TIFF Bell Lightbox," the option to take one's mask off in the screening has raised concerns from regular TIFF attendees. The Hollywood Reporter quotes Ryerson University's Ramona Pringle, who says, "'Unfortunately, I fear we've tumbled into this situation where you could have one of those superspreader events.'" If it could happen at the Brass Rail, it could happen at the Bell Lightbox.
Update, Wednesday, September 9, at 12:30 a.m.: In a stunning not so shocking reversal, Toronto International Film Festival goers can no longer watch the films sans mask indoors. TIFF took to it's official Twitter account to provide some clarity regarding its seemingly lax protocols regarding COVID-19 safety, which initially allowed attendees to remove their masks while watching the films, ahead of the international film festival. "For those inquiring about TIFF's health and safety protocols for #TIFF20, we've been following public gathering by-laws set by the Province of Ontario, the City of Toronto, and public health officials, who we've been working closely with since the start of Festival planning," reads the the first tweet in a thread, before clarifying that festival goers are no longer allowed to take their masks off during screenings. "As no food or beverage will be consumed on site," begins a later tweet in the thread, "TIFF requires that masks are worn for the entirety of the time patrons are in TIFF Bell Lightbox, including while seated during screenings." It looks like the lack of concessions may have potentially saved #TIFF20 from becoming the next major superspreader event. As the saying goes, no popcorn a day keeps the COVID away (we hope).