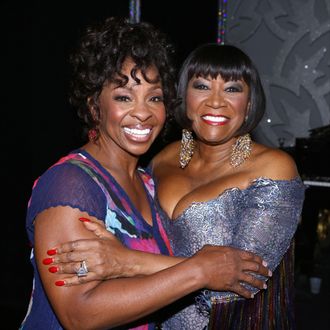 An Empress and a Godmother embracing.
Photo: Getty Images
Somehow, someway, Verzuz keeps finding a way to outdo itself. After a truly epic Verzuz battle on Instagram Live between friends frenemies Brandy and Monica that consistently drew over 1 million viewers — a record for the event which, by the way, outperformed the 2020 VMAs — the geniuses over at Verzuz have announced the next hotly anticipated battle: Gladys Knight versus Patti LaBelle. Yes, the Empress of Soul is going head to head with the Godmother of Soul in an absolutely legendary Verzuz battle beyond Vulture's wildest dreams. The Lady of the Pips and the Lady of the Pies are going through their iconic catalogues hit for hit and (fingers crossed) note for note. If Brandy versus Monica was for the feuding cousins, Gladys versus Patti is for the aunties.
The battle between the dueling divas will go down on Instagram Live this Sunday, September 13 at a sensible 5 p.m. PT/8 p.m. ET. Already, our minds race at the sheer impossibility of the task of choosing a winner between these two icons. How can you pick between "If I Were Your Woman" and "New Attitude"? "I Heard It Through the Grapevine" and "If You Asked Me To"? "Midnight Train to Georgia" and "Lady Marmalade," perhaps two of the greatest soul songs ever written? Will Gladys break out a verse of her stunning national anthem, or will Patti teach us all about the alphabet? While we don't know exactly what will go down, here's hoping Patti's background singers remember to show up this time.