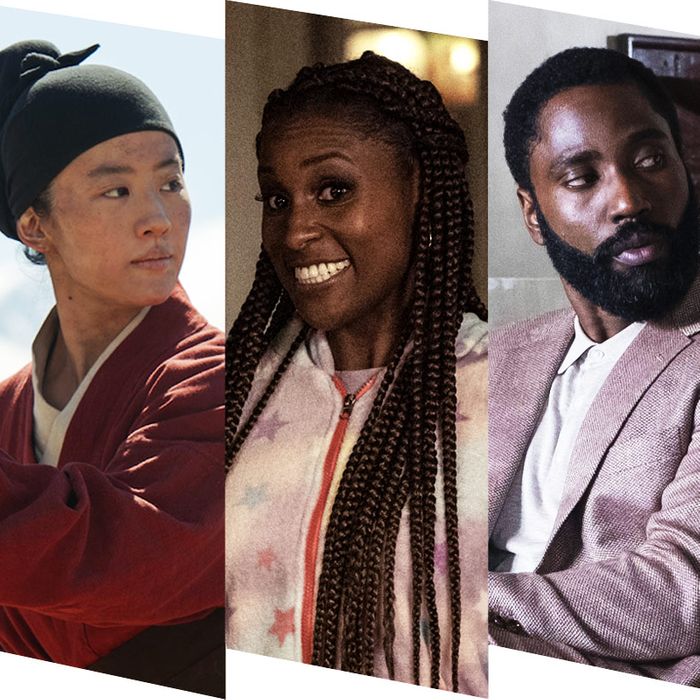 Disney vs. Warner Bros. vs. Universal vs. Paramount vs. Sony.
Photo-Illustration: Vulture, Universal Pictures, Disney, Netflix and Warner Bros.
When 2020 finally — ineluctably, mercifully — recedes in the cultural rearview mirror, film historians will be left to contemplate how Hollywood studios maneuvered the treacherous shoals of releasing movies to cough-terrified audiences during a global pandemic. It's fair to assume not every one of the five major studios will be judged as having risen to the task. The town's reigning back-lot empires — Disney, Warner Bros., Universal, Paramount, and Sony — each faced the novel coronavirus's multibillion-dollar-losing box-office calamity with no small amount of disarray — the only consistency being that no two studios implemented their ad hoc emergency measures in exactly the same way.
Like just about every other business this year, the Big Five were forced to respond to a rippling series of threats contemporaneously, with no set protocol — the cinematic equivalent of rebuilding a jetliner in midair. In addition to months of virtually zero ticket sales, as North America's theater chains remained locked, the crisis unfolded in a new era of Streaming Wars: The (relatively) recently launched Disney+, WarnerMedia's HBO Max, and NBCUniversal's Peacock began aggressively competing for at-home eyeballs.
Over the period between March and the Summer of No Blockbusters, some studios faced coronavirus unknowns with maximum decisiveness, while others operated with an abundance of caution, displaying something closer to inertia. Some practiced a "by any means necessary" attitude toward survival, while others abdicated their studio duties altogether.
But who won, and who lost? Although it may be futile to employ a single grading system absent any uniformity in terms of product, salesmanship, or methods of distribution, herewith is Vulture's COVID-19 report card evaluating how each studio responded to and rebounded from the outbreak, taking into account initial strategy, the decisiveness with which that strategy was deployed, the subsequent ability to release films under that strategy, and the unintended consequences such a strategy yielded. Spoiler: In the COVID-19 era, no one gets an A.
Universal
Strategy
On March 4, during the earliest pre-mask days, MGM may have been the first studio to realize its mega-budget premium product — the 25th James Bond installment No Time to Die — would likely suffer a premature box-office death by sticking to its original April release. They punted the double-oh sequel's rollout to November. But Universal became the first major studio to respond to market uncertainty by redating all its biggest films and quickly pivoting lower-stakes releases to a premium video-on-demand scheme — moves that were deemed aggressive in the extreme at the time. F9 moved from May to April 2021, Minions: The Rise of Gru, almost exactly a year to July 2021, and Sing 2 was pushed from July to December 2021. Unlike the release dates for Tenet and the live-action adaptation of Mulan (which we will get to in a moment), those initial date changes have stayed fixed in place ever since.
When the theatrical runs of lower-budgeted Universal titles such as The Hunt, Emma, and The Invisible Man were cut short, the studio took the lead in putting first-run films on streaming services and then doubled down on that strategy by skipping theatrical releases for The King of Staten Island and Trolls World Tour altogether (a gamble that paid off with a surprisingly robust $100 million in rental fees for Trolls).
However, narrowing or outright eliminating the long-prescribed "window" of 70 days between a film's theatrical release and it's streaming debut made Universal a pariah within the exhibition community. In April, the chief executive of AMC, the country's biggest theater chain, announced it would stop booking the studio's films in its auditoriums, calling Universal's side-stepping of the status quo "categorically unacceptable" in an open letter. By last month, of course, that relationship had been repaired through a ground-breaking profit-sharing agreement.
Number of Releases
Eight (including The High Note and Irresistible from the studio's art-house division Focus Features).
Future Plans
In what can only be described as a historic rapprochement and radical about-face from positions of mutual corporate animosity, on July 29 AMC and Universal signed a multi-year, U.S.–only deal permitting the studio's first-run movies to stream on PVOD just 17 days after being shown in theaters (in exchange for handing the chain a cut of rental revenues).
Grade
B
Sony
Strategy
Operating from a kind of defensive crouch, the Japanese–owned studio — which reported a record operating profit for the fiscal year between April 2019 and March 2020 as a result of the successes of such smash hits as Spider-Man: Far From Home and Jumanji: The Next Level — all but took itself out of the blockbuster business through the end of December, moving all its most-anticipated releases into 2021. Like Universal, Sony pivoted certain titles to streaming. But unlike Universal, the studio did not participate in the profits of premium on-demand video, apparently content to try to run out the clock with release delays and auctioned titles until a COVID-19 vaccine can be developed,
Sony drop kicked director Jason Reitman's Ghostbusters: Afterlife and Morbius (a new Marvel spinoff starring Jared Leto as a "living vampire") out of their respective July 2020 dates and into next March. Peter Rabbit 2: The Runaway hopped from August to January. The second entry in the studio's MCU–adjacent Spider-Man Extended Universe, Venom: Let There Be Carnage, was postponed from October 2020 to June 2021. And while Kevin Hart's single-father bio-drama, Fatherhood, moved up from January 2021 to October 23, 2020 (presumably to make a run at awards consideration a la the comedian's Toronto International Film Festival–sanctified biopic hit The Upside), Sony pushed its micro-budget Selena Gomez–produced romantic-comedy, The Broken Hearts Gallery, off the release calendar entirely (only for it to reappear on the 2020 calendar later).
Nonevent films that would have required platformed rollouts to grow their audiences — such as the Seth Rogen dual-performance dramedy An American Pickle and Sony Pictures Classics' Charm City Kings — were sold off to HBO Max. And on the heels of a bidding war in May, Sony passed the Tom Hanks WWII battle royale, Greyhound, to Apple TV+ for $70 million, deep-sixing the film's Father's Day theatrical drop date (and, according to a Fast Company report, galvanizing the Cupertino streamer's cinematic aims in the process with Apple TV+ now looking to release up to four tentpole movies like Greyhound a year).
Number of Releases
One (Sony Pictures Classics' The Burnt Orange Heresy).
Future Plans
Sony doesn't seem to be embracing a particular game plan except to experiment with the theatrical commerciality of a few sacrificial titles. The Selena Gomez–produced rom-com The Broken Hearts Gallery will now roll out on September 11. Online promotion materials still list Sony Pictures Animation's computer-animated romp Connected as slated for theaters on October 23. The Kristen Stewart–Mackenzie Davis rom-com Happiest Season is set for a Thanksgiving release. On a decidedly less macro level, the Sony Pictures Drive-in Experience — located in the Culver City studio's Thalberg Parking Lot, limited to a mere 75 cars per screening, and showcasing classic Sony catalog titles — sold out its 12-weekend run last month.
Grade
C-
Warner Brothers
Strategy
Stick to tradition. As coronavirus infection rates spiked throughout the spring, unlike other studios, Warner Bros. stubbornly clung to its long-planned July 17 rollout for Christopher Nolan's $200 million sci-fi epic Tenet, refusing to be budged by widespread theater closures or the absence of empirical evidence that audiences had any intention of returning when the tickets were ready to be ripped anew. In mid-June, with most North American multiplexes still gathering dust, the studio finally relented, pushing Tenet's release back to July 31 — a body blow to the title's renown as box office's Chosen Blockbuster™. Less than two weeks later it was redated for August 12 before being indefinitely postponed (and incidentally making the lives of box-office scribes such as your humble correspondent feel like Groundhog Day). Then, in late July, Warner Bros. hopscotched the film again, announcing a foreign-first rollout and upending Hollywood's traditional day-and-date style release for event films with nine-figure budgets.
By contrast: In March, Warner Bros. pushed its other summer tentpole Wonder Woman 1984 from June to August 2020 — clinging to a summer release until June when that date was scrapped for an October 2020 IMAX 3D debut. The studio sent the animated Scooby Doo prequel Scoob! straight to PVOD in May. And The Conjuring 3 was shifted from its late-summer frame to next June.
Number of Releases
Two.
Future Plans
Continuing evasive action in response to unfolding market conditions but no steady commitment to streaming first. The Angelina Jolie neo-Western Those Who Wish Me Dead remains dated for October 2020 and Denis Villeneuve's star-studded adaptation of the sci-fi novel Dune is still set for a Christmastime release. Tenet's speed-round date changes, however, have come to define Warner Bros.' coronavirus response — which has been admirable in principle, clunky in execution, and ultimately may come to be viewed as bravura studio brinkmanship in years to come (repeated chicken-with-its-head-cut-off rescheduling may have had the unintentional effect of amplifying prerelease awareness). Upon its release in 41 territories outside the U.S., the film grossed a surprisingly robust $53.6 million ahead of Tenet's Labor Day weekend stateside bow. Industry observers say this bodes well for both the film's domestic returns and long-term playability. "It raised some eyebrows when they went international first," says Comscore senior media analyst Paul Dergarabedian. "But the theater capacity levels internationally were much higher and each week, they are growing in North America. I think the film's success so far is a validation of that strategy."
Prioritizing an overseas rollout helped shore up the studio's bottom line at a moment of deep financial uncertainty. But the move also put Tenet at risk of digital piracy and the kind of online spoiler leaks that are antithetical to the ever-secretive Nolan (and could seriously erode domestic ticket sales). "If you had a clean, UK version, it could be viewed a couple million times," notes an executive at another studio — a financial hit in the tens of millions of dollars.
Grade
Pass/Fail — Pass
Disney
Strategy
Rapid response presaging a total overhaul of business as usual. The Mouse House stands as the first studio to find one of its impending blockbusters seriously disrupted by coronavirus concerns. In March, the studio yanked the Mulan reboot — a period thriller set in China that features an entirely Asian cast — from its make-or-break Chinese distribution in light of continuing closures of the Middle Kingdom's 70,000 cinemas. From there, Disney changed the date two more times, pulled it briefly off the calendar, and then, earlier this month, made the unprecedented decision to skip a domestic-theatrical rollout to release the $200 million adaptation (which cost something close to the same amount to distribute and advertise) as a premium on-demand title in countries including New Zealand, Canada, and the U.S., where Disney+ is available. The studio also punted its follow-up summer tentpole release, Marvel Studios' Black Widow, from a May release frame into November 2020.
While Universal took considerable flack for bypassing the theatrical industry during its hour of need (with theater chains AMC, Cinemark, and Regal all teetering perilously close to bankruptcy and forced to restructure billions of dollars in debt over the last few months), Disney managed to largely escape rebuke — even while sending several splashy titles direct to streaming. "Proving again that outrage and courage are relative virtues in Hollywood: who can forget the rending of garments and gnashing of teeth that broke loose a few months ago when Uni announced it was sending Trolls to SVOD," noted Richard Rushfield in the inside-baseball entertainment newsletter The Ankler. "The veiled threats and dark words from NATO and the big chains, the windows guard promising revent. I seem to have missed any of those threats this week after the Mulan announcement. None of those big talkers want to step forward and take a few swings at Disney, do they?"
In March, the studio announced it would make Frozen 2 digitally available three months earlier than planned, "surprising families with some fun and joy during this challenging period," then followed up by releasing Pixar's animated romp Onward for online rental while the elf thriller still remained in theaters. In a harbinger of industry contractions to come, the studio's $125 million adaptation of YA novel Artemis Fowl skipped theaters and headed straight to Disney+ in May. And in July, Disney junked its planned theatrical bow of the filmed iteration of Lin-Manuel Miranda's Broadway smash Hamilton, releasing the musical on Disney+ where it earned the largest audience share of any program available on an OTT platform that month.
Number of Releases
Three.
Future Plans
With Disney's live-action CGI animal-fantasy, The One and Only Ivan, similarly forgoing theaters in lieu of Disney+ on August 21, the House of Mouse is clearly using coronavirus-born movie-biz complexities to jam new subscribers for its streaming service. That business model doesn't seem to apply to the film slate Disney acquired from Fox in last year's $71.3 billion mega-merger. The oft-delayed horror-skewing X-Men spinoff, The New Mutants, and Fox Searchlight's The Personal History of David Copperfield both arrived in theaters August 28 (although earlier this week the studio moved the Kingsman prequel, The King's Man, from September 18 to February). And Kenneth Branagh's Agatha Christie adaptation Death on the Nile is set for multiplexes in October. (The Ryan Reynolds sci-fi comedy Free Guy and the psychological thriller Deep Water are set for fourth-quarter releases although promotional language is deliberately vague about whether that includes theatrical distribution.)
Grade
Frowny face emoji
Paramount
Strategy
Duck and cover. Paramount has not released a movie since its February hit Sonic the Hedgehog, selling off a slew of titles and delaying its surefire hits until next year. The Melrose Ave. studio pushed Top Gun: Maverick from December to July 2021 and A Quiet Place Part 2 jumped from a March release to September to next April. "We truly believe there is no movie-viewing experience like the one enjoyed in theaters," Paramount execs Chris Aronson and Mark Viane said in a joint statement. "We are committed to the theatrical experience and our exhibition partners, and want to stress that we are confident that, when the time comes, audiences everywhere will once again enjoy the singular joy of seeing Paramount films on the big screen."
Laying waste to that claim, however, the studio has been quietly auctioning off its theatrically intended films to digital streamers for the past five months. In March, Paramount kicked off that selling spree by parceling out the Kumail Nanjiani–Issa Rae rom-com The Lovebirds to Netflix. In June, it sold Aaron Sorkin's awards-bait biopic The Trial of the Chicago 7 to the streaming giant for $56 million. In July, Paramount also sold foreign rights to the twice-delayed animation title SpongeBob: Sponge on the Run to Netflix (Sponge will come out domestically as a PVOD release in 2021) and the Michael B. Jordan-led action-thriller Without Remorse to Amazon.
Number of Releases
Zero.
Future Plans
A Zen koan — can a movie studio really be considered a movie studio if it stops releasing movies? Paramount's only scheduled movie through the end of the year is the Eddie Murphy comedy sequel Coming 2 America (a Christmastime title that the studio was rumored to be in negotiations to sell to one of the streaming services, but that a studio source tells Vulture is not being sold). Paramount's publicized sell-offs, meanwhile, have competitors giving the Melrose Ave. lot the side eye. "Theaters were up in arms when Trolls went to PVOD," notes another executive at a rival studio. "They weren't cut in. But when you are selling your product to a third party [streaming video on demand] service, you are bypassing the theatrical ecosystem 100 percent."
Grade