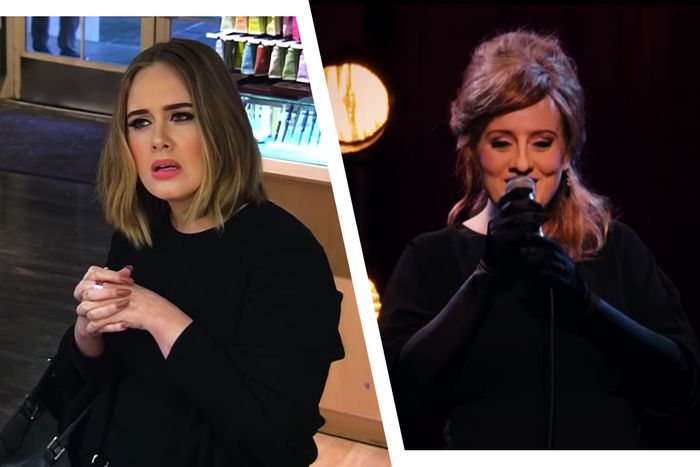 Never forget.
Photo-Illustration: Vulture and YouTube
Saturday Night Live turned heads when it announced that Adele would return to the late-night variety program for a third time this weekend — not as musical guest, but as host. (Don't think we've forgotten about that album!) It's not often that SNL trusts musicians with hosting duties — about two dozen times over the past ten seasons, and typically only when they have a movie or TV show to plug or double as musical guest. But it's also not often that Lorne Michaels counts himself a fan of yours, or that said musician possesses one of the best senses of humor in pop music. Both are true of Adele, who has made us laugh since she got her start in in the industry over a decade ago, whether on late shows, at her concerts (remember those?), or just talking. In honor of her first time hosting SNL, here are 25 moments when Adele made us fully cackle.
1. When she fed her radio plugger instant noodles for her BBC Radio 1 "Live Lounge" Tour
And gave herself away during the blind taste test by exclaiming, "Mine's boiling!"
2. When she confused a label rep for "a pervert"
"This guy started emailing me, and I thought he was a pervert," she told Wal-mart Soundcheck. "So I was like, 'Stop emailing me!' but he ended up signing me. And he's not a pervert." Surely, he appreciates the correction.
3. When she got trigger happy with the Big Red Chair on The Graham Norton Show
Graham Norton turned his signature Big Red Chair segment — when regular people try to impress celebrities with stories and secrets — over to Adele, who launched poor Scott after he barely got one sentence in. What does she have against Germany, anyway?
4. When she did an interview with Ushi Hirosaki
Wendy van Dijk is like a Dutch Sacha Baron Cohen, tricking celebrities in confusing interviews with offensive personas. "Cockney." "Cock-knee?"
5. When her 21 tour rider told it like it is
"North American beer is NOT acceptable." And "NO CHARDONNAY," either.
6. When she "joked" that she was going to take five years off
Okay, that one doesn't seem so funny now.
7. When she reminded us why she was really at the Golden Globes
"Honestly, I've come out for a night out with my friend Ida. We're new moms. We've literally come for a night out, I was not expecting this!" she said, accepting an award for her Bond theme "Skyfall." "Thank you so much for letting me be a part of your world for a night. It's amazing, we've been pissing ourselves laughing at all of you."
8. When she was beyond chuffed to receive her MBE
But maybe don't bet on her becoming Dame Adele after she possibly side-eyed Prince Charles.
9. When she became "Jenny" to prank Adele impersonators
"I can't wait for the new album," one impersonator says. "She's taking her time," Adele, as Jenny, replies.
10. When she tried to lie to Jimmy Fallon
"Free donuts," and "one's got hundreds and thousands on it."
11. When she got banned from drunk tweeting
Her management made the call before she "put her foot in it." Who among us?
12. When she made a secret Twitter so she could keep drunk tweeting
"They don't know I have a secret account. Well, obviously they do now because I said that."
13. When she slayed Nicki Minaj's "Monster" verse for Carpool Karaoke
And she still had bars three years later.
14. When she photobombed fans with Graham Norton
And then surprised them, too. The fans are screaming, Adele is screaming, and we're just dying laughing.
15. When she ruined a poor Jamba Juice worker's day for Ellen
Has anyone committed to a bit more? She ate the wheatgrass!
16. When she called her vagina "a pizza"
"Like, when someone's nasty," she explained to a horrified Ellen DeGeneres. Otherwise it's "minnie moo" or "vajayjay," depending on who she's talking to.
17. When she twerked
"My bum could break my back, it's so enormous!"
18. When she forgot the words to "Million Years Ago"
The way she stopped her perfect singing, just like that. "Shit, shit, shit!"
19. When she dedicated her "two hours of misery" at Madison Square Garden to Brangelina
"I need to address the elephant in the room," she said. "It's the end of an era!"
20. When none other than Beyoncé herself complimented her humor
"It is so easy to talk to her and be around her," Beyoncé told Vanity Fair for an Adele cover. "She's funny as hell and her comebacks are legendary." The things we'd do to see these two's text exchanges.
21. When she gave half her Grammy to Beyoncé
Even Adele knew Lemonade should've won.
22. When she gave Harry Styles 21 for his 21st birthday
According to Styles, she told him, "I did some pretty cool stuff when I was 21, good luck."
23. When she had more fun at Pieces than any of us
She lost musical shots, so, of course, Jennifer Lawrence had to tackle her.
24. When she learned SNL was "so live"
"It scares me, yeah," she told Fallon after her 2015 performance and that face. "I had no idea I was still being filmed. I got home and my friends from England sent me like a Vine of me going [makes face]."
25. When she laughed out loud at SNL spoofing her
That's the spirit!