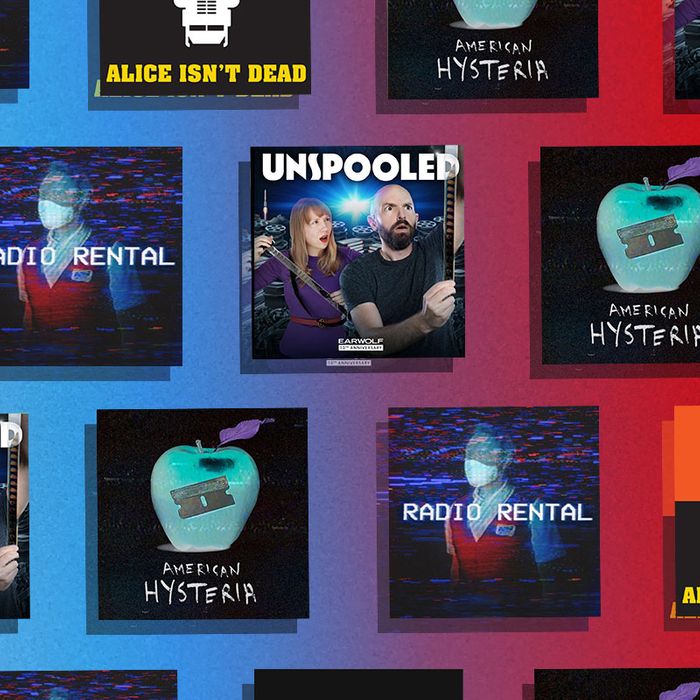 Photo-Illustration: Vulture
It's the week of Halloween, so we're trying something a little different this issue: four podcast picks to get you in the mood for socially distant trick-or-treating — or, even better, no trick-or-treating at all. Just turn off your porch lights, sit in the dark, and hope the kids walk past your house. Maybe you could even cut the power to your doorbell for a bit?
Anyway, we'll resume regular programming next week, when many Americans will presumably be caught up in the throes of a contentious election — the results of which may not be known until well into November. Oh, boy. In the meantime, tell me what you're listening to, I'd love to know. Find me on Twitter or reach me over email: nicholas.quah@vulture.com.
American Hysteria
While American Hysteria may not fit the conventional mold of a creepy podcast, the nature of its subject matter renders this pick perfectly appropriate. Hosted by Chelsey Weber-Smith, the show is a whip-smart entry in the increasingly robust "let's change how you think about a well-known thing" genre, popularized by shows like You're Wrong About.
In fact, Weber-Smith was recently a guest on an episode of You're Wrong About, where they talked about killer clowns (which, as it turns out, is a solid example of the kind of subject matter that American Hysteria generally deals with). American Hysteria is a podcast focused on the vast galaxy of things that American society — or at least, the vocal segment that's usually white, Christian, and middle or upper-middle class — has freaked out about over the past few decades. Past episodes have included subjects like terrorism, violent video games, Ted Bundy, the Illuminati, stranger danger, and the war on Christmas.
American Hysteria is a well-researched and thoroughly entertaining show, notable for the way it probes at a grand unified theory of American neurosis. Caught somewhere between puritanism and pure hypocrisy, Weber-Smith sheds light on an America that will never let go of its satanic panic.
Radio Rental
Call it a buffet of the heebie jeebies. Created by Payne Lindsey, one half of Up and Vanished fame, Radio Rental is a podcast that strings together a variety of story contributions from real people about strange things that have happened to them — sometimes the experiences are supernatural in nature, other times they are simply unnerving.
We're told that Lindsey sources Radio Rental stories from various online forums, including Reddit, which gives the production an aura roughly reminiscent of the creepypasta phenomenon you can find floating about the internet. But the dopamine hit you get listening to normal, everyday people relating something ostensibly real and dramatically unsettling is strong, and the show does a good job balancing the mundane with the uncanny.
The one major downside to Radio Rental, though, is the show's curious choice to serve up all of its stories through a fictional framing device that features Rainn Wilson playing an eccentric video-store clerk. Clearly, the show's creators felt they needed to impose this device in order to establish a cohesiveness to the podcast as you move from story to story. But while the impulse is understandable, Wilson's performance is incredibly excessive, cheapening the punch of stories that would otherwise stand very well on their own.
Unspooled: "The Babadook" and "Night of the Living Dead"
Few things are more enjoyable to me than a good film-appreciation podcast, and Unspooled is definitely among the best of them. Hosted by Amy Nicholson and Paul Scheer (both film-podcast royalty at this point), the show's premise follows the two of them as they work their way through the AFI's list of the 100 best movies of all time. On the show, they dive deep into each of the films on the list and attempt to understand the elements that contribute to it's canonized greatness. Every once in a while, they bend the theme to include a movie that is simply great — or is generally regarded as great — whether or not it is officially on the AFI list.
In recent weeks, Nicholson and Scheer have turned their attention to two horror classics: Jennifer Kent's The Babadook and George Romero's zombie movie The Night of the Living Dead. I don't know what your plans are Halloween, but I recommend putting on those two movie and chasing them with these episodes.
(Also, if you haven't checked it out already, I really enjoyed Halloween Unmasked, the audio documentary about the iconic 1978 John Carpenter film that Nicholson made with the Ringer in 2018.)
Alice Isn't Dead
An oldie but still a goodie. Joseph Fink's fiction podcast that blends fantastical worldbuilding and horror-inflected Americana completed its three-season run back in 2018, but it's a show I still return to all the time when thinking about the possibilities of serialized audio fiction. It uses a potent mix of ingredients — a sharp frame; a rich univers; big ideals; and vivid, ghostly imagery — to weave a gorgeous story that touches on feelings of loneliness, companionship, and the longing for home.
Alice Isn't Dead begins by focusing on an anxiety-ridden truck driver, Keisha (played by Jasika Nicole), who has undertaken a quiet odyssey across the country in search of her missing wife, the titular Alice (voiced by Erica Livingston). The world Keisha explores is one of dark, looping highways, diners that bleed into other dimensions, and lonely motels haunted by forgotten ghosts.
By the show's conclusion, the story has unfolded far beyond Keisha to include a sprawling ancient conspiracy and, at the climax, a big ol' fight between good and evil. But even as, from a narrative perspective, things get a little messy, the podcast never loses sight of the core intimacy that gives power to its performances — and it ultimately leaves listeners with a remarkably tender epilogue.
And that's a wrap for 1.5x Speed! Hope you enjoyed it. We're back next week, but in the meantime: Send podcast recommendations, feedback, or just say hello at nicholas.quah@vulture.com.