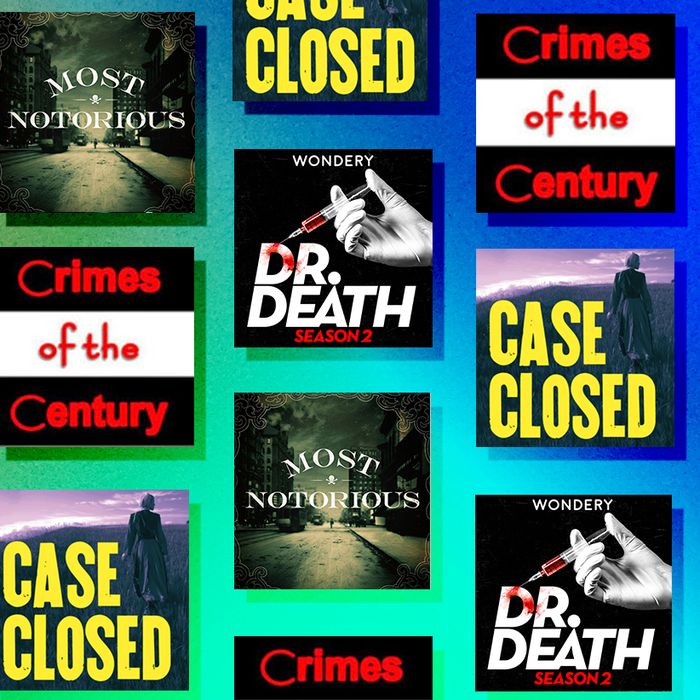 Photo-Illustration: Vulture
The true-crime podcast universe is ever expanding. We're here to make it a bit smaller and a bit more manageable. There are a lot of great shows, and each has a lot of great episodes, so we want to highlight the noteworthy and the exceptional. Each week, our crack team of podcast enthusiasts and specialists will pick their favorites.
Case Closed,"The Amish Stud"
"Who wants to do an Amish guy?" That is not the provocative tagline for a new season of The Bachelor. It is instead the online dating bio of Eli Weaver, an Amish family man who snuck a cell phone and diverted his savings to indulge in extramarital affairs. That would be scandalous on its own, but then his wife, 30-year-old Barbara Weaver, was found shot to death in her bed. Each season of Case Closed takes a deep dive into a terrible crime, where "the bad guy didn't get away with it." For season three, author Charles Spicer and producer Kristy Westgard join forces to explore this gruesome murder in Amish country through interviews with experts, members of the misunderstood community, and Weaver's own diary. The first two episodes of this season explored the crime scene and Barbara's struggles, trapped in a marriage with a man who showed her no respect or love. The third is a real stunner, revealing in vivid detail the double life that put Eli swiftly on the police's suspect list. With each episode clocking in around 20-minutes, Case Closed is simply too easy to binge. —Kristy Puchko
Dr. Death, "Top Doc" and "King Midas"
Season one of Dr. Death introduced listeners to Christopher Duntsch, a Texas neurosurgeon whose sloppy scalpel work led to 31 patients being seriously injured and two dying. (Duntsch was convicted of maiming one of his patients in 2017 and is serving a life sentence in prison.) One of the most unsettling aspects of Duntsch's crimes, at least for me, was the murky intent: Did he actually mean to cause harm or was he really that blind to his shortcomings as a surgeon? We may never know for sure. But in season two of Dr. Death, which focuses on Michigan hematologist and oncologist Farid Fata, there seems to be little question about his motive — it's greed, plain and simple. I'll avoid too many spoilers here, as there are a couple of early-on revelations that left my jaw dropped, but suffice it to say, Fata's crimes are unconscionable — and yet another stark reminder of just how truly broken our health-care system is. (As in the case of Duntsch, at least one complaint was filed to the appropriate medical boards with little consequence.) One final warning: If you have a loved one who's been touched by cancer, I recommend you not listen to episode two in a public place. —Amy Wilkinson
Most Notorious, "A Shocking New Look at the 1932 Lindbergh Kidnapping & Murder w/ Lise Pearlman"
The tragedy of the Lindbergh baby began on March 1, 1932, when 20-month-old Charlie was snatched from his crib. His father, world-famous aviator Charles Lindbergh, became deeply involved in the police investigation and even toyed with having gangsters —including Al Capone — join the search. But it was all for naught. A trial of the century and conviction followed. Yet many questions about that terrible night were left unanswered. Each week on Most Notorious, host Erik Rivenes invites historians to unravel shocking tales of true crime. In this case, Lise Pearlman, author of The Lindbergh Kidnapping Suspect No. 1: The Man Who Got Away, lays out the conspiracy theory that alleges the ace pilot had a hand in his son's death. This harrowing and compelling narrative ties together Lucky Lindy's history of cruel pranks, eugenics support, and curious acquaintances, along with potential leads that were never followed. But beware: This story is not for the faint of heart. On top of grim subject matter, Pearlman veers into grisly details of Charlie's remains without warning. —Kristy Puchko
Crimes of the Centuries, "Leopold and Loeb: Jazz Age Killers"
Every week, journalist and aunt Amber Hunt (host of The Accused podcast) tells us about a case we probably don't remember or even know about, because it's fallen out of current conversation. In this latest episode, it's the case of Nathan Leopold, Richard Loeb, and the 1924 Chicago murder of 14-year-old Bobby Franks. In addition to being an awful story about the murder of a child, it's also an account of what can happen when the wrong people have access to money, education, and power. Hunt's rendering is full of details about the lives of Leopold and Loeb, including the role of Nietzsche's philosophy, and their belief that because of their intellectual prowess, they could commit a high-level crime and get away with it (spoiler: they did not get away with it). The episode is layered with information from folks deeply immersed in the case, including Paul Durica of the Newberry Library, who leads walking tours of Chicago's Kenwood neighborhood, where the kidnapping and murder took place. —Chanel Dubofsky
Friday, October 23
Dead and Gone, "The Human Condition"
Payne Lindsey (Up and Vanished) and Jake Brennan (Disgraceland) have teamed up for this new podcast about the dark heart of the peace-and-love ecosystem surrounding the Grateful Dead. Grateful Dead fans Mary Gioia, 22, and Greg Kniffin, 18, were horrifically murdered in 1986, in Berkeley, California, at a homeless encampment dubbed Rainbow Village. Ralph International Thomas was charged with their murders and died in jail in 2014, but plenty of questions remain about the circumstances of the Deadheads' deaths. As Lindsey and Brennan dive into the case, a fellow Grateful Dead fan named Robert gets in touch with information about his former roomie Bo, a fellow tie-dyer and Deadhead who acted seriously weird before disappearing. As it turns out, Bo was named as a possible suspect by a woman who spotted him with Mary and Greg the night they died, but police focused on Thomas, a Black man and an ex-con, despite a lack of evidence. Was justice served, or did an innocent man die in prison? On top of being a solid crime drama, Dead and Gone also offers a fascinating look at the history of the Grateful Dead and how their accepting ethos inadvertently offered a safe haven to bad actors, not to mention the oceans of LSD. —Jenni Miller
Sinisterhood, "The Bunny Man"
Are you seeking something spooky but you're a bit of a scaredy-cat? Then you'll want to hop down the rabbit hole with Dallas-based comedians Christie Wallace and Heather McKinney as they unravel the urban legend of the Bunny Man. In the 1970s, Fairfax, Virginia, victims reported a menacing man wearing a rabbit mask and wielding a hatchet. According to these reports, this curious critter was quite territorial, threatening violence and smashing windshields to scare off trespassers. From there, the legend of the Bunny Man has grown, spawning wild theories, a macabre tourist trap, and a string of slasher movies. With giggles and jibes, the ladies of Sinisterhood separate fact from fiction to uncover the true horror of this mysterious masked man. —Kristy Puchko
Verified: Dust Up, Unlikely Partners
In 2006, physician assistant Deane Berg was diagnosed with ovarian cancer. She had none of the risk factors for this kind of cancer, which is largely hereditary, but as she examined the patient materials she'd been given, she realized that she did have one — she'd been using talcum powder, specifically Johnson and Johnson, as a part of her daily personal hygiene product since she was 16. How could this common product be linked to cancer, and why was there no warning on the label? Berg delved into her own research, including searching for other women who also suspected the source of their cancer was the use of talc. At the same time, Alan Smith, a lawyer in Mississippi representing men who had contracted lung disease after spending years inhaling silica dust while chiseling the rust off ships sans protective equipment, began to wonder if something was up with talc. When he got online, he came across Deane Berg.
In season two of Verified, host Natasha Del Toro examines the big question: Did companies know about the dangers of talc and distribute it anyway? When did they know it? Did Berg and other women have their lives upended by something utterly avoidable? What could justice look like in this case, and is it even possible? —Chanel Dubofsky
American Hysteria, "True Crime"
You might remember Chelsey Weber-Smith as the guest expert on the "Killer Clowns" episode of You're Wrong About. Well, she's got a show of her own in which this insightful poet turned podcaster digs into sociology, psychology, and biology to investigate topics like the satanic panic, Gamergate, and get-rich-quick schemes. This week, she tackled true crime in an ambitious episode that touches on JonBenét Ramsey's murder, O.J. Simpson's Broncho chase, the Manson family's killings, the Zodiac's codes, and the Golden State Killer. With playful pacing and ruthless self-interrogation, Weber-Smith not only explores the history of America's true-crime obsession but also examines why so many of us are addicted to stories of mayhem, murder, and mystery. Adding panache to her fascinating lesson is a skillfully subtle score that brews atmosphere and dramatic readings that transport listeners from one horrid historical moment to another. But be warned! With so much packed into an hour-long ep, this one is not for dabblers. —Kristy Puchko
Friday, October 16
Hollywood Crime Scene, "Movie vs. Reality: Ed Gein Part 1"
For Halloween, hosts Rachel Fisher and Desi Jedeikin are digging into the true-crime roots of Hollywood horror films, and they've got a doozy on deck — the Butcher of Plainfield, otherwise known as Ed Gein. His story has served as an inspiration for many silver-screen scares including Psycho, The Texas Chainsaw Massacre, and The Silence of the Lambs. And it's no wonder given the bizarre, grotesque nature of his crimes: In addition to two confirmed murders, Gein body-snatched at least nine corpses from local graveyards and fashioned pieces into all manner of household goods, including a nipple belt and a lampshade made out human flesh. But I'm getting ahead of myself. In "Part 1," Jedeikin details Gein's troubled childhood and his close relationship with overbearing mother Augusta. (They do say a boy's best friend is his mother …) The forthcoming "Part 2" will further elucidate Gein's misdeeds and how these living nightmares fueled authors and auteurs alike. Cue the shivers! —Amy Wilkinson
Anatomy of Murder, "Little Girl Turned Sleuth"
Anna-Sigga Nicolazzi, who was a homicide prosecutor in Brooklyn before becoming the host of Investigation Discovery's True Conviction, and sheriff-turned-investigative journalist Scott Weinberger bring their particular areas of true crime expertise to bear on this new weekly podcast from audiochuck, the podcast network founded by Crime Junkie mastermind Ashley Flowers. Anatomy follows the same premise as True Conviction, which is to focus on one particular case per show and interview the people who were affected by the crime, whether as investigators, lawyers, or, as in this episode, someone related to the victim. "Little Girl Turned Sleuth" is particularly devastating because it focuses on the 1970 murder of a young single mother named Loretta Jones and how her daughter Heidi Jones-Asay — who was four when her mother was murdered — eventually got the case closed, 46 years after the fact. —Jenni Miller
Anything You Say, "Just Tell the Truth"
Travis Slaughter was 18-years-old when he was arrested for the 1998 shooting death of 13-year-old Maurice Purifie in Toledo, Ohio. In the latest episode of Anything You Say, Vault Studio's new podcast about interrogation techniques, host Eric Flack, along with William Douglas Woody, examine the 5+ hour questioning of Slaughter, who admitted to being exhausted, hungover, and high. Within the course of the interview, Slaughter went from being indignant that he had had nothing to with the crime to confessing and implicating two other men. Now, after serving a lengthy prison sentence, Slaughter says his confession was false. What happened during that interview? How are false confessions elicited? This episode is a primer on the terrifyingly possible, including facts about interrogation methods that don't seem like they should be legal, such as police claiming you have evidence against the suspect when they actually don't. Listen, learn, and be prepared to question what you may think you know. —Chanel Dubofsky
Crime Junkie,"Murdered: Faith Hedgepeth"
Self-proclaimed "crime junkies" Ashley and Brit gather weekly to dig into curious cases, ranging from disappearances, conspiracies, and serial killings, to unsolved murders. On Indigenous People's Day, they looked to the murder case of Faith Hedgepeth, a 19-year-old Native-American college student, who was viciously slain on September 7, 2012, in Chapel Hill, North Carolina. With a thirst for justice, the co-hosts carefully layout the bizarre details of this investigation, which boasts DNA evidence, a suspect who perfectly matches the criminal profile, and a distorted voicemail message that some contend recorded the killing. Maddeningly, Hedgepeth's killer — or killers — still walks free. This is the kind of case where there are plenty of pieces to the puzzle, yet they don't add up to a clear picture of what went down that horrid night. Like Unsolved Mysteries, this ep invites audiences to mull over the facts, maybe look to their website to do more digging on your own, and see if you can make sense of a case that's mystified the police, online sleuths, and Hedgepeth's family for nearly a decade. —Kristy Puchko
Jensen and Holes: The Murder Squad, "The Humboldt Five: Part One" 
In Humboldt County, California, the rate of missing people is almost double that of the entire state. Beginning in 1993, with the disappearance of Jennifer WIlmer, a disturbing trend began to emerge. Murder Squad hosts Billy Jensen and Paul Holes examine the circumstances behind Wilmer's disappearance, as well as those of Karen Mitchell and Christine Walters. Police initially gave the cases short shrift, due to the transient nature of folks traveling in and through Humboldt County, and none of them have been found. There's no indication that the cases are connected, but there are some mysterious and sinister characters hovering around the area, including Robert Durst and a long haul trucker/serial killer, who showed up at the police station to confess accompanied by a body part from one of his victims. Check out this first episode in a two part series and get ready to sink into these baffling disappearances. —Chanel Dubofsky
Friday, October 9
Canary, "I'll Find My Joy?"
Canary, a podcast from the Washington Post, begins in 2013, when Lauren Clark was sexually assaulted while jogging in Washington, D.C. While she was told that her attacker, Jayro Cruz, would be charged with a felony and would likely serve jail time, he wasn't and didn't. Although he'd attacked other women, he wasn't even placed on a sex-offender registry. Instead, he rose in the ranks of his work as a chef, and Clark continued to see him all over the neighborhood. She distributed flyers with Cruz's face on them, catching the attention of Washington Post investigative reporter and host of Canary, Amy Brittain. Enter Carol Griffin, who read Brittain's story and contacted her with a shocking link, not to Cruz, but to the judge who presided over Lauren's case, Truman A. Morrison III.
In Canary's final episode, Lauren and Carol finally meet face-to-face, and it's every bit as emotional and cathartic as you'd imagine. This podcast doesn't skimp on the raw, the troubling, and the potentially triggering. It doesn't, as Brittain remarks, culminate in the kind of resolution we might be hoping for, and it provokes questions we might hate ourselves for asking. Be prepared to be uncomfortable, and at the end of all seven episodes, you might not be content, but you will be moved. —Chanel Dubofsky
Morbid: A True Crime Podcast, "The Brutal Murder of Elyse Pahler"
Longtime friends Alaina and Ash have a My Favorite Murder vibe, combining a dark sense of humor and a conversing-over-cocktails tone to their dives into gruesome homicide cases. In Episode 175, they focus on the stranger-than-fiction murder that inspired the feminist horror film Jennifer's Body. It begins on a summer night in 1995, when 15-year-old Elyse Pahler snuck out of her bedroom to party with some friends. Little did she suspect, this trio of teen boys, who idolized the thrash metal band Slayer, was scheming to sacrifice her to Satan, in hopes of amping up their chance at rock stardom. Warning for the faint of heart: Unlike MFM, Morbid's hosts do divulge the truly brutal details of this case. However, along with these horrid facts, they offer a thoughtful explanation of how Pahler's parents turned to activism to try to ensure their dear daughter didn't die in vain. —Kristy Puchko
Murder Book: The Women Who Stopped Sam Little, "Killer on the Road"
Author Michael Connelly's hard-boiled podcast returns for a second season, this time examining the case of serial killer Samuel Little. The focus, however, is less on the man himself and more on the women who helped bring him down (hence this season's new subtitle). Once again, Connelly's storytelling benefits from access to both bit and big players, illuminating a once-cold case that spans the country and may include upwards of 100 victims — all women. (The mind truly boggles at the sheer number — and, for lack of a better term, productivity — of serial killers during the 1970s.) While justice for each and every one of Little's many victims will likely never be realized, there is a small bit of solace to be found in the knowledge that so many smart, tenacious women aided in his long-overdue capture and conviction. —Amy Wilkinson
Crimes of Passion, "Chris Watts Pt. 1 & 2"
If you were left drop-jawed by Netflix's true-crime documentary, American Murder: The Family Next Door, then you'll want to hear this two-parter on family annihilator Chris Watts. While the recently released doc used found footage and social-media posts to paint a portrait of a family unknowingly headed toward deadly disaster, these episodes dig deeper into Shanann Watts's life before she was part of a seemingly sublime marriage. Each week, host Lanie Hobbs researches not only the facts of the case but also expert opinions and psychological surveys to get into the minds of the murderers who turned from true love to true crime. In these episodes (from last March), Hobbs explores the growing tensions in the Watts household, which ranged from financial strain, infidelity, and in-law infighting to toxic masculinity. She doesn't victim-blame but instead aims to demystify the myth of a "perfect marriage" to urge her audience to better understand the relationships and red flags around them. —Kristy Puchko
Friday, October 2
Chameleon: Hollywood Con Queen, "The Hook" and "Heather"
It's a story so nonsensical and so bizarre it probably wouldn't pass muster in a Hollywood writers' room: For years, an anonymous scammer has been posing as top female producers in order to lure unsuspecting gig workers (think makeup artists, trainers, security guards) to Indonesia with the promise of a big movie job — and a big movie paycheck. But of course, when the crew members arrive, the producer is nowhere to be found, and they eventually return home with bruised egos and lighter wallets.
The case of the "Hollywood Con Queen," as it has come to be known, was originally broken by The Hollywood Reporter and has since been investigated by Vanity Fair, with no perpetrator ever apprehended. Now the podcast Chameleon, created by journalists Josh Dean (The Clearing) and Vanessa Grigoriadis (Tabloid), is hoping to remedy that. The first two episodes introduce victims Eddie (a personal trainer) and Heather (a makeup artist). Both tales are heart-wrenching in their own way, but as a woman, I found Heather's story particularly chilling — a woman who's alone in a foreign country and suspects she's being taken for a ride (or worse) but has no one on the ground she can trust to help her.
One of the most puzzling aspects of this case (which VF touches on in its story) is the motive. In many cases, this very elaborate con elicits only a few thousand dollars from the victim, meaning that part of the reward for the grifter must be simply the grift itself. She's not bamboozling the industry's rich and famous but rather its most vulnerable workers — and that is truly depraved. —Amy Wilkinson
Criminal, "Errol Morris"
For a thoughtful, bite-size dose of true crime, Criminal is a great go-to. Every week, the host, journalist Phoebe Judge, tackles a curious case or fascinating figure. She approaches each topic with open-mindedness and a contagious curiosity. This week, she outdoes herself with an in-depth interview with documentarian and true-crime investigator Errol Morris. With 1988's The Thin Blue Line, he famously made the case that a death-row inmate had been wrongfully convicted of murder. In this episode, Morris explains the origins of that landmark film, including the harrowing jailhouse interview that left his wife horrified. The most fascinating bits, however, come when Morris talks about the movies he hasn't made. For instance, he shares details on his abandoned collaboration with Werner Herzog, a doc about the infamous cannibal killer Ed Gein. Most surprising are his tales of Nub City. The Florida swamp town with an eyebrow-raising nickname and a worse reputation fascinated Morris, but he soon realized the dangers of pursuing an investigation there. As one local sheriff told him, "Down here, we don't have murders. We just have disappearances." —Kristy Puchko
Tom Brown's Body, "A Pretty Little Place"
The obsession of the town of Canadian, Texas (population 2,761 as of 2011): What happened to 16-year-old Tom Brown? The well-liked high-school student disappeared the night before Thanksgiving in 2016, and his body was found two years later under a tree outside of town. There are a wealth of theories, but no arrests have been made. In this first episode of the new podcast from Texas Monthly, writer Skip Hollandsworth jumps right into investigating Brown's death, talking with and about the residents of Canadian — those steeped in Brown's story, those who would rather move on from the tragedy instead of finding out what occurred when Brown vanished after a night out with friends, and who's lying about what they know. Tom Brown's Body is as much a story about the social landscape of a small, traumatized town as it is about Tom's life and death. The question is, what will emerge once a community is made to reckon with itself? —Chanel Dubofsky
How To! With Charles Duhigg, "Get Away With Murder"
Journalist Charles Duhigg's podcast puts a unique spin on the how-to genre as he uses his Pulitzer Prize–winning acumen and a roster of expert guests to help listeners solve problems. In this episode, Duhigg addresses the topic of true-crime podcasts — specifically for one listener who wants to start her own podcast about a crime that took place in her small town and went unsolved for years. Her unique perspective on the crime, as someone with deep ties to and personal knowledge of the town and the people who were affected by the murder, could make for a good podcast, but where should she even begin? What's it like to investigate a crime like this, and how can she do it without glorifying the killer?
Duhigg's guest is BuzzFeed's Jessica Garrison, who wrote The Devil's Harvest, about a small-town hit man named Jose Martinez who got away with murder — both for hire and for his own reasons — for decades. Garrison discusses Martinez's case, what it's like to research a ruthless killer, and why these crimes went unsolved for so long. Whether the listener will proceed with her project remains to be seen, but this episode offers great insight into Garrison's process. I love anything that offers behind-the-scenes details about how and why a story is told, which is one reason I enjoy interviewing people about their projects so much, and Garrison is a great guest who offers some really interesting tips on how one would go about investigating something like this — or anything, really. "You'd be amazed what people will tell you if you just ask them," she says. (It's a great tip for first dates, too.) —Jenni Miller