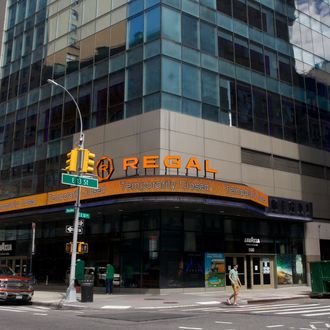 Photo: China News Service via Getty Ima
In the wake of yet another postponement of the release of No Time to Die, Cineworld is reportedly shuttering Regal Cinemas in the U.S. as well as all its locations in the U.K. and Ireland. Per Variety and Deadline, theaters may be closing this week, and it's unclear when they will reopen. Cineworld, which acquired Regal Cinemas in 2017, is the largest movie-theater chain in the U.K., while Regal Cinemas is the second-largest chain in the U.S. Following shutdowns in mid-March, Cineworld reopened in the U.K. in late July and Regal Cinemas reopened in the U.S. in late August. The delay of the 25th installment of the James Bond franchise is just the latest blow to the movie-theater industry, which has suffered huge losses during the coronavirus pandemic. Cineworld has reportedly not yet informed employees of the closures.
Update, Monday, October 5, at 8:00 a.m.: Regal Cinemas in the United States will officially be closed as of Thursday, October 8, Cineworld confirmed on Monday, per a statement obtained by CNN. The decision impacts 536 Regal Cinemas as well as 127 Cineworld establishments in the U.K. "As major US. markets, mainly New York, remained closed and without guidance on reopening timing, studios have been reluctant to release their pipeline of new films," Cineworld said in a statement. "In turn, without these new releases, Cineworld cannot provide customers in both the US and the UK – the company's primary markets – with the breadth of strong commercial films necessary for them to consider coming back to theatres against the backdrop of COVID-19." Theaters began to reopen in July with new safety procedures, mask requirements, and all their faith in Christopher Nolan Tenet. News of the closures came as a surprise to the 45,000 affected employees, including the Cineworld Action Group, who tweeted on Saturday, "Workers have been left out of discussions that should've included our voices. However, in this case it goes beyond belief. To find out you may no longer have a job from the media is awful." Cineworld currently has no timeline for reopening.