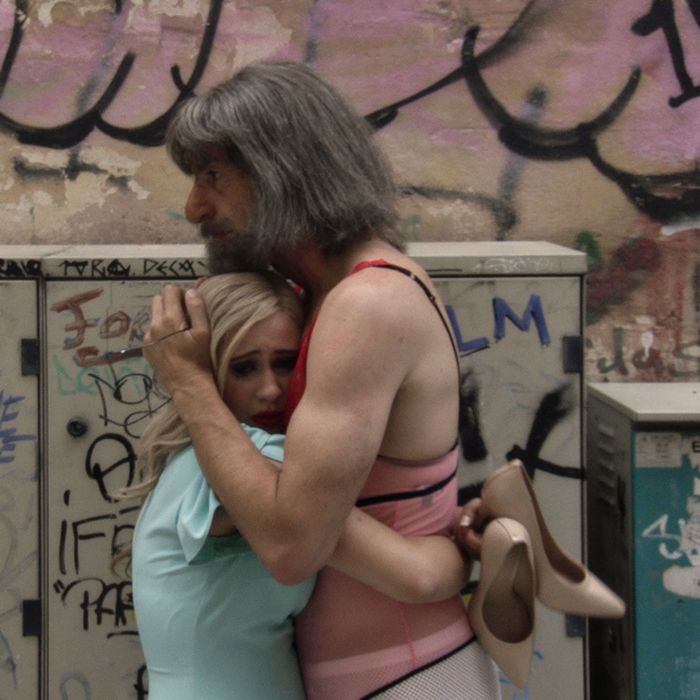 Maria Bakalova and Sacha Baron Cohen in
Borat Subsequent Moviefilm
.
Photo: Courtesy of Amazon Studios
Sacha Baron Cohen is a man of many hobbies, but this week he tried on a new one: Oscar prognosticator. Appearing remotely on The Late Show With Stephen Colbert, the Borat star took the opportunity to campaign for the Academy to recognize the Bulgarian actress Maria Bakalova, who plays the titular Kazakh journalist's daughter, Tutar, in the new sequel, Borat Subsequent Moviefilm. "If she doesn't win an Oscar," Baron Cohen argued, "then I don't know what the Academy's for."
It is, of course, not unheard of for actors to publicly campaign for their co-stars to win awards. But Baron Cohen is just one in a growing number of voices wondering whether Bakalova could be a legitimate player in this year's Best Supporting Actress race. With the star himself sidelined (Borat is too recognizable to fool anyone these days), the task of revealing the perverse underbelly of Donald Trump's America fell to the 24-year-old newcomer — sometimes literally, as in the case of the film's most famous sequence. She knocks it out of the park.
"Bakalova's total commitment to the bit sometimes lulls us into thinking of Tutar as a real person caught in one of the comedian's ridiculous ruses," our own Bilge Ebiri notes in his review. "In fact, her performance goes even further: She makes the film's most absurd moments work dramatically, bringing real emotional gravity to the role." Bakalova manages to give the Borat sequel an emotional arc, and, even more difficult, she convincingly pretends to be into Rudy Giuliani. Now Baron Cohen's not the only one thinking Oscar: Prominent pundits like Variety's Clayton Davis have started to include Bakalova in their projected lineups, and I'm told that Amazon will indeed give the young actress an awards push.
To crack the final five, Bakalova will have to overcome Oscar's overwhelming bias toward the serious. Since 2000, I can think of only two actors from full-on comedies who have earned Oscar nominations: Robert Downey Jr. in Tropic Thunder and Melissa McCarthy in Bridesmaids. For fairness's sake, let's add two straight comic performances in movies with a little more heft: Jonah Hill in Wolf of Wall Street and Sam Rockwell in Vice. That gives us four out of 400 total acting nominations. You might throw in one or two others, but the point remains — it's very hard to get nominated for a comedy. And the actors I've named were either previous nominees or, in the case of McCarthy, recognizable figures from TV. Bakalova, by contrast, is a total unknown.
Still, the Bulgarian has some advantages in the race. I am contractually obligated to point out that this will be an incredibly weird year for Oscar: All the rules have changed, theaters are shuttered across the country, and most of the big studio releases have vanished entirely. In 2021, an event as weird and unexpected as a Borat movie getting an acting nomination will be less weird and unexpected than it would have been in the past. And even in this topsy-turvy year, Best Supporting Actress feels particularly unsettled. You can already make a plausible five in some of the other acting categories, but this contest is full of penciled-in performers from movies no one has seen yet, such as Glenn Close in Hillbilly Elegy and Amanda Seyfried in Mank. Consider too how many movies released into the quarantine void have struggled to make any noise. That's not a problem for Borat, which instantly became one of the most buzzed-about movies of the fall — though, given how quickly the buzz for streaming releases often dissipates, that could prove a detriment for Bakalova's chance of staying in the race for the long haul.
Ultimately, the thing that will determine Bakalova's bona fides probably won't happen at the movies; it'll happen in Pennsylvania, Wisconsin, and Michigan. In conversations with Oscar strategists this week, one offered up an incredibly plausible and incredibly depressing theory: "If the election goes the wrong way, I think she gets nominated." The reasoning? If Biden wins, voters won't have much stomach for reliving the darkest depths of the Trump era. But if the president pulls off reelection by hook or by court-ordered crook, Bakalova's awards campaign might suddenly become a standard-bearer for anti-Trump sentiment. Giving her a nomination to stick it to the White House would be a characteristically Hollywood form of protest, but for California liberals, it would also be the one ballot they cast this cycle that actually counts.
Of those options, I think I know which ones Baron Cohen and his collaborators would choose. But if 2020 continues down its worst-case path, at least Bakalova will be able to enjoy the tiniest of silver linings. Very nice.