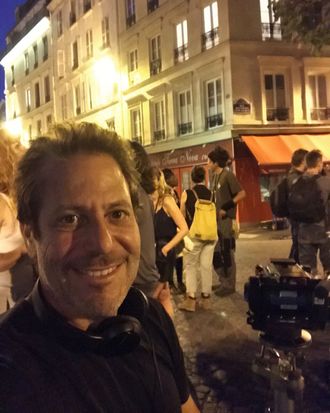 Darren Star on the set of
Emily in Paris
.
Photo: Courtesy of Darren Star
Darren Star, who has been creating alluring aspirational television for three decades, doesn't like the idea of referring to his latest creation, Netflix's Emily in Paris, as a fantasy.
"I don't think it's accurate to describe it as a fantasy, I really don't," he says on the phone from his L.A. home when asked if it's fair to characterize the series using that term. "You'd have to explain to me why it's a fantasy."
Well, for starters, most women don't have a neighbor who looks like Gabriel (Lucas Bravo), the hot chef/potential love interest who lives directly below Emily (Lily Collins), a Chicagoan who moves to Paris to work at a luxury-focused boutique marketing firm recently acquired by her employer.
"That was luck," Star offers.
Okay, there's also the boundless number of chic ensembles Emily wears, and the romance of the whole Paris setting, and the couture-and-cocktails culture into which Emily is ushered.
Well, yes, Star concedes, certain elements of Emily in Paris, including the costumes (co-designed by his longtime collaborator Patricia Field), function as fantasy, or what he refers to as "window dressing." But that has been part of his takes on reality since the beginning of his career. (This is a case he also recently made to the New York Times.)
"I think if you look at Beverly Hills 90210, Beverly Hills is a fantasy, but the experiences of those characters were real," he says, referring to his first series. "That's why the show lasted for 300 episodes. Because people cared about the characters."
"Paris may be beautiful," he adds, bringing the conversation back to Emily in Paris, "and [Emily] may be wearing clothes that, okay, we're not sure where she got them. But she's wearing them. She's met a beautiful guy downstairs. But a lot of the challenges she's facing and the struggles — if they don't feel relatable, the show's not going to work."
Since Emily in Paris debuted Friday on Netflix, there has been mixed response as to whether the show fully works or not. Reviews have skewed positive, though some critics, in the regular media and on social media, have bristled at Emily's less-than-aggressive efforts to learn French and her basic Instagram feed. On the other hand, people are talking about it and gulping down the episodes like Champagne at a bottomless brunch, which also is a classic response to a Darren Star show.
The creator-producer-writer has been successfully draping the relatable in his so-called window dressing for three decades now, and Emily in Paris is a timely reminder of that: It arrived on Netflix on October 2, two days shy of the 30th anniversary of the premiere of Beverly Hills, 90210, the teen soap that made Star a major TV-industry player before the age of 30. Over the years he's been the architect of other hit series, including Melrose Place, another Fox soap about the high drama (and constant sexual entanglements) among residents of an L.A. apartment complex; Sex and the City, HBO's groundbreaking ode to female friendship and sexual appetites; Younger, the fizzy exploration of generational issues in the world of New York book publishing; and now, Emily in Paris, a rom-com about an American struggling to fit in with her colleagues and the culture in the City of Lights. It also marks Star's first series to debut directly on a streaming platform. (Emily was originally slated to air on TV Land and then the Paramount Network, before going to Netflix. Star says he and his partners at ViacomCBS, which owns TV Land and Paramount and where Star recently extended his development deal, approached Netflix about picking up the series because they thought it would be better served on the platform, in part because of its international reach.)
At this point in his career, Darren Star is as much a brand as his actual name. But how does Darren Star define a Darren Star show?
When this question is posed, at first, he demurs: "It's hard to analyze your own work." But then he points out that most of his series involve people creating their own families and, particularly in his most recent work, focus on career-oriented women "wanting to lead strong, independent lives." That makes sense considering the television show he cites as his favorite when he was a kid growing up in Potomac, Maryland: The Mary Tyler Moore Show.
"I think it had a deep influence on me, definitely," says Star, who, while technically a baby boomer — he was born in 1961 — doesn't define himself by such "arbitrary identifiers." "When I pitched Sex and the City to HBO for the first time, I said, 'I want it to feel like The Mary Tyler Moore Show for the '90s'."
Star also admits to being drawn to fish-out-of-water stories, another frequent theme in his filmography. On 90210, Brandon and Brenda Walsh were Minnesotans attempting to fit in among the privileged student body at West Beverly Hills High. On Younger, Liza Miller is a Gen-Xer pretending to be a millennial so she can get a job and make her mark in the publishing industry. (For curious fans of that TV Land series: Production is set to resume on its final season on October 12, under strict COVID protocols.) On Emily in Paris, Emily Cooper is an American striving for acceptance in France, even though she doesn't speak the language, literally or metaphorically.
"I know what it's like. I am a fish out of water in Paris, and I always have been," says Star. "I have felt that whenever I'm there, and I kind of enjoy that. I can find the humor in it."
A love for Paris also has been a recurring character in Star's series, a feeling first sparked in him during a backpacking trip through Europe that Star took at age 19. "I was pretty knocked out by Paris when I went there for the first time," he says. "It's just one of those cities that beats all of your expectations and more." That feeling crept its way into Beverly Hills, 90210 during a story arc where Brenda (Shannen Doherty) spent a summer in Paris; Sex and the City when, in its final season, Carrie briefly moved to Paris until Big was sent to "go get our girl"; and obviously now in Emily in Paris. While the 90210 Paris scenes were shot on an L.A. studio back lot, Sex and the City got to briefly shoot in the city. Emily in Paris, filmed late last summer and fall, allowed the cast and crew to set up camp in France for a few months, a dream come true for Star.
"Filming at the Paris Opera House, having that to ourselves for an entire night, was incredible," he says of the Palais Garnier, which makes an appearance in episode six. "You write it in the script and think, 'What are we going to get that's going to stand in for this?' Then we actually were able to film there. I think that the crew themselves, starting from the location managers to the production designer, really wanted to share their passion and love of the city."
Darren Star shows also tend to lean into a passion and love for fashion, and Emily in Paris is no exception. The list of designers Collins gets to try on as Emily is long, and includes names like Burberry, Chanel, Christian Siriano, and Vivienne Westwood. Emily also navigates numerous cobblestone streets in heels high enough to cause a severe fall, which naturally raises the question: Why does fashion matter so much in a Darren Star Show™?
"I find clothes very entertaining," he says. "That is something I learned from Aaron Spelling at the very beginning, is to focus on wardrobe. I remember writing one of the first episodes of 90210 that, when Aaron and his female friends saw it, they were basically looking at the show and just critiquing the outfits. I wasn't even thinking about that. I was thinking about the dialogue and the actors and everything and I wasn't paying any attention to clothes, and I was just surprised how much people look at clothes when they watch a show."
Star realized that when you're living vicariously through a character, it enhances the experience when that "surrogate you" dresses in chic and bold ways, especially in romantic comedies. And Emily in Paris, like Younger and Sex and the City, is definitely a rom-com. Even though Star wants his viewers to feel a real connection to Emily and the other characters in his version of Paris, he's also keenly aware that the series, like everything he's done in his career, functions as escapism.
In fact, there's a scene in Emily in Paris in which Emily argues with a co-worker about the value of French romantic films versus American rom-coms and asks, "Don't you want to go to the movies to escape life?" When asked if her philosophy reflects his own, Star says, "Do we want to go to the movies to escape life? Yeah, I do sometimes. Not all the time. I think traditionally that what Hollywood has given us with romantic comedies is an escape, and I think this show is a romantic comedy. Me, having had a big hand in writing that scene, [that] was about wanting to comment about the show we were all watching."
And that, perhaps above all other qualities, is what Darren Star shows have been providing since 1990: if not a fantasy (in Star's mind at least), then an escape to a heightened, and usually more appealing, version of reality.