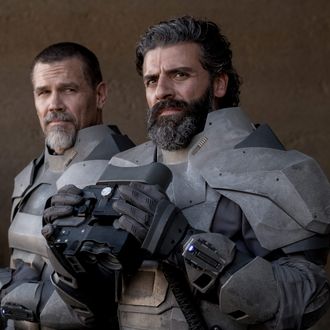 Can't see this beard in action for another 12 months.
Photo: Courtesy of Warner Bros.
Big worm needs a big screen. Denis Villeneuve's sci-fi epic, Dune, has reportedly been pushed back to October 1, 2021, per Collider. It's the latest film to slide down the release calendar to fall 2021 as the coronavirus pandemic continues to throttle the movie industry. Dune was set for December 18, 2020, but Warner Bros. recently pushed Wonder Woman 1984 to Christmas Day, forcing Dune to the back. Who's gonna tell them The Batman, starring Robert Pattinson, is currently set for October 1, 2021? The adaptation of Frank Herbert's novel has already released its first trailer, so now fans have a year to dissect it. Dune stars Timothée Chalamet (whose Wes Anderson flick, The French Dispatch, currently has no date), Zendaya, Oscar Isaac, Rebecca Ferguson, Josh Brolin, Dave Bautista, Jason Momoa, Stellan Skarsgård, and a massive CGI sand-trolling worm that demands to be seen on a movie screen. Similarly, Daniel Craig's final bow as James Bond, No Time to Die, refuses to die (or to be put on online). The MGM film was pushed to April 2, 2021, moving Cineworld, the largest cinema chain in the world, to close over 500 Regal Cinemas in the United States. Movie theaters closing, release dates being pushed back … we can't go back to March 2020, you guys. Don't make us go back!