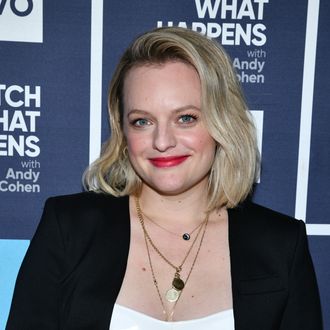 Photo: NBCU Photo Bank via Getty Images
Elisabeth Moss is set to ruin her eye makeup yet again in a streaming film adaptation of former Congresswoman Katie Hill's memoir from Blumhouse Television. Moss will star as Hill as well as produce the film with her production company, Love & Squalor Pictures. The memoir, titled "She Will Rise: Becoming a Warrior in the Battle for True Equality," follows Hill's rise as California's first openly bisexual Congressperson and her eventual resignation from office after her intimate photos were leaked and her relationship with a campaign staffer was revealed. "I am so honored to have the opportunity to portray Katie and to help tell her story. Her strength and work to amplify women's voices is incredibly inspiring to me and her experiences could not be more important for us to magnify right now," Moss said. I guess we'll have to wait a bit longer for that Hallmark movie.
Update, Wednesday, October 7, at 1:00 a.m.: An anonymous poster claiming to be Hill's "former staff" reacted to the news of Moss's casting in a thread posted to Hill's official Congressional Twitter account. "Katie's former staff here. Disappointed in so many folks - including Elizabeth Moss, @Blumhouse, & @michaelseitzman - regarding today's announcement," the thread begins. "This is an incredibly sensitive situation. We appreciate the instinct to defend our former boss, an LGBTQ+ woman who faced abuse from her husband. What happened to Katie Hill shouldn't happen to anyone. But, this moment requires more nuance, as Katie Hill's story - our story - is also one of workplace abuse and harassment." The tweets went on to add that Hill can be "both a victim and perpetrator" of sexual harassment and that Hill "took advantage of her subordinates" as well as "caused immense harm to the people who worked for her, many of whom were young women just beginning their careers in politics." The thread concludes with, "Believe us when we say: it's not only about who starts it, it's also about who ends it. And, while Katie is certainly the survivor of abuse, we are not confident that she sufficiently acted to end her own patterns of inappropriate and abusive behavior." Moss, Blumhouse, and Michael Seitzman, who is producing the project, have not yet responded to the thread.
Hill responded to the thread, writing from her personal Twitter account that her Congressional Twitter account had been "hacked." "Thanks to all who let me know my government official twitter account was hacked," she wrote. "Control of my account was immediately handed back to the House Clerk when I resigned, including password changes and access restrictions. God knows who hacked it from there. Reported to @twitter."