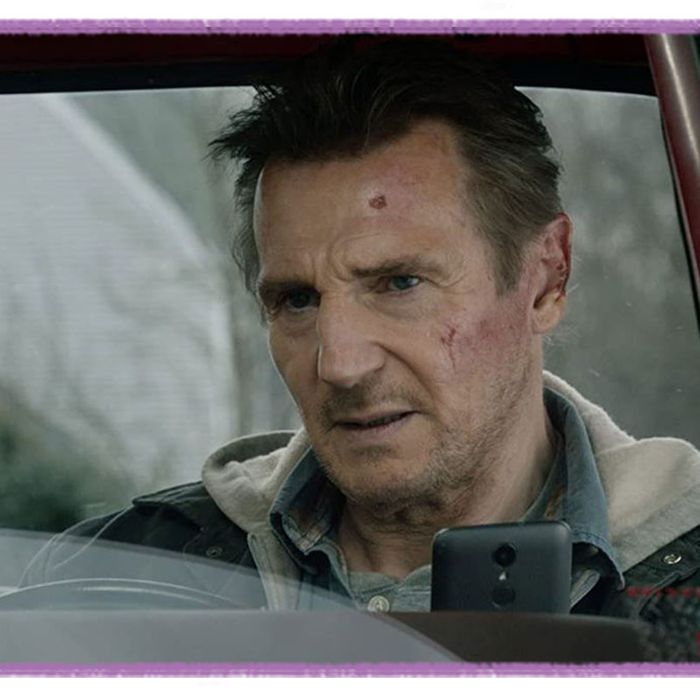 Liam Neeson's
Honest Thief
nabbed the No. 1 spot at the box-office, becoming the second-highest-scoring movie in the league.
Photo-Illustration: Vulture and Open Road Films
In Vulture's Fall Movies Fantasy League, contestants stake their pride, and the respect of their peers, on their ability to predict the tumultuous next few months of cinematic releases. You can play; the league is open to all readers.
This week's edition of the Fall Movies Fantasy League update goes out to dads.
It goes out to my dad, who successfully got a seagull to eat out of his hand this weekend, and it goes out to the other dads across the country, who did something nearly as amazing: Old and young, rich and poor, Commuter fan and Non-Stop fan, they all came together and powered the Liam Neeson vehicle Honest Thief to the No. 1 spot one the box-office charts. It only made $4.1 million, but that was enough to make it the second-highest-scoring film in the entire league. Honest Thief's 37 percent Rotten Tomatoes score was just high enough for it to avoid joining the Antebellum Memorial Wing of the FMFL Hall of Shame, and credit for that should duly go to Vulture's dad-liest film critic, Bilge Ebiri, who gave the movie a surprisingly positive review. Unfortunately, he missed his chance to join the league — something about Bilge's taste makes me think his team would have been full of movies like Honest Thief.
The big news is that, after more than a month of stasis, we're finally getting some excitement on the box-office charts. First, The War With Grandpa knocked Tenet from the lead position, then Honest Thief kicked The War With Grandpa down a notch. Let's think of the FMFL as a fata morgana for the wind-scraped desert that is October and November's theatrical release calendar — what seemed like a barren wasteland might actually be an oasis of possibility. Could the James Badge Dale horror movie The Empty Man become the No. 1 movie in America? What about the Kevin Costner child-abduction drama Let Him Go? Or even the old-guys-gone-wild remake The Comeback Trail? Everything's on the table!
But not for our Vulture staffers. No doubt influenced by the hive-mind of the media bubble, many of them drafted suspiciously similar teams — and thus missed the opportunity to rack up points on these low-rent genre movies. More surprisingly, none of them drafted The Trial of the Chicago 7, the only other movie to come out this week that enjoyed an auspicious opening: Chicago 7's great reviews were more than enough to earn it the critical bonus, and, with pundits already eyeballing it for Oscar noms, love from the American Film Institute and National Board of Review might not be far behind. My colleagues will have to hope that Netflix's other big Oscar contenders — Hillbilly Elegy, Ma Rainey's Black Bottom, and Mank, all of which are owned by at least one Vulture — play just as well.
Week 7 Results
As mentioned earlier, none of the Vulture staff drafted any of the movies that scored points this week.
Current Standings
1. Rachel Handler: 58 points (8 movies)
2. Katy Brooks: 48 points (7 movies)
t-3. Tolly Wright, Neil Janowitz: 32 points (6 movies each)
5. Hunter Harris: 27 points (5 movies)
t-6. Jen Chaney: 25 points (5 movies); Justin Curto: 25 points (6 movies)
8. Chris Murphy: 21 points (5 movies)
9. Jackson McHenry: 17 points (4 movies)
10. Alison Wilmore: 14 points (6 movies)
Staff fantasy-league teams are listed in full here.
Vulture's Fall Movies Fantasy League is open to all readers. Enter and you can look forward to an exciting autumn of endlessly refreshing Box Office Mojo and Rotten Tomatoes and quibbling over the precise definition of wide release.