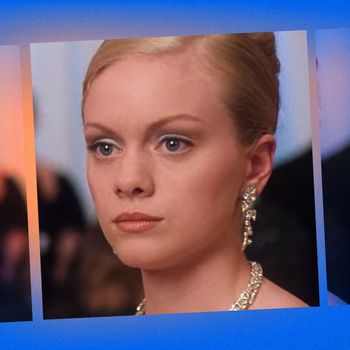 Photo-Illustration: Vulture and Warner Bros.
If you were a girl under the age of 16 at the turn of the millennium, it's almost impossible to put a value on the comedic significance of Amanda Bynes: She was parading around with judicial dancing lobsters, getting drenched in coveted green slime, and, on a more fundamental level, making sketch comedy accessible and enjoyable for a younger generation who wasn't ready to, say, appreciate the surreal nature of an argument clinic just yet. Following her formative Nickelodeon years, Bynes segued into a series of terrifically funny film roles (She's the Man is wig canon) while also maturing and juggling a network sitcom about an idealized version of New York City. Sadly, Bynes has had to endure public substance abuse and mental health issues in recent years, and she effectively retired from acting in 2010.
We're here today to talk about one of these terrifically funny films. In the 2003 teen comedy What a Girl Wants, we got to live vicariously as Bynes raged against the stiff upper lip in an across-the-pond romp: Fresh out of high school, her character, Daphne, leaves her mother (Kelly Preston) behind in America to finally meet her father (Colin Firth), who, of course, just happens to be a leading prime minister candidate with an insufferable fiancée and future stepdaughter (Christina Cole) riding his coattails. (An insufferable fiancée and future stepdaughter, who, we should note, do not even know who James Brown is. Villain statuses confirmed.) Cole, in particular, relishes her role as the aristocratic Clarissa, who's 72nd in line for the throne and flings barbs at Daphne such as "grimy little yankee paws!" and "tacky American coming through!" It was Cole's very first film role, made possible by securing an early graduation from the Oxford School of Drama.
On a recent afternoon, Vulture dialed the +44 country code and gave Cole a call to discuss the lasting legacy of What a Girl Wants. "It's nice to look back at that point in my life," she said, "because Clarissa really was such a gift."
You were still in the midst of drama school when you landed the role. How did you ascend the ranks so quickly?
I actually graduated early in order to get the job. At my drama school in Oxford, which was very traditional, you had to have booked a certain number of days on a "professional" acting job in order to graduate early. So, I was absolutely thrilled when I booked the job. It was a brilliant role in a brilliant film, and it allowed me to get out of there.
Did the casting people hold an audition at your school?
No, at that point we had already done our student showcases, and mine went very well. I managed to book an agent and the agency quickly started setting me up for auditions. What a Girl Wants was one of the first scripts that I was presented with. Next thing I knew, I was in the audition room with the director, reading my lines and trying my best.
Were your fellow students jealous that you landed this role so quickly?
Possibly. They never told me if they were. I like to think they were happy for me, but who knows. [Laughs.]
In the early aughts, Amanda Bynes had a massive cultural presence in America with younger people. Did that translate across the pond? Were you aware of her significance when you signed on?
I have to admit that I wasn't aware of her when I auditioned for the part. I was a bit older than her and wasn't watching those kinds of shows. I didn't have children at the time, either, so that must've just missed me. I wasn't aware of her superpower in England just yet. She probably did have a huge presence, to be fair.
I find Clarissa to be such an endearing antagonistic because she's so innocuous. Even her friends ditch her halfway through the film to do that silly group dance.
She's a mummy's girl with a whole load of daddy issues. Being an only child, threatened by anyone who would take the attention away from you — she's a ball of insecurity. You're not born into that behavior, it happens along the path. You can see why, given the mother that she had and growing up with these stuffy aristocrats, that she is who she is. Unfortunately, she doesn't behave well as a result. She's a product of her upbringing. That classic stiff-upper-lip, snooty lifestyle rubbed off on her. Her mom, and whoever her dad was, didn't give her the love and attention that she required.
How effective of an antagonist do you think she is?
I never considered her to be a villain. I felt she had issues and behaved badly but definitely never thought it reached villain status. She's angry at herself and at her mother. In a few years down the line, she might even be friends with Daphne. She's upset at life.
Where do you think her anger comes from? I always love watching royal-adjacent fictional characters be upset for no good reason.
I wonder if it all goes back to her mum. They had to fight for status their whole lives and now, just when they get close to attaining it, it's in trouble — this young American girl comes into the picture claiming that he's her dad and that he's likely still in love with her American mum. Clarrisa feels threatened by it. She's been let down by a father figure and this new person is coming into her life and threatening her territory.
Were you pissed that you didn't get to dance?
I was alright to miss that and watch from afar. [Laughs.] It took a really long time to shoot. I have a much better memory from the ballroom scene, though. Kelly Preston was such a dream. Basically nobody drank enough water because we were all so excited to film that day, and so many of us ended up getting dehydrated on this extremely hot day. The indoor temperature must have reached 105 degrees. She made sure everyone got water bottles and she gave out food bars.
Did you, like Clarissa, have any exposure to debutante culture?
Oh God, not at all. [Laughs.] I based it more off a princess lifestyle that I thought about as a child. I have no knowledge of that world and have no interest in it.
I love how stiff your debutante clothes looked.
They did a great job with all of the costumes. My dress at the ball was uncomfortable and really tight. It wasn't exactly a corset style, but I did almost pass out from the fit of it. It was another brutally hot day of filming.
How close were you to that opulent chandelier that shatters all over the floor?
Let me tell you, it was a great bit of visual trickery. The chandelier was a copy of one that was massively expensive. They put a lot of breakaway glass into it and measured where everyone could stand. I can't actually remember if I saw it fall or not. I think so.
What was your first meeting with Amanda like?
I can't believe it's been so long. I remember her being absolutely lovely. She was very young at the time and definitely was a bit homesick. She was looking for creature comfort and things that England didn't have at the time. But she acclimated around us quite quickly.
Did her future troubles come as a surprise?
I didn't expect that at all. I felt so sad for her when all of that began happening. Maybe she had too much stuff thrust upon her when she was young.
Did you two remain in touch after filming?
We didn't, unfortunately. Eileen Atkins came to visit me a few years later while I was doing a stage play and wrote me a very kind letter after the show, which was a lovely treat.
Was having Colin Firth play your kinda-sorta stepdad a career highlight?
For a lot of reasons. I'm pleased to confirm that in real life, Colin is a really nice guy. He was so patient around me and gave me so much time to learn what it's like to be "in the movies." He never treated me like, Psh, who's this newbie? While we were filming, I received a job offer to play Juliet in a stage production in Romeo and Juliet, and he was excitedly talking to me about the role and giving me advice. God, and he's so funny.
Do you still find yourself saying "holy poo on toast" or "grimey little yankee paws" more often?
"Holy poo on toast" is a pretty memorable line. When I'm around my kids and want to swear, I've definitely said that in front of them.
Do you think Clarissa's ending, getting married to a douchey royal bro, was fitting for her?
Yes, for that point in her life. She and her mother wanted the status that you inherit through marriage. Clarissa still has some life lessons to learn and should be allowed to make mistakes. I bet they'll be divorced in ten years.
What has your relationship to the film been like in its aftermath?
Young kids would be frightened and a bit scared of me on the street. At that age they just assume you are that person, which is sad, but you can't exactly change their minds. It was definitely good for me in terms of exposure. I got an American agent from the film, which started the journey for me as an actor on a larger basis. It really has been quite an iconic movie in subsequent years, hasn't it? It was a gift that landed on my lap and I'm forever grateful.
Eileen Atkins plays Jocelyne Dashwood, the mother of Colin Firth's character.