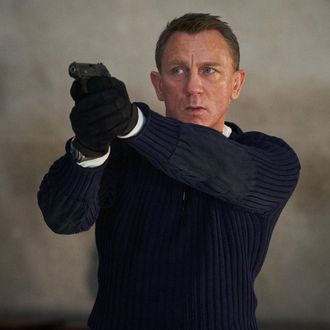 Ain't nobody got time to die.
Photo: Nicole Dove/United Artists Releasing
Looks like the only Q we'll be getting in 2020 isn't the cute Ben Whishaw kind, just the plain old conspiracy theory for idiots kind. No Time to Die has been pushed to an April 2, 2021 release date, Variety reports. That's a year after the film, the 25th in the Bond franchise, was first scheduled to be released. In March, MGM and Universal pushed it to a November release date in response to the coronavirus pandemic. That turned out to be optimistic thinking; even though as recently as September, No Time to Die was sticking to its announced date with an action-packed trailer. The announcement of this new release date comes one day after Billie Eilish dropped the music video for the No Time to Die theme song, which uses clips from the film. Better adjust your Fall Movies Fantasy League brackets.