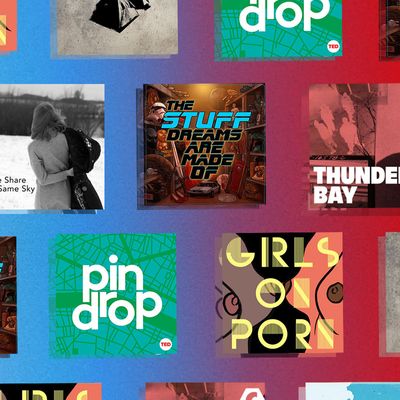 Photo-Illustration: Vulture
Quick thing before we get started: Halloween is next week, and I'm planning to do an all-spooky issue for the next edition of 1.5x Speed. Which means that I'm on the prowl for stuff that I'm going to regret listening to when I'm trying to go to bed. Consider this an invitation to ruin my life — give me your picks for the scariest podcast episodes you know. Find me on Twitter or reach me over email: nicholas.quah@vulture.com. Okay, let's get to the picks.
Outsiders
As Outsiders opens its first episode, host Will James tells us that two-thirds of all unsheltered people in American can be found in the three westernmost states of the Lower 48: California, Oregon, and Washington. It's a distribution that emphasizes the surreality of America's homeless problem, embodied in the split image of how cities like Seattle, San Francisco, and Los Angeles are so abundant with wealth and industry yet perpetually fail to serve large groups of people in structural need.
Outsiders is outstanding for the simple reason that it's able to take something that can feel amorphous and break it down to its core systems, while never losing its sense of the people at the center of the whole thing. It's a real feat of narrative balancing, flowing between effectively communicating the way in which homelessness is a problem of fluid systems and grounding the narrative in the lived experiences of unsheltered people.
If you live in any city that's dealing with increasing unsheltered populations, you probably know that it's a massive and emotionally charged topic. The podcast is effective partly because it keeps things relatively simple: The show's narrative focuses on the experiences of one city — Olympia, Washington — over the course of a single year. The series opens at the outset of an experiment in which Olympia's local government sought to establish a formal encampment in the middle of the city; the question of whether or not that effort will be successful plays out over the rest of the episodes. Meanwhile, the team stays close to a select group of unsheltered individuals, layering their stories into the larger arc of the city's efforts.
Outsiders is produced by the Tacoma station KNKX in partnership with the Seattle Times. The first seven episodes were released from January through March, but the show abruptly went on hiatus after the pandemic threw everything for a loop. (As you might remember, Washington was the first American state to be hit by the coronavirus.) Publication resumed earlier this month, and the show releases its tenth and final episode today.
Girls on Porn
Now for something a little out of the blue. I stumbled onto this show a few months ago when I was working on an episode about audio erotica for my podcast about podcasts, Servant of Pod, and while it's not exactly the type of show I would've naturally picked up if it wasn't for work — truth be told, I am dispositionally a prude — I'm glad I did, because it's utterly fascinating.
Distributed by Headgum, Girls on Porn is pitched as a "porn review podcast," in which hosts and self-described porn enthusiasts Laura Ramadei and Rachel Napoleon pick a different search term each week and review a few ethically sourced listings from that category. But in my opinion, the show more effectively functions as an accessible, sex-positive guide through the complex, esoteric, and often obscure world of digital pornography, rich with increasingly specific subcultures and enmeshed in its own interior political fault lines. The educational quality of this show comes across particularly when expert guests are invited on to talk about pornography as a site of labor, advocacy, and change, as was the case in the most recent installment that featured SX Noir, the vice president of the Women of Sex Technology, to discuss the phenomenon of deepfakes.
Now, I can't speak for folks who are better versed in the world of pornography, having possessed just a superficial understanding of the topic when I first picked up the show, but I do believe that Girls on Porn is a solid example of something that podcasts are uniquely good for: elevating a specific niche — historically underserved for whatever reason — and carving out a space in which that niche can be better understood, explored, and appreciated.
Meanwhile…
• One other quick thread to pull from Outsiders: that show also turned me on to Welcome to Olympia, an independent and locally produced narrative series about the city in question. I'm still working my way through the archive, and it's pretty lovely.
• Thunder Bay, the Canadian true-crime series about the titular city's systemic failure to protect its Indigenous community, which first dropped in 2018, is returning with new stories next month.
• If you're longing for travel to far-flung places, TED's Pindrop is back with a new batch of episodes.
• Yes, this newsletter comes from the New York Magazine family, but I'm still moved to recommend last week's episode of The Cut podcast, called "Am I Radical Enough?" Host Avery Trufelman talks to three guests about how to answer that question, and if you're following politics right now, it's extremely satisfying listening.
• David Mandel, the famed showrunner of Veep, and Ryan Condal, who's showrunning the upcoming Game of Thrones prequel, are launching a podcast this week called The Stuff Dreams Are Made Of, which isn't about showrunning but about movie memorabilia. We interviewed them last week about why they've decided to make a show about their shared esoteric passion.
Reader Pick: We Share The Same Sky
Apple Podcasts | Spotify | Stitcher | Website
"In this moving seven-part podcast, Rachael Cerrotti retraces her grandmother's journey as a Holocaust refugee through Central Europe, Scandinavia, and across the United States. She tracks down the descendants of people who saved her grandmother's life, moves in with them, and learns about each family's World War II experience and its intergenerational impact. A heart-wrenching twist midway through the series gives it an even deeper meaning, as Cerrotti looks to her grandmother's life for guidance on how to 'live a life narrated by death and empowered by grief.'" —Joshua M, Princeton, NJ
And that's a wrap for 1.5x Speed! Hope you enjoyed it. We're back next week, but in the meantime: Send podcast recommendations, feedback, or just say hello at nicholas.quah@vulture.com.