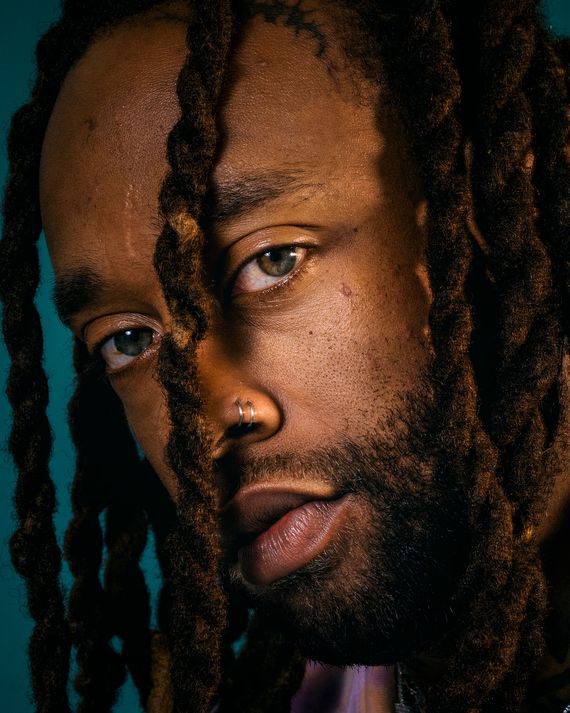 Photo: Dana Scruggs for Vulture
Ty Dolla $ign blows into a room like a melody unfurling. It's quiet, and then there's music, a hummed note, a tapped-out drum pattern. In an instant, it makes sense why he's seemingly everywhere at once, adding sultry hooks to rap and R&B songs, penning hits you might not have known he was involved in as a writer. Making music is as natural to him as exhaling.
I first met him over a year ago at Electric Lady Studios, a legendary facility nestled in a lower Manhattan side street with an unassuming façade, belying the fact that since its creation in 1970 (at the behest of Jimi Hendrix), it has been the birthing ground for a wealth of classic recordings from the likes of Stevie Wonder, Led Zeppelin, and Erykah Badu. Dolla $ign was at Electric Lady putting the finishing touches on his third solo album, following 2015's Free TC and 2017's Beach House 3. Historically, his singles sound smooth and effortless, but his albums are densely layered, with unexpected twists. Rare is the artist with the range and the connections who can put Kanye West and Diddy on the same song without being subsumed by two massive egos.
The lush, expansive album Ty played me at Electric Lady is not quite the one he's releasing on October 23, though a handful of holdovers from those sessions made the cut — including the Kid Cudi collaboration "Temptations"; "Track 6" with Kanye West, Thundercat, and Anderson .Paak; and "Ego Death," where Kanye, Skrillex, and FKA Twigs join Ty in revisiting the Chicago house flair of The Life of Pablo's "Fade." (More of that sound can be found in last year's "Hottest in the City" and "Purple Emoji," the latter of which secured a killer J. Cole verse because he happened to be recording in the next room.) The plan was to put it out in autumn or winter of 2019, but a year would pass before another mention of a release date, and by the next time he and I connect again so he can play me the latest — and ostensibly final — version of the album, it's mid-September 2020. More than half of the original Electric Lady songs are gone. "I kept recording, and I accidentally did another album," he explains. "I'll still probably drop that other one sometime later during the year, or … Who knows? Maybe I won't. When you make seven songs a day, you get a new playlist."
Where last year's album was a seamless and immersive headphone experience, the new one leans more toward the sleek West Coast soul of Ty's early releases. It once carried a working title — Dream House — that was a nod to Beach House, the 2012-2017 mixtape, EP, and album series that helped make him a star, thanks to musically bubbly, lyrically ruthless singles like "Paranoid" and "Or Nah." A renewed interest in guitar is at the core of the experiment. Sometimes he plays it with a subtle southwestern flair, as he does on the single "Expensive" with Nicki Minaj; sometimes he noodles exquisitely, like an old blues player. Throughout, Ty matches wits with a summit of R&B singers including Kehlani, Jhené Aiko, 6lack, and Musiq Soulchild, and rap stars such as Young Thug, Future, and Roddy Ricch.
Ty landed on a formula — trap drums, punchy bass notes, and the occasional classic R&B sample — a decade ago watching friend and L.A. producer Mustard captivate a party by dropping the Atlanta snap group D4L's "Scotty." (Ty has a keen memory for his musical a-ha moments — he tells a metaphysical story to explain his appearance on SZA's comeback single "Hit Different": "She had all these, like, crystals set up, and she wanted me to stand in the correct way to get the right energy. I did it, and the hook came immediately.") The night inspired him to make the beat for his friend Compton rapper YG's 2010 breakout single "Toot It and Boot It," earning both artists their first Billboard Hot 100 chart successes and inspiring a spring of hits including Tyga's "Rack City," YG's "My Nigga," and Ty's own "Paranoid." His touch is now renowned. Since working on 2016's Life of Pablo, he's cemented a reputation as Kanye West's muse, which seems both true and a touch overblown. It's perhaps a mistake to see Ty as a ward of any one artist or crew; he's more like a ronin, lending a hand when and where he sees fit. He guested on Drake's Scorpion the same year as West's Wyoming albums, at the peak of the inexplicable static between the two artists, and no one bat a lash. The freer he is to work, the more hooks everyone gets.
Ty Dolla $ign, born Tyrone Griffin Jr., is the son of session player and touring musician Tyrone Griffin Sr., who played in the funk band Lakeside (see: "Fantastic Voyage") for 15 years between the '80s and '90s. "He always had instruments around and different homies that came through," Ty remembers. "I would learn shit from everybody." When Ty's mother, a realtor, separated from his father, she pushed him to consider a different path. He suspects it was because of the strain his career put on their relationship: "She wanted me to focus on school and a real career, something more promising. I felt like it was a him thing, and she was putting it on me." Tensions between mother and son reached a breaking point when she kicked him out as a teen. Ty's paternal grandmother, also a musician, took him in and let him work on beats and play around in the back room of her home. He learned to play bass while trying to nail a part from Mista Grimm, Warren G, and Nate Dogg's Poetic Justice soundtrack gem "Indo Smoke" and other songs he heard on the radio. He picked up guitar, keys, and drums gigging around Los Angeles–area houses of worship. "Church taught me everything I know from having a relationship with God to being a performer, playing music in front of people," he says. (The densely layered vocals and daring chord changes in his songs suggest experience playing Black church music; the shelved album featured vocals from adventurous gospel singer and producer B. Slade.)
The journey to solo success was slow. During a short stint living in New York City in his early 20s, he hung out with a young 50 Cent and later worked on scores for the films The Cookout and Biker Boyz. "But at that time," he recalls, "none of that shit was bringing in money." Back out west, he connected with the sometime G.O.O.D. Music signees Sa-Ra Creative Partners, whose 2007 debut album The Hollywood Recordings contains some of his earliest features billed as Ty Dolla $ign. Sa-Ra brought him along for European dates on West's 2005 Touch the Sky Tour, the beginning of an ongoing creative union between the two. Ty had a child of his own by then and needed to provide not just for himself but for his daughter, Jailynn, and her mother. In the late aughts, he formed a singing group alongside East Coast vocalist Kory. The duo sang the hook on "U," from Detroit rapper/producer Black Milk's Popular Demand, pitched backing vocals on "Master Teacher" off Erykah Badu's New Amerykah Part One (4th World Order), and released two Raw & Bangin' mixtapes. But it wasn't until "Toot It and Boot It" that Ty began to feel his luck changing. By 2012, he'd signed to Atlantic Records and released the first Beach House tape to growing acclaim. His mother works for him now. "She molded me business-wise," he says, "as far as property ownership and [pursuing] things other than music."
Family, and fatherhood in particular, inspire Ty Dolla $ign, now 38, in ways you might not expect from listening to the more salacious songs in his catalogue. The shelved album came out of a pledge to give up smoking and drinking (that dovetailed with a deal he cut to resolve 2018 felony drug possession charges by submitting to three months of a sobriety program with random drug tests). He also wanted his material to be less overtly sexual, he explained in the studio, cradling his loud, adorable French bulldog, Julio. (Julio was named after Ty's favorite tequila, Don Julio, at A$AP Rocky's suggestion. Originally, his name was going to be Miller, after Mac.) "I was intentionally trying to not make club songs [talking about] hoes and bitches and all the shit I used to talk about," he said. "I was trying to, like, talk about my life, and what it is now, and really do something different with it. I got a daughter going to high school this year, and she's paying attention, and all her friends are paying attention, so I can't talk as crazy or do the crazy shit that I used to do." He's still proud of his back catalogue and interested in clearing samples to get the Beach House mixtapes up on streaming platforms. (In the studio, he realized someone had quietly snuck them onto Apple Music under his government name.) But his change in perspective came after a year full of personal challenges.
2020 has brought "a lot of deaths and a lot of suffering and not a lot of wins," Dolla $ign tells me over a call from Los Angeles, where smoke from the massive Complex Fire had turned the West Coast sky burnt orange. He went to the Grammys in February, having been nominated for Best Dance Recording for his song "Midnight Hour" with Skrillex and Boys Noize, his first time being recognized at the show as an artist and not a producer. Then, on the red carpet, he learned that Los Angeles Lakers legend Kobe Bryant had died in a helicopter crash, a stunning loss for basketball fans and Angelenos alike. That night, the Grammy went to the Chemical Brothers. By June, he had lost both his grandmother — the same one who took him in and nurtured his musical curiosity — and the longtime friend who'd introduced him to YG and Mustard: "The two people that I feel molded me into Ty Dolla $ign, I lost. That shit fucked me up." Then, his friend Abro died in a car crash.
Back in the spring, coronavirus flare-ups in California necessitated keeping a tight geographical circle. Ty spent his days indoors, with his daughter and his girlfriend, and poured his free time into cooking and making music. The new music was recorded in part at home and in part at Perfect Sound, the gorgeous live-in studio in the Hollywood Hills that has been used by Post Malone, J. Cole, 6lack, and Skrillex. The subject matter stemmed from the circumstances: "I'm in the house. I'm with my girl and my daughter, and that's about it. When we write songs, it's about what's going on. That's where I'm at right now." It's also easy to see his return to the sound of his early records as the result of an artist working out of his comfort zone in a tough time, and the prolific bout of recording that produced an entirely new album as the outcome you'd expect from forcing a world-traveling creative to stay put for several weeks at a time.
Between September and October, the album sprouted five new tracks, including an answer to Erykah Badu's "Tyrone" and an interlude from Young Thug. It also had a new title — Featuring Ty Dolla $ign — that nods to Ty's long and winding journey to mainstream acclaim. He excitedly explains how the beefed-up instrumentation and creative transitions added in the last few weeks create a link between the new album and the unreleased one. (Over screen share, I spy an iTunes playlist history that makes me wonder just how many versions of this album there are.) There's a sense that, given another few weeks, he might come back with yet another body of work. Quickly evolving plans and an endless vault come with the territory when you're the music biz's most prolific hook man.