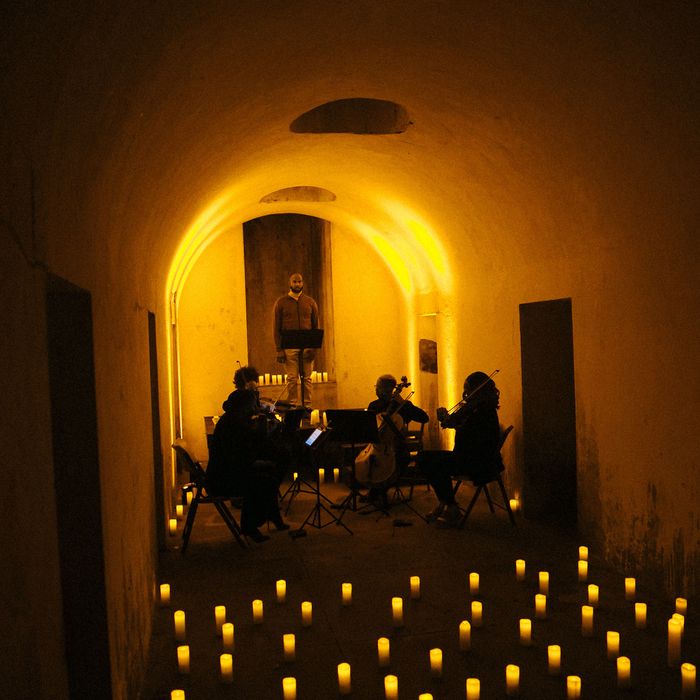 I went out last night. To a concert. With tickets and a program, and musicians who were paid. And it was good. By now, any crumb of semi-ordinary cultural life has come to feel momentous. A pair of cello-playing buskers in Central Park, a street-corner mini-flashmob by members of the New York Philharmonic — these eruptions of live music can lift the spirits for a moment, but they also remind us of how still and stunned New York's vast concert apparatus has been. And so a sensitively programmed, lovingly produced, meticulously safe two-hour concert came as an exhilarating shock.
Concert halls will stay closed through June at the earliest, but Andrew Ousley, the resourceful publicist and impresario behind the presenting organization Death of Classical, realized he could have an entire historic necropolis at his disposal. With its hilly paths and flamboyant variety of trees, its quiet remove and accretions of history, Green-Wood Cemetery is the perfect site for a pandemic concert. After a fortifying sip of Brooklyn bourbon, a group of 20 or so masked audience members set off on foot, following a discordantly chipper guide.
The concert, titled "To America," wasn't escapist or frivolous, but it wasn't stridently topical either. Instead it honored Black lives and dark moods with a light touch. The gravestones of tycoons, civic leaders, freed slaves, Civil War soldiers, and two centuries worth of Brooklynites offer profuse reminders that our current fractures have been with us before. As we ambled through the darkened grounds, with sparse-leafed trees and obelisks silhouetted against a sky bleached by city lights, the noise of our time mixed with that of the past. Ousley used both distant and recent music to give substance to that feeling. When the bass Paul Grosvenor materialized from behind DeWitt Clinton's memorial to sing "Deep River," I suspect everyone in the standing audience could share the yearnings for a calmer campground over Jordan.
At the first stop, Kenneth Overton's baritone expanded into the vault of the sonorous chapel and slipped out the open front door. The program began and ended with "Lift Every Voice and Sing," the anthem by James Weldon Johnson (who is buried on the grounds) and his brother J. Rosamond Johnson. Music, landscape, and sepulchral architecture merged. Freddie June delivered "Strange Fruit" near the grave of former slave Margaret Pine, in a timbre that was part Billie Holiday and part muted trumpet. Cellist Robert Burkhart played Caroline Shaw's In Manos Tuas from behind a mausoleum's wrought-iron gate, while dancer Selina Hack enacted a drawn-out death on the grassy hillside. A string quartet inside the catacombs played the moving, mournful Adagio from George Walker's String Quartet No. 1. The musicians, parked outdoors in the humid evening air, waiting for each successive cohort to arrive at half-hour intervals, didn't always deliver perfectly polished performances. Vocal cords and violin strings protested the clammy conditions. But the cumulative experience was bewitching.
Ousley's production is an implicit reproach to organizations with more options and clout, an army of underemployed musicians, a thirsty audience, and access to New York's public spaces. Last May, as cancellations mounted and the silence started to seem indefinite, I hoped performing arts organizations would regroup and spend the summer using outdoor venues in revelatory ways. A few did, notably the Detroit Opera, where the irrepressible director Yuval Sharon mounted an abbreviated version of Wagner's Götterdämmerung in the company's parking garage for a drive-in audience. After a quiet summer, Lincoln Center finally put on a truncated echo of its usual outdoor summer series. But most presenters went quiet, shifting their activities online … That's a missed opportunity. After a day of Zoom meetings or doom-scrolling or remote schooling or job-hunting or TV-watching or vicarious traveling, all of it spent gazing at a luminous rectangle, you might not be up for another hour or two of screen-gazing. It's too late now. Cold weather is bearing down and the music world will go from dormancy to hibernation, and we'll have to spend the winter drawing down our reserves of memory. "To America" is a precious deposit to that account.