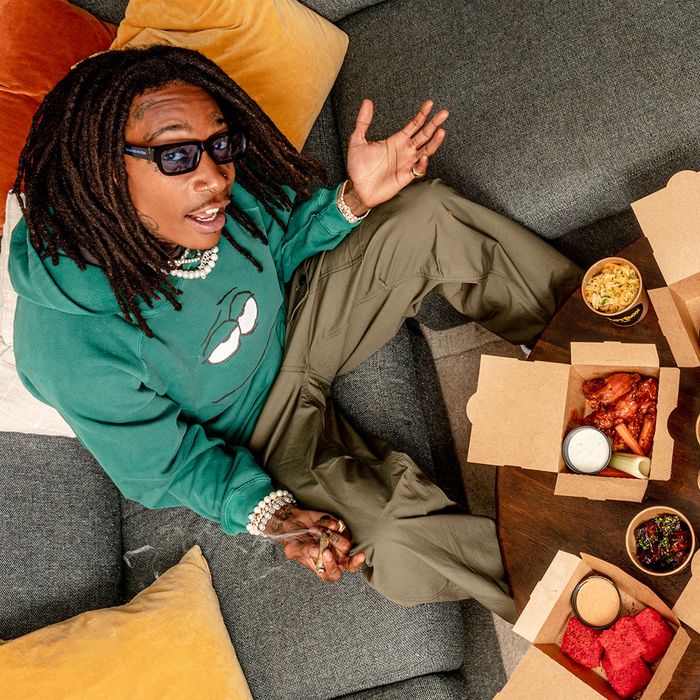 Objects in the picture do not taste as they appear.
Photo: Courtesy of Hot Box by Wiz
I should have known something was a little off about Wiz Khalifa's delivery-only restaurant HotBox by Wiz when the delivery app said they were located at 120 E. 34th Street, which turned out to be an apartment building in Murray Hill. I knew that HotBox by Wiz would be running off of the increasingly-popular "ghost kitchen" model, in which restaurants that don't actually exist in meatspace operate out of professional kitchens and take advantage of existing delivery infrastructure. I knew that Wiz himself wouldn't be walking around in there dipping his finger in the sauces like Ratatouille. I suppose I had just assumed like a jackass that it wouldn't be based out of a studio apartment in a doorman building.
Wiz Khalifa launched HotBox by Wiz on October 1 as a chain with "locations" in Los Angeles, San Diego, Chicago, Denver, Houston, NYC, and his hometown of Pittsburgh. Following the massive hype machine and merchandising opportunities surrounding past collaborator Travis Scott's McDonald's meal, this seemed like a smart, ambitious, business decision. A 420-friendly fast food option for when fans get the munchies, with a menu "featuring Wiz's favorite dishes, personally curated by Wiz himself." I had "dined" like Travis; now I wanted to snack like Wiz. At 1 p.m. on a workday.
I ordered through UberEats (it's also on Postmates, GrubHub and DoorDash), where the menu is divided into four sections: Small Hits, Big Hits, Healthy Hits, and Desserts. There are no Drinks at HotBox by Wiz. You can't order a can of Coke or a Jarritos or a bottle of water to wash down your chosen Hits. This would be an oversight for literally any business that sells food. It's particularly egregious for a business targeting stoners, because, you know, dry mouth. Wiz's business model is to send high people a box of dry-ass chips and nothing to quell the literal Depression-era Dust Bowl localized entirely inside of the human mouth that would ensue.
The Small Hits section features "Blazed Ends" ($15), "Wiz Wings" ($13), "Fried Mac Bites" (classic for $8, "Hot Cheetos Buffalo" for $11), "Bluffin' Buffalo Cauliflower" ($12), and something called "Chip Hits," which are "Lightly fried lemon pepper parmesan house potato chips with three dipping sauces" for $9. I knew I'd be ordering a Big Hit that came with Chip Hits, so for my Small Hits selection I opted for the Cheetos-coated Buffalo Mac Bites, because they seemed like the most toxic and I hate myself. (By the way, do you think Quibi is kicking themselves that they didn't think of "Small Hits"?)
The Big Hits include: "Mac & Yellow" (a well-named steal at $7, with the lack of Cheeto-breading a plus), "Hot Bowl" (just a $13 chili), the "Taylor Gang Turkey Burger" ($13), and the OG Fried Chicken Sandwich ($12 with a one dollar up-charge for the "Blazed" version). I didn't come all this way to eat a goddamn turkey burger so you know I went for that Blazed spicy chicken sandwich.
The most upsetting section is the Healthy Hits. "Stay in your lane, Cameron Jibril Thomaz," I thought. "People aren't coming to HotBox by Wiz to be healthy." The pricing in this section was also, in a word, psychotic. There are two "Khalifa Bowls" and two salads here, with grilled chicken ($17) or blackened salmon ($21 or $22). I opted for the "Blackened Salmon Khalifa Bowl" with sautéed veggies and garlic white rice because it came with the option to order the salmon "Medium Rare" and I want to die, clearly.
Dessert options are a "Mile High Dark Chocolate Brownie" ($6) and a "TGOD Cookie" ($4). A milkshake wouldn't have been unwelcome, because at least it would have been something I could drink. But brownie it was.
What arrived at my door was the absolute worst possible way to spend $52 plus tax and tip I have ever encountered, and that's coming from someone who's very skilled at spending money on things that only make me more sad. I could not place what the smell was, but it wasn't what I was expecting, and it wasn't appetizing. Big hospital cafeteria vibes. At least the boxes were sealed with fun HotBox by Wiz stickers. What was inside was a waste of a sticker.
I tried the brownie first because nothing in this world is better than a still-hot brownie, and the menu described it as "drizzled with hot fudge sauce." It was room temp, but that was the least of its problems: It tasted like straight-up vegetable oil. It tasted like a mistake. Coming from the guy behind "Bake Sale," this one stung. After I tried everything else it came back for seconds ten minutes later. The burp tasted like a vengeful ghost.
The Hot Cheetos Buffalo Mac Bites didn't come with their promised House Sauce, but I thought all the better to taste them with, because I'm very dumb. The sight and smell of these four deep fried nuggets made me say "oh no" out loud. The Mac & Yellow inside was yummy and the Hot Cheeto breading gave it good spice, but these flavors were totally overwhelmed by the taste of stale fryer oil. The other three and a half of these are still sitting in my fridge; I think I'll dig out the filling and make myself the world's smallest bowl of mac and cheese for dinner tonight; the breading is past the point of saving.
At this point, there's nowhere to go but up, I thought to myself like an absolute fool. I thought they had gotten my order wrong when I opened the box with the chicken sandwich inside, so dark and crumbly was the patty. I thought it must be some sort of off-menu vegan falafel patty option, so gritty and brown was the texture of the breading. But no, it was just a really subpar fried chicken sandwich coated in burnt breading. The Chip Hits were nice homemade potato chips, although they also didn't come with any of the promised sauce or lemon pepper coating. So I decided to think like a food scientist at HotBox by Wiz and made my own dipping sauce out of:
• Creamy Greek feta salad dressing
• Carolina Gold BBQ sauce
• Frank's Red Hot
The most pleasant surprise of the meal was the "Healthy Hit." The sauce was closer to stir fry than the promised cilantro lime, but everything else was perfect. The salmon was perfectly prepared, not too overdone and not raw, and very well-seasoned. The rice tasted like the sort you get with really good authentic Greek takeout. The vegetables were virtuous. It's not worth twenty-two fucking dollars but it's weirdly enough the best thing on the menu at a place that should be excelling at everything but a medium rare salmon bowl.
Wiz has been promoting HotBox for a couple months now, promising a Black and Yellow branded dining experience tailor made for vegging out and smoking up at home while the world continues to stay closed. On September 25, he posted a video to Instagram showing the behind-the-scenes of a HotBox photo shoot. The food looks perfect, because of course it does. He smiles holding up a turkey burger. He says "they ain't got wings like this in L.A." as he bites into a wing that looks better than anything I ordered. His living room looks nothing like a Murray Hill no-fee apartment. The food is shot as lovingly as the HotBox by Wiz merch: T-shirts, lighters, and stickers, for people who just really want to rep an oily brownie. (The merch is still "coming soon.")
The website for NextBite, the company that collaborated with Wiz on HotBox, illustrates all of my worst fears about what could happen if restaurants die out and are replaced with more of these ghost kitchen concepts: it's the Silicon Valley-ization of food, and it's trash. They say "Our lovable brands and data-driven menus are easy to implement and deliver what online customers crave." They call themselves "the most advanced restaurant brand curator, leading the industry with top of the line Virtual Restaurant brands built to drive revenue." All of this language precedes any mention of "cuisine" or "flavor" or "chefs" or "cooking." It's a business model that may work for merch, because you don't have to chew and swallow merch. But honestly: would Wiz let his kid eat this?
It brings me no joy to report that HotBox by Wiz is not the stoner culinary revelation I was hoping for. Wouldn't it be so much more fun and interesting if it was actually great, and Wiz Khalifa pivoted to being some sort of restaurant magnate? He could make appearances on Martha & Snoop's Pot Luck Dinner Party. There would be HotBox by Wiz food trucks at concerts. Instead, my stomach hurts and I'm pressed about it. If it's Taylor Gang Or Die, I choose die.