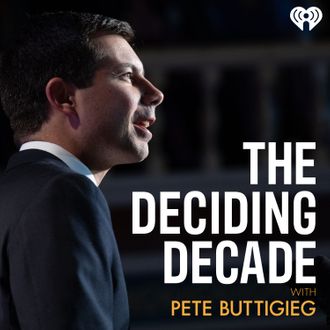 In addition to serving as a bruiser for the Democrats on Fox News and writing a book while "most people were watching Tiger King" (🙄), Pete Buttigieg — the Democratic presidential candidate who flamed out in the last cycle after a strong early showing — has also found the time to record a podcast.
The Deciding Decade with Pete Buttigieg sees the former South Bend mayor conducting amiable interviews with a variety of guests, including the former ambassador Susan Rice, Trump firee and known podcaster Preet Bharara, and for some reason, Colin Jost. The podcast is a curious artifact, serving as a kind of patchwork platform for Buttigieg to signal his various interests and introduce more layers to his persona, broadening out his previous characterization as a rigid McKinsey type who gets accused of fixing bread prices.
Buttigieg is far from the only Democratic political figure to hit the podcast feeds lately. In April, the internet favorite candidate Andrew Yang launched an interview show of his own, Yang Speaks, not long after dropping out of the race. Julián Castro recently followed suit, releasing Our America with Julián Castro last month, which happened to be around the same time Hillary Clinton returned for podcasting seconds in the form of You and Me Both with Hillary Clinton. You might recall that Clinton had an "official campaign podcast" back in the infamous 2016 cycle, and it turns out that she's not the only Clinton with a podcast today: Bill has got one too. Marianne Williamson, a politician much in the same way that Kanye West is one, is launching her own self-titled podcast as well this week as well. And then, of course, there is The Michelle Obama Podcast, which came out earlier this summer.
This emergence of the Democratic politician podcast isn't quite unprecedented, but this recent glut is distinct for a number of reasons. Firstly, these shows tend to be significantly more polished than its predecessors. Secondly, they tend to be structured as highly-edited interviews, instead of free-flowing barely edited affairs. And finally, they tend to be distributed by for-profit publishers — iHeartMedia (both Clintons, Buttigieg), Lemonada Media (Castro), Cadence13 (Yang), Kast Media (Williamson), Higher Ground via Spotify (Obama) — as opposed to being released by the political figure independently.
This new take on the politician podcast is a tricky one to unpack, largely because it's such a strange media artifact. It's easy to engage in the analytical move of connecting these productions to the ongoing effort to create a liberal counterbalance to conservative talk radio using the podcast ecosystem, a push that can be primarily pegged to the ascending Crooked Media, which has spent the past four years building a formidable platform and following. But this emergent swathe of politician podcasts don't seem all that similar to Crooked Media's talk radio-style/conversational approach to programming at all. Rather, this new take on the politician podcast feels more like an extension of the political memoir.
Josh Lindgren, a talent agent with CAA, notes that the goals of the two forms are somewhat similar. "There is a long tradition of political figures writing books, and I think podcasting is taking on a very similar function," he told me recently. "Through their podcast, a politician can speak directly to the public, which allows for nuance, complexity, and gives them a platform to go beyond politics and present a broader picture of themself as a human."
The historian Nicole Hemmer, who co-hosts This Day in Esoteric Political History and who wrote a great book on conservative talk radio called Messengers of the Right, broadly concurs with that framing. "In many ways, both a memoir and a podcast are about creating a politics of intimacy, inviting readers and listeners into a story that the politician is creating," she said. "Now, what's different, of course, is that the political memoir is a finished story, a neat narrative printed up and published that readers can buy and read. A podcast is almost always an ongoing set of conversations with different people. It's less about telling a story than creating a persona and a brand — one that might have potential uses even beyond a political career."
Hemmer also offered a sharp contrast between talk radio and this new type of politician podcast, characterizing the former as being more engaged with the politics of entertainment as opposed to the politics of intimacy. "That's what talk radio has done so well — blend entertainment and politics — and the best in the business tend to stay in that register, playing with satire and joviality," she said, pointing to Rush Limbaugh and Glenn Beck as archetypes. (This analysis, I think, can be equally applied to Crooked Media, along with various conservative figures who have made their own podcasts as well, like Ted Cruz, making shows that are distinctly within the talk-radio aesthetic.)
She added: "You do have others who operate more in the politics of fear — Michael Savage, Beck again, Alex Jones (if we want to include him as a conservative) — but without the upbeat entertainment, it works less well."
It's also worth noting that the political memoir is itself a strange kind of media artifact. "It's a weird genre of book that I usually try to avoid because there is not going to be anything interesting in there," said Laura Miller, Slate's books and culture columnist. There are exceptions, she noted: Barack Obama's books, for example, are worthwhile, though they are themselves somewhat atypical for the fact that (a) they're well-written and (b) they're actually written by the figure in question, as opposed to being ghostwritten, which is the case for the overwhelming majority of politician memoirs. Furthermore, what's usually interesting about political memoirs, Miller said, is all the information that can be gleaned that isn't the information the author is actually trying to convey — the between-the-lines stuff.
Another aspect to consider, though, is the money. Writing memoirs happen to be a great way for political figures to cash in on their prominence, through both the book deal and the accompanying sales structure. Additionally, writing a memoir "seems to be a way that supporters can funnel money to a candidate or political friend outside of the regulations that apply to political donors," said Miller. "Like buying someone's book in bulk. Especially if they buy it directly from the author who gets it from the publisher at a discount."
However, books aren't the moneymakers they once were, Miller pointed out, which is partly why, I think, we're seeing politicians angle towards taking up positions in other additional forms of media, including getting podcast deals with companies like iHeartMedia and Cadence13. But there's an underlying question to all these media machinations, and Miller puts her thumb on it with respect to the political memoir: "The really big mystery is why anyone buys them."
A related question can be applied to this new breed of politician podcasts, one that determine whether we'll see the subgenre stick around for the long run: will anybody listen to them? Perhaps, maybe, probably — one could argue that it could be especially effective for political figures who have a certain cult of personality around them. (I'm thinking about Yang, in particular).
But there is a lane to argue that perhaps podcasting itself might not shake out to be a form that's ultimately suitable for the political goal of these productions. "I think podcasts are at their strongest when they are exploring uncertainty," said Jody Avirgan, who co-hosts This Day in Esoteric Political History with Hemmer. "They are the best medium in which to talk about what you don't know, what you may only half-believe, to be curious and open and honest to admit that you might be wrong or not have it all figured out."
He added: "Politics is the opposite. Political memoirs, and political messaging in general, is about certainty. 'This I believe.' 'Here's my answer.' That's mismatched to what makes podcasting special, in my opinion, so I'm a little skeptical that politicians can really embrace that more exploratory, curious, perspective. Some can, I'm sure, but it may be a challenge and it may come off as at odds with their political persona."
News, broadly…
➽ Spotify has launched a weekday "morning show" called The Get Up, which seems to mirror morning drive-time radio shows in structure and makes of the new mixed format feature that we talked about last week.
➽ Speaking of Spotify: The Joe Rogan Experience briefly paused publishing last week after the show's producer tested positive for the coronavirus. It resumed new drops on Thursday, releasing the previously flagged Kanye West episode on Saturday.
➽ ICYMI: a new paid podcast platform, Quake Media, launched last week with $2.5 million in seed funding and an initial focus on political content, Axios reports. This isn't the first public mention of the company, though — we wrote about the startup last summer as it was beginning to pull together a product.
➽ The Audible dealmaking engine continues apace, with new production deals forged with Lebron James' Spring Hill Entertainment, Kevin Hart, and Charlamagne Tha God.
➽ James Purnell, the Director of Radio & Education at the BBC, is leaving the organization. Here's his Twitter thread announcing the move.
➽ Team Coco adds Scam Goddess to its portfolio. The show, hosted by Laci Mosley, was previously distributed under the Earwolf banner.
Free Trade
Not being a Spanish speaker myself, I don't get many opportunities to fully enjoy a podcast like Las Raras, the Spanish-language narrative audio project that serves up arthouse-esque documentaries about "people who break the rules and fight for social change" in Latin America.
The Chilean duo Catalina May and Martin Cruz have been producing the show independently since 2016, and the one time I got to properly engage with the show was sometime last year, when I was fortunate enough to catch them giving a live performance of one of their stories in Boston last year. That staging involved subtitles displayed over an assortment of moving images that played as May and Cruz delivered the Spanish narration. I loved what I saw, though, predictably, I found myself thinking about the broader operation, wondering if it was at a place where May and Cruz could continue making their while getting compensated decently to do so.
A variation of an answer arrived last week when Adonde Media, a globally-minded podcast studio founded by Martina Castro, announced that it will be producing and distributing the fifth season of the show. The arrangement sees Adonde Media fully funding the new season of the project, and serving as a close collaboration with the team on episodes. (Castro herself will now be credited as an executive producer on the show.) Aside from cost-coverage and creative input, Adonde will also be shouldering the responsibilities around promotion, marketing, and exploring monetization opportunities for the podcast. May and Cruz, meanwhile, will continue to own the show and its intellectual property.
Adonde's move to distribute the latest season of Las Raras marks the start of its expansion into original content. It's a new lane for the company, which is prepping a whole slate of original shows to be rolled out over the next year.
For Castro, the leap into original program development wasn't exactly part of the plan when she started her company in 2017. A founding member of Radio Ambulante — the Spanish-language narrative podcast stalwart nowadays distributed by NPR — Castro founded Adonde Media as a client work-oriented production studio focused on making multilingual work with global companies that, as she puts it, "didn't need to be convinced of the potential of audiences outside the United States who speak languages other than English."
Adonde's first client was Duolingo, the digital language learning service, with which it collaborated to create the popular Duolingo Spanish podcast, which Castro produces and hosts. (According to a Duolingo rep, that podcast, which was designed to help English-speaking listeners learn Spanish, has garnered over 39 million lifetime downloads since launching in late 2017. It dropped its ninth season last week, which takes the form of a serialized true crime story about the 2006 Río Bank robbery in Buenos Aires.) That
Duolingo relationship would spawn two other podcasts — one for learning French, one for learning English — and tee up Adonde Media to take on a range of other clients: TED, Spotify, Vice News, and Georgetown University.
That line of contract work brought considerable growth to Adonde, which now boasts ten people on staff and an additional stable of fifteen-plus contractors working across the Americas and Europe. But as Castro told me recently, she ultimately came to the realization that the company couldn't avoid directly grappling with functions like audience development and monetization head-on if it wanted to achieve its goals, which, as she phrases it, are to "grow the pie for content, audiences, and creators" from a truly global perspective.
Adonde's expansion into original content — which is to say, non-client contract work — sets the studio down a trajectory that's become fairly common for podcast production studios over the years. Many of these companies start out by focusing on branded content work to establish a foundational flow of revenue to set the business up, with the long-term goal being to break into original show creation as it's increasingly understood that original show portfolios effectively function both as strong brand differentiators and as a collection of intellectual property assets that can produce considerable value over the long run.
But the situation with Las Raras is distinct in the sense that (a) the show doesn't ultimately end up as a piece of intellectual property for Adonde Media and (b) it highlights another type of business opportunity for the globally-minded podcast studio: to serve as a viable bridge between non-American podcasts — whose native podcast industries might not be as robust as America's just yet — and American monetization opportunities.
That is perhaps the most interesting thing about this story: the way in which the arrangement between Adonde Media and Las Raras feels roughly reminiscent of how non-American films and television programs get signed for stateside distribution, in which those media products are given the opportunity to benefit from the typically larger monetization opportunities of the American market. The parallel isn't perfect, of course, given that we're talking about the podcasting context where shows structurally have theoretical access to audiences in America — in addition to every other country plugged into the open internet — by default. But the larger point is that access to audiences everywhere isn't quite the same as access to advertising revenue everywhere, and what Adonde is doing here is to present itself as a broker between American advertisers and Las Raras, whose second largest audience is in the United States. (A common trait in many Spanish-language podcasts that Castro has come across, she notes.)
We've seen a form of this type of arrangement before. Last summer, Stitcher and Wondery partnered up to form Podfront UK, an ad sales entity formed to help both companies monetize the UK listenership within their show portfolio by connecting their inventory with UK advertisers. However, to phrase this from a purely American-centric perspective, Podfront UK can be roughly described as an "export" initiative, while Adonde Media, by contrast, seems to be conceptually operating as an "import" initiative with its Las Raras arrangement.
"There is just so much more data, knowledge, and experience concentrated in the US podcasting scene, not to mention a much more mature advertising market with brands that 'get' the value of podcasts," said Castro, who has previously pushed for more Spanish-language audience data, in part serving positioning Adonde as a funder of the first U.S. Latino Podcast Listener Report from Edison Research, together with Lantigua Williams & Co, Libsyn, NPR, and Pandora.
She added: "It makes sense to not only grow a non-US show inside the US, but also to see how we can apply lessons learned here in Latin America."
When asked to characterize the state of the podcast industry across Latin America, Castro describes a region that's fractured across various different economic, political, cultural, and social realities within the region. She argues that a missing ingredient — one that's key towards realizing a more vibrant Latin American podcast scene — is the presence of strong audio and radio institutions that can provide producers consistent opportunities for training, experience, and jobs.
"News and media are rather traditional and corporate in LATAM," she further explained. "There are very few indie or narrative outlets where one could train in narrative journalism more generally, and even fewer to train in narrative journalism or storytelling in audio specifically." Which isn't to say that there aren't attempts at building new podcast businesses in Latin America. Castro observed that new ones seem to be popping up every month — among them, a venture called Podium Podcast, which is financed by the media conglomerate Grupo Prisa, that has been putting out experimental work since the beginning, including audio science fiction.
Castro was quick to cut against the notion that there isn't a healthy ecosystem for Spanish-language podcasting, in part by pointing to increasing investments by (American) companies like Spotify and Audible in Spanish-language audio shows. The point, rather, is that it's still early for podcast markets in Latin American countries like Argentina and Spain, which hasn't quite achieved the "boom" status currently enjoyed by American podcasting.
She hopes to get there, and for Adonde to be a big part of that process. "The most critical part is making creative, beautiful work," she said. "It's our guiding principle… but it's not enough to stop there. For us to see a robust, thriving podcast scene in Latin America, for example, where we can cultivate the talent we need in order to make those beautiful podcasts in Spanish, those people need to get paid." This partnership with Las Raras, it seems, is part and parcel of that.
In tomorrow's Servant of Pod… We have a spooOOOky Halloween special in store for ya.
The episode is essentially broken down into two halves: the first is a chat with Jeffrey Cranor of Welcome to Night Vale and Within the Wires (among many other things!) about the structure and mechanics of scary stories, while the second is an array of voice memos from four different teams that make spooky or spooky-ish podcasts — Unwell's Eleanor Hyde and Jeffrey Gardner, Mabel's Becca De La Rosa and Mabel Martin, Here Be Monsters' Jeff Emtman, and Dead Signals' Marc Sollinger and Dan Powell — about the different ways in which they think and go about creating a sense of creepiness in their respective podcasts.
It's a big ol' thematic episode, and we'll go back to the regular interview format next week, when The Atlantic's Vann Newkirk II comes on the show to talk about Floodlines.
You can find Servant of Pod on Apple Podcasts, Spotify, or the great assortment of third-party podcast apps that are hooked up to the open publishing ecosystem. Desktop listening is also recommended. Share, leave a review, so on.
What Podcasting Needs in Africa
By Caroline Crampton
Like many other dedicated podcast listeners, I've found that my audio habits have changed a good deal over the past year. One of the most profound shifts for me has been a new preoccupation with non-fiction from outside the US and the UK — a feeling that comes in part from this enforced stay at home and in part from the desire for variety and difference in a western-centric audio landscape that can feel very homogeneous. For instance, during the strictest period of lockdown, the independent anthology feed Sound Africa quickly became one of my regular audio dates, as their Covid in Africa season brought me stories from around the continent that weren't appearing on any of my other news feeds.
My newfound interest in this show, and others, inevitably lead to a much greater interest in the state of podcasting in Africa, something I feel that I haven't covered as much as I should have done to date. With an eye to rectifying that, I recently reached out to Paula Rogo, a journalist based in Nairobi, Kenya who runs a podcast network and founded the Africa PodFest, to learn more. She is personally very well placed to analyse the development of the medium, having grown up in Kenya, moved to the US at the age of 13, qualified and worked as a journalist in America for outlets like Reuters and PBS, before moving back to Kenya to start her own podcasting business.
"I just realised that there were so many missed opportunities in terms of storytelling and in terms of the kind of humanity that I see on this side of the world that wasn't reflected in the coverage on that side," said Rogo when we spoke over Zoom last week. "So to my family's dismay, I quit and decided to move back home to Kenya and start my own business."
With her company, Kali Media (now known as Kali Pods), she wanted to create content for younger women in East Africa, but soon found that it was going to be a much more involved process than merely making some great podcasts and putting them out into the world. "I quickly realised that in order for this business venture to even succeed, there are certain aspects of the podcasting ecosystem that were just missing. They were just not in place here at all," she explained.
At that point, Rogo realised that podcasting as a medium needed African advocates first, and producers second. "There are pockets of communities, such as in South Africa, which has a really strong podcast community. And there are interesting things happening in Nigeria and Zimbabwe. And then also Nairobi had a lot of things happening. And so my co-founder, Melissa Mbugua, and I thought, OK, in order for me to create Kali Pods, I have to help create the ecosystem for us in order to do the work I want to do, which is actually production."
Africa, of course, is a very large continent with a sprawling, diverse media ecosystem. "I think that the first thing I did was accept that I won't be able to keep up," Rogo said. "And I respect the fact that we are fifty-four, fifty-five countries and I just can't touch everything. And even right now the podcasting landscape is Anglophone heavy. A lot of the big communities in podcasting are in Anglophone areas."
One of the biggest obstacles in Rogo's work has been a lack of data about podcast listening on the continent. There have been some studies, in addition to her own survey work, and last year for the first time Edison Research released a version of its Infinite Dial research for South Africa. Some of its findings were interesting if not unexpected — awareness of podcasting stands at 22 per cent, for instance — but even the data there is only partial, since it surveyed "major metro commercial populations."
This squares with Rogo's own experiences: an awful lot of people, especially outside the middle classes, are still at the "what is a podcast?" stage, and popular podcasts often draw a substantial part of their audience from the global diaspora rather than those at home. However, she argues that there is a huge opportunity for podcasting in Africa, not least because of the relative youth of its population. Sixty percent of Africa's 1.25 billion people are under age 25, and as yet there are few platforms reaching out to them with on demand audio content. Spotify is only available in South Africa (although accessible elsewhere with a VPN) and the vast majority of the continent's smartphones are Android, so Apple Podcasts has limited reach.
"Radio is king in Africa. It has never left. It's never had a dip. We have an oral storytelling tradition already on the continent, so listening to stories, telling stories, sharing information, sharing culture through the ear has always been something that's common in the continent. So for me, it made sense that podcasting, when it did reach here and when it did pick up here, would do pretty well," Rogo said.
One of her own initiatives for 2020 was to be the Africa Podfest, a gathering of the continent's podcast industry in Nairobi slated to happen in early March — but she had to take the difficult decision to cancel it at five days' notice because of Covid-19. Still, just the process of putting together the event was eye opening, she said, in terms of how the rest of the world views African podcasters.
"I think Africa is often dismissed by a lot of the world. When we were putting together the Podfest, it was a very high bar to convince people that we are a place to take seriously. Because data is not something that is strong on the continent, it's very difficult to convince people that there's something interesting here," she said. "If people are interested internationally they'll go to Asia — India is a big market and I think Africa is just sort of this blob that they're not sure what to do with and is high risk in many ways. So a lot of my work is just convincing people that it could be high risk, but there's opportunities. High risk, high reward."
And where investment is starting to arrive in African countries, Rogo is concerned that it isn't putting more money or power in the hands of local podcasters or entrepreneurs. "What's really important to me is that when podcasting really does sort of reach that critical capacity, that a lot of ownership is by Africans. Not just of the content and such, but also of the parts of the ecosystem that make podcasting work. And I'm starting to see that that ownership is not necessarily happening yet," she explained.
The idea that podcasting is a medium with a low barrier to entry is even more of a myth where she works, Rogo went on to say. Recording equipment is expensive and difficult to source, with import taxes often doubling the price of even the most basic kit — "you can't just buy a Blue Yeti here" — and studio time is very costly to hire. Soundcloud, which offers several hours of free monthly uploads before charges kick in, is still a very popular host.
Training, too, is hard to come by. As a whole, Africa sent the most applications into the PRX-Google programme, Rogo noted, just because there are so few alternatives for creators who want to develop their talents and their shows. Legacy media publishers like newspapers and broadcasters have generally been wary of charging into podcasting too, burned by the 2015 era "pivot to video" and facing layoffs in a tough economic climate.
She also has a theory that the colonial legacy in different parts of the continent still has an influence on the way media develops now — France's strong radio culture, say, in part explaining why Francophone Africa is "not picking up podcasting as quickly as one would expect." The most productive read across to other markets, Rogo said, is to Latin America, where many of the impediments to podcasting's growth are similar, although Spotify was much earlier to push into the region.
Regardless, there are already rewards to be had for a podcaster in Africa that crafts a hit. "If you can get a decent audience, the influence is pretty insane on this side of the world," Rogo said. Although traditional sponsorships have been slow to surface, the widespread use of mobile money in the form of M-Pesa and similar has opened some doors.
But Rogo, in common with many African podcasters, is still waiting for the elusive "tipping point", the signal that podcasting as an industry is on the up. The BBC World Service's recent move into Africa-specific podcasting is very encouraging, she said. "It sends a signal. Whatever their numbers end up being, it's a signal that's been sent to other media around Africa that, hey, you should be looking at this. You should be considering this because everyone knows BBC World Service, everyone listens to it." Aside from perhaps YouTube and Netflix, there are few other common media properties consumed across the whole continent, so for better or worse, the BBC's actions really have an impact.
The one she's really waiting for, though, is Google. Given how ubiquitous Android devices are, having the Google Podcasts app installed as a default in new operating systems, or seeing some major investment in Africa-specific creator training, would make a world of difference, Rogo explained. "I really think it's been unfortunate how slow Google Podcasts has been to take ownership of the continent," she concluded. "It's really theirs for the taking."