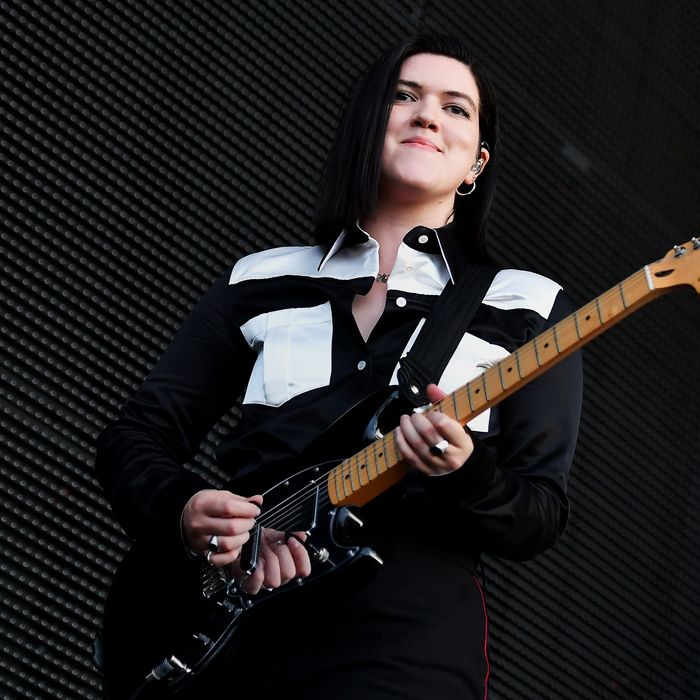 As Romy steps out on her own, she spoke to Vulture about what it took to get here.
Photo: Angela Weiss/AFP via Getty Images
The cover art of "Lifetime," the debut single by Romy Madley Croft, shows the xx singer-guitarist like you've never seen her. She's dancing, arms up and eyes closed, in front of a neon-purple background. It's the euphoric escape of the dance floor captured in a single image, shot by her photographer girlfriend, Vic Lentaigne. Emblazoned in bright italic yellow across the side of the cover is the mononym she has taken, following the other dance-pop greats: Romy.
It's an unexpected turn for Romy, known for her innovative, muted guitar-playing as one-third of moody London pop breakouts the xx. Or maybe it's not — she did start in music DJ-ing in queer clubs in London. There, she met Oliver Sim, who would join her on bass and vocals in the xx. And even her band's recent work moved toward bigger dance tracks, like the infectious Hall & Oates–sampling breakup anthem, "On Hold," off the band's last album, 2017's I See You. Still, "Lifetime" is a revelation for Romy: huge and life-affirming, featuring some of her most confident singing ever, with lyrics that rise to the current moment: "And if you're ever lonely / If you can't find the way / If this world comes to an end," she sings in the chorus, "I wanna be there with you." It's the perfect song to lose yourself in, especially now.
"I've always been quite content being in the xx," Romy says, calling from the London studio where she has spent the day working on new solo music. But as she started writing for pop musicians like King Princess and Dua Lipa, she soon wanted to try performing some of those songs herself. Now, during the COVID-19 pandemic, she's grateful to. "I wasn't really sure if I'd be able to get in a room with people right now," she says. "It's nice to be off the computer for a bit and just trying some stuff." Along with new music, she is preparing to release remixes of "Lifetime," all done by women and nonbinary producers. "It was really nice to create this sense of community," she explains. "These are people that I hopefully would like to collaborate with on my album." As Romy steps out on her own, she spoke to Vulture about her influences, from Robyn and the xx to the wisdom of Stevie Nicks.
Writing for King Princess and Dua Lipa
I think I sought out opportunities to express myself outside of the xx within pop songwriting, and ways I could meet new people and collaborate without having to be the face of it. I realized [I was] using the songs for other people as a way of writing about myself. I was actually writing some quite personal songs. And some of the people close to me were like, "Are you sure you want to give that song away? Because it's obviously very personal to you." Then over time, I started collecting these songs and realizing, Actually, maybe I do want to have my own project and explore some of my interests that haven't been reflected so much in the xx.
That was my biggest draw: to learn some new stuff to bring back to the xx. I love big, mainstream pop music, and I was really curious to see how people made it. Working with King Princess was amazing and an experience I loved because I was actually just hanging out with her. We were having a conversation about what she was going through and then we were writing songs together. And that was a luxury that I realized you don't always get writing with people. For instance, the song I wrote for Dua Lipa, "Electricity" — we never met before. I wrote the lyrics, and it got given to her. It's very different, each individual song, but I really love the experience of actually getting to spend time with the person who's going to sing the song and have that personal connection.
Fred Again
[The British producer-songwriter and I] became good friends through working on pop stuff [like Halsey's "Still Learning"]. One day, we met up, and he said, "Who do you want to write for?," and I said, "Maybe me?" And that was the turning point. He really encouraged me, and we wrote a bunch of songs. When I was feeling a little bit insecure and a little bit unsure, he was such a light and warm energy. He just has a lot of playfulness with making music, which is quite addictive to be around, and I found it really inspiring. He's incredibly quick, and that challenged me. It sparked a new chapter — after all this time trying to write with other people for them, to have someone that was helping me write for me was quite refreshing. And it was nice to have some help.
Queer clubbing
I really like Kylie Minogue, Robyn, and the new Lady Gaga album. In terms of older stuff, it's sort of big club songs from the early 2000s to songs that really are soulful and unite a room. It's stuff that I would always listen to going out and queer clubbing. Part of my growing up, really, is these songs that weren't really guilty pleasures — just a great song. Out of context, when I went out to, like, not a gay bar, people would be like, "Oh this song's a bit rash." But actually, it's a great song.
[My new music] feels like a return to my 17-year-old self; after going through so many things, it feels playful in a way similar to when I first discovered clubbing and DJ-ing. I think you can learn about the impact of a song that everybody knows from the moment that it comes on. The whole room lights up. When I couldn't properly mix, I was just phasing in the songs, and that sort of stuff becomes a key part of the set. So I just mainly gravitated to those songs, and I still love that. Something you can really sing along to and really dance — that's always my favorite.
The xx
I'm really enjoying being able to try stuff and be like, Do I like it? I'm used to being a team player with the xx. I'm a big fan of really big pop music, and I like trance; I like all this stuff that maybe hasn't come out within the xx. It's fun to be able to just fully go there, rather than to give a hint of it as my part. It's funny, because around the time that I was DJ-ing, I was making the first [xx] album [2009's self-titled]. Although these influences have always been there, they just didn't come out for me at the time in the music that we were making. I will always love making music in the vein of that, but it's just fun to push things a bit onwards and try new things. We always were quite careful with making sure everything had its place in the xx and not to put loads and loads of stuff in the track. And I still have that in my mind: I want to make uplifting pop music, but it doesn't have to have 17,000 layers.
Touring is the thing that gave me so much more confidence. When I was a teenager, I was scared of flying, and I thought, Oh, maybe I'm just someone who doesn't really travel that much. Because of the chances we were getting with the xx, I just had to face that fear. I've gone on to so many parts of the world I never fully even dreamt of going if I hadn't been in the band. The confidence that that's given me is amazing.
The pandemic
When everything started happening, I was feeling pretty anxious, and my main [concern] was just making sure that my family and everyone was okay. I wasn't really feeling that creative. I naturally gravitated back toward songwriting, because I remembered that I wrote when I was a teenager to help me work through some feelings of anxiety, and found that writing something could help myself through it. With "Lifetime," at the time, I couldn't go anywhere. I was craving that euphoria and the energy and the emotions of the club, and reconnecting with the people that I loved, and it all poured out into the song. As opposed to making something that would make me more sad, I guess I instinctively was chasing that feeling of relief. And I was worried, like, Is it responsible of me to put out a song right now, with everything going on? Because I made this one in lockdown, and it was something that helped me, I thought I [should] put this song into the world. The biggest joy I could hear is that it made someone feel a bit lighter, 'cause that's all I was trying to do.
Guitars that sound like electronic music
Quite a lot of the songs that I'm working on right now have started off just from me picking up the guitar and working out some melodies. If these songs can still be stripped back down to the guitar and sung alone, then that would feel like an achievement. That's what I've noticed with a lot of the club classics: If you really strip it away, it's still a great song. I'm incorporating the guitar into some of the stuff, but none of it's just like a guitar ballad, really.
The inspiration that's always been there for me is Ibiza house and these bendy riffs. There was a song by a DJ named ATB called "9 PM (Till I Come)," and it's this big Eurodance song with this crazy bended riff. That was my biggest inspiration, and when I first picked up a guitar, I was like, Wow, it'd be so cool to play that song on the guitar. I've always felt embarrassed to say that because [media are] like, "Who is your guitar inspiration?," thinking I'm going to say someone really amazing at guitar. It's not that at all; it's a crazy club song. I've been listening to a lot of stuff like that again. I was a little bit late to discover Cocteau Twins, the Cure, things like that. I've been coming back to "A Forest," by the Cure, at the moment a lot and really analyzing that. It's still such a good song, and one of the Cure songs that is more in that electronic vein that I'm going for.
Her girlfriend, Vic Lentaigne
We were together, actually, around that time when I first went into DJ-ing. We broke up and then we ended up getting back together. She really likes Italo disco and a lot of '80s music and pop-trance. Getting back with her brought back a lot of that sort of music for me, which was a huge inspiration for this sound.
Having my picture taken makes me feel quite shy, and [in] many of the pictures I've seen of myself, I always thought I looked pretty tense. I said to her, "I'd really like to work on taking pictures together." We took loads and loads of pictures through lockdown — we went to Soho in London, and there was no one around. It was an amazing experience. And I want to keep doing it. I really enjoyed having our [personal] relationship and working relationship intertwined.
Stevie Nicks
I was reading an interview she did the other day, and I think she actually said it really well. She was talking about how she went solo from Fleetwood Mac, but she was never leaving Fleetwood Mac. She wrote loads of songs for Fleetwood Mac that were never used, and she was like, "Guys, I have all these songs, and I really would love to just finish them so that I can move on to the next chapter with Fleetwood Mac." She has done that so well. She got to know herself more, showed more of herself to everyone, and then just dipped back into Fleetwood Mac as she amazingly does. I think there's that line between being like, "I'm off and leaving everyone behind," or that version where you're like, "I'm just doing this and then I'm coming back. And I'm hopefully coming back with more energy, more ideas, and more enthusiasm for everything." [The latter] is the vibe that I feel.
Robyn
I had a really nice conversation with Robyn, who's a huge inspiration for me, and I was describing the kind of music I wanted to make. Then I realized I was describing Robyn's music to herself: emotional dance music that is a beautiful song as well as something you can dance to. I was trying to explain what I wanted to do and then I realized that's what she does incredibly well. But she was very sweet and encouraging to me, which I was so grateful for.
The biggest compliment I got is she shared "Lifetime" on her Instagram and wrote that she was listening to it and it made her laugh and cry, like happy-sad. I was like, "That's exactly what I was going for." My girlfriend had shouted from downstairs when I was working on the song, "What's this? It's happy-sad. I love it!" That was a good sign to me, so it's nice that Robyn agrees.