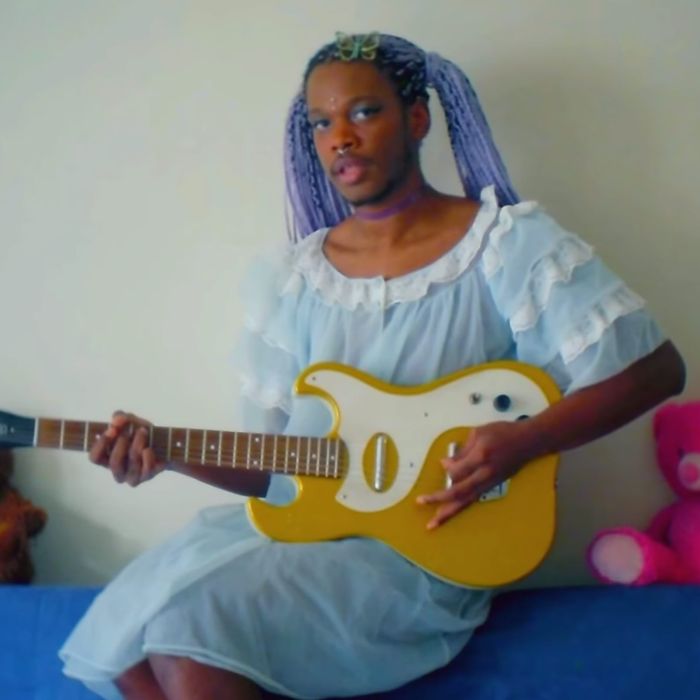 It's the first album he's felt comfortable putting his name and face on.
Photo: Courtesy of Shamir Bailey/YouTube
There's been a question looming over Shamir's career for the past five years: Could he ever follow up the success of Ratchet? When Shamir Bailey was just 20 years old, the singer-songwriter broke out with an infectious lo-fi dance album that Pitchfork deemed "best new music" and Spin called "the year's best debut." In a profile at the time, New York noted, "The biggest challenge Bailey may face is figuring out how to maintain that private-house-party vibe as his career explodes." Two years later, Shamir suddenly left his label, XL Recordings, and started releasing unpolished rock music, to the surprise of the critics who saw him as alt-pop's next big thing. But all along, Shamir says now, the bigger question should've been whether he wanted to follow up Ratchet.
Off the success of the album, he opened for Duran Duran and Chic featuring Nile Rodgers on their 2016 arena tour. "The whole time, I didn't know what the fuck I was doing here," Shamir remembers. "I was just like, If this is what I'm working toward right now … this is not what I want." So he released five albums in a three-year span — first on Father/Daughter Records, then independently — trying to chart a new course for himself. "A lot of people, from the outside, thought that I was trying to distance myself from pop, or even being accessible at all, which was never the goal," he explains. "But my influences lie more in things that aren't pop, like punk and post-punk and rock music and grunge and all that. I wanted to get to a point where I could combine all that but still make it modern and accessible."
The result is Shamir's self-titled seventh album, not to mention his second of 2020. It's a masterful synthesis of the punk, shoegaze, grunge, country, and pop music he's long been interested in, as he pushes his chameleonic, piercing voice to new lengths — something that could only be born from his years of exploration and development. It's also the first album he's felt comfortable putting his name and face on. "I'm establishing myself as the artist that I wanted to be, and it's only up from here," he says. "A lot of people are like, 'Do you consider this your masterpiece?,' and I'm like, 'No. This is just the beginning.'" Ahead of the album's release, Shamir talked to Vulture about its influences, from Taylor Swift to underrated Canadian singer-songwriters.
Taylor Swift
When you don't have modern production on your side, a good pop song is really all you've got. I think a lot of modern pop music relies on the production, which is fine and cool, but I've always liked the idea of writing a song that I can pick up any instrument and just play. It forces you to really, really focus on great melody and great lyrics.
The one consistent songwriter that's been there throughout my whole life, that I'm never not inspired by — and, even more recently, inspired again by her new record — is Taylor Swift. I think Taylor Swift really taught me how to write a good pop song. I don't think I started writing good songs until her debut record came out, and I was spinning the shit out of it. I was just so blown away by the simplicity of her songs and how, despite how they were produced, she could still pick up her guitar and sing them just as catchy and just as beautiful and just top tier. Taylor is that girl. She deserves everything. No matter what genre, no matter the production, no matter what kind of U-turns she takes, it's her songwriting that makes everything so solid. And I think that there is always going to be inherent longevity in that, 'cause production trends come and go.
Kitchens of Distinction
I'm constantly inspired by Julian Swales, the guitarist from this band called Kitchens of Distinction. They were this unsung '80s and '90s shoegaze band from the U.K. that released four really good records who I've been obsessed with since I was put on to them back in 2018, as soon as I started working on this record. His guitarwork is really cool because it's a three-piece and he's the only guitarist, so he really has to work with that wall of sound and make it full and everything. I'm always really inspired by guitarists who can do that.
Their biggest, most popular song is called "Drive That Fast." It's a great song. It's very drive-y, but still kind of shoegaze-y. The cool thing about that band is that the singer, Patrick Fitzgerald, was openly queer at the time. They were doing these really cool shoegaze songs, and Patrick was very explicitly writing about queer love and his experience as a gay man. They're really dope.
Guitars
[After Ratchet], I was just picking up the guitar again after doing electronic dance music for two or three years straight. The last time I had really played guitar even onstage before that time was when I was still in my high-school band [Anorexia].
A lot of these songs, it's just me and my acoustic guitar, and that sounds not unlike country or folk. If I do end up writing a song on electric, I want it to sound as big as possible. You hear a song like "Diet," which is more country leaning, more folk leaning, but the production is more grunge leaning. That's a song that I wrote on acoustic guitar, and that's why it's as straightforward as it is. Whereas a song that I wrote on electric, like "Running" — it's more textured, it's more layered, because I'm playing with my paddles. I'm not just writing chords; I'm writing soundscapes as well.
Lindi Ortega
The genesis of this whole record, even before I knew I was going to be making a record — even before I was even thinking about making a record, honestly — started around this time last year. [Canadian country singer-songwriter] Lindi Ortega reached out and was like, "Do you want to come to Toronto? Me and you, in this Airbnb, and we're just going to chill and write and eat and hang out." And that's what we did. I wrote the instrumental of "On My Own" during that week. It was the seed, so I like to give her credit for that.
That trip was really invigorating. It was nice for us to have some time off the road to chill and be creative and talk about life and just unwind. Most talented people are insecure. We both openly talked about our insecurities. The whole time, I'm just like, "What?! Are you crazy? Like, you are so good." And then she was like, "What?! Are you crazy? You're so good!" It's really funny how most of the people who I feel are moderately talented have the most confidence. Sometimes I'm just like, Is there something wrong with me?
So hearing someone that you look up to, and has taught you a lot and played an instrumental role in you even pursuing music on the level that I have, has their own insecurities — and almost to the same level as you — is humbling. That was really the first time where I had some real one-on-one time like that with someone that I look up to, like a hero. It's a time that I will never forget.
Alexz Johnson and Instant Star
I'll name so many artists that I look up to vocally and then people will just be like, "Oh, I hear that in your voice." Like, I'll say Nina Simone, and people will be like, "Oh yeah." But then I'll also say Björk, and they're like, "Oh yeah!" There's a singer-songwriter called Alexz Johnson that I grew up watching. She's like Canada's Hilary Duff. I learned how to sing, growing up, listening to her songs and watching her show [Instant Star]. I think she does pop-rock really well, which is obviously what I've essentially been trying to perfect these last few years. We've since collaborated and just hung out and wrote songs for like the last four years now. There's just so much kinship there. We're both Scorpios, which is funny. And we both have very similar vocal and songwriting tendencies.
My voice is so unique that when I'm singing with other people, I have to iron out a lot of my quirks and kinks that make my voice what it is that everyone likes. Sometimes it don't work, you know? She's the only singer that I can just jump in and start singing with and start harmonizing. I've never felt that with anyone, and I've sang with so many people — crazy professionals, blah blah blah, whatever, whatever. The way our voices just chill together so easily, it was a new sensation for me that I'm glad I finally got to experience. Obviously, when it's that easy singing with someone, when you're both songwriters, it's going to be that easy to write with someone.
Unfortunately, nothing has been out that we actually have done, but soon enough. I know when it comes out, it will be next level. Everything we've written has been insanely next level. I've definitely been saving those for the right moment.
Grunge aesthetics
I've done all the visuals. I have a normal DSLR camera, but I use old Super 8 lenses. So that's why they look like film, but they're not at all. And the specific digital camera that I use is really small, and the sensor is small enough where the smaller Super 8 lens doesn't create a circle around it. I wanted it to look old. I'm always inspired by grunge, so I was really inspired by those old grunge visuals. But I still wanted it to look digital. That's what I love about those pictures and what gives those pictures its own little flair — it's still digital, but there's something that feels vintage about it.
Success after Ratchet
To be honest, I didn't enjoy most of it. I didn't really come into the game to try to dominate and be famous and be successful. Listen, I did not think Ratchet was going to do what it did. Especially for how cheaply we made it. And then it did what it did. [Editor's note: Ratchet made showings on year-end lists and lead single, "On the Regular," was featured in an Android ad, along with becoming a minor U.K. hit.] Then I was at a point where I went along with everything because I was like, Well, this album's done. It's out there. I have to promote it and tour it. I kind of looked at it as a duty. So once my duty was up, I was like, I'm not doing that again [laughs]. Obviously, that was frustrating for people who were working with me and who wanted to build upon that.
A lot of people don't really have [a sense of] every inch of where your career can go at the beginning of it. But since I got all of these insane opportunities at the beginning, I was able to step back and assess and take my pickings of what I want, then rebuild my career how I wanted to from the crazy, kaboom experience that I got from the very beginning. Now it's great 'cause I feel like I'm really in the driver's seat, and I'm doing things that I want and at a rate that I feel comfortable.
Tegan and Sara
It's just boring to do the same thing, right? All my favorite artists have switched it up with every record. I think of Tegan and Sara. A lot of their success lies in the fact that every single one of their records sound different. I recently watched an interview with Tegan with the guy from Jimmy Eat World [Jim Adkins] — he has this really great podcast [Pass-Through Frequencies]. She was saying that after [2007's] The Con, which was an insane record for them, her and Sara were like, "Okay, yes, The Con sold like hotcakes, but that means that we can't do the same thing now." They made the conscious decision, because of how successful it was, to do something different. It's very humbling and great to know that other artists also think that way. I think a lot of times, it's worth it to cut your losses, even if it means getting dropped [from your record label], which it did in my case. It's really worth it for the artistic integrity.
After Ratchet came out, I saw so many people who were out there, ready to rip off the style. Do you know how many "On the Regular" rip-offs I could point out right now? But that's all they got. Now, no one can try to rip off Shamir as a whole, because no one's ever going to know what the fuck I'm going to do. And guess what? I don't even know what the fuck I'm going to do next.