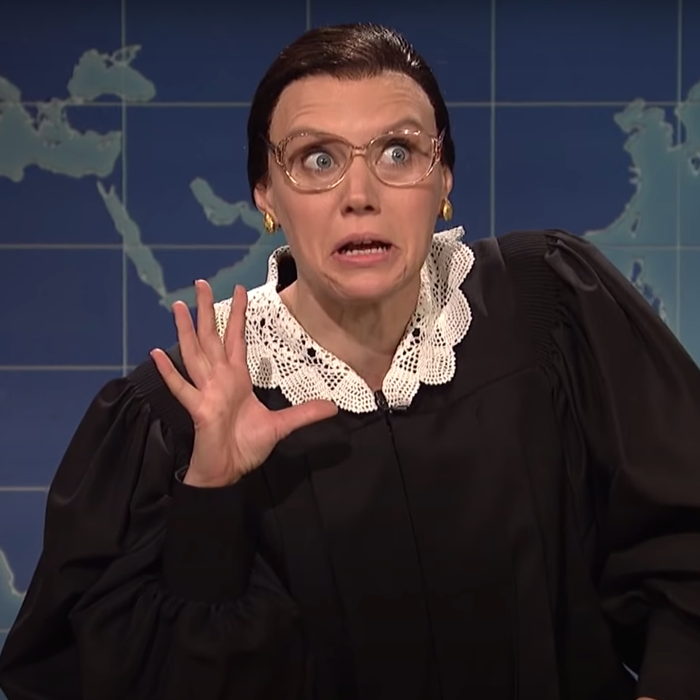 Kate McKinnon as RBG on
SNL.
Photo: Saturday Night Live/NBC
On September 18, Supreme Court Justice Ruth Bader Ginsburg died at the age of 87, leaving behind an impressive legacy of civil-rights work. Ginsburg was a living symbol of feminism and tenacity, and over the past few years, "Notorious RBG" iconography became ubiquitous, and Ginsburg's life and work inspired both the RBG documentary and On the Basis of Sex, a 2018 biopic. Around the time that the RBG memes began cropping up, so too did Kate McKinnon's Ruth Bader Ginsburg impression on Saturday Night Live. Whereas other political impersonations on SNL veer toward turning their targets into buffoons, and where McKinnon's Hillary Clinton was possibly too deferential, her RBG was an instant standout: feisty, scrappy, tenacious, shady, and occasionally disturbingly sexual.
McKinnon played RBG as an extremely tiny woman with a massive attitude and unerringly correct opinions, the sort of person you'd want on your side in a civil-rights case or in a back-alley knife fight. She grinded on Colin Jost, made fanciful jokes about being the size of a horsefly, and shot down the Republicans with brilliant one-liners, or "Gins-burns." The impression celebrated what had captured so many people's imaginations about Ginsburg: Here was this octogenarian, who had already lived an accomplished life devoted to scholarship, civil service, and women's rights, who was pumping iron and putting on her good accessories to go to work, for us. And she was so teeny tiny.
Ginsburg herself quite enjoyed McKinnon's spirited characterization of her, saying in 2018 that "I liked the actress who portrayed me," and "I would like to say 'Gins-burn!' sometimes to my colleagues." The two finally met in the summer of 2019, at Joel Grey's Off Broadway production of Fiddler on the Roof in Yiddish. Here are McKinnon's best moments as Ruth Bader Ginsburg on SNL.
"Underground Festival: 2012 Election" (2012)
The sketch that started it all was one of those package deals, where a bunch of wacky shit is rattled off and everyone gets to show off their favorite impressions. "Underground Festival: 2012 Election" was Rock the Vote by way of Warped Tour, featuring Justice Ruth Bader Ginsburg doing a "Borat impression-off" because, I don't know, Colin Jost threw darts on a board full of proper nouns and that's what came up. McKinnon's RBG just stands in front of a green screen of Port-A-Potties, looks confused, and says, "My wife, she is a prostitute." Golden.
RBG's Weekend Update Debut (2015)
Three years would pass before McKinnon would pull out the judicial robes and sensible bun again, but when she did, she made RBG a character. Her first Weekend Update appearance was prompted by an interview with the then-81-year-old Ginsburg in which she stated she had no plans to retire, with McKinnon characterizing her as a scrappy featherweight boxer at the bench. This appearance was also where she doled out the first of many Gins-burns, predicting that RBG would outlive Scalia because he looks like he's "permanently hooked up to an IV bag of Bolognese." She wasn't wrong!
RBG Really Said Gay Rights in This One (2015)
Who better to roast the states still opposing marriage equality in the months leading up to the legalization of gay marriage than McKinnon's RBG? These Gins-burns were for a good cause.
Weekend Update at the RNC (2016)
Remember during the 2016 presidential election when Weekend Update aired on MSNBC live from the Republican National Convention? It was a weird time, but McKinnon's RBG still got some good digs in at Trump and Chris Christie.
RBG Reveals Her Plans for Immortality (2016)
In which McKinnon's RBG freebases a Costco-size Emergen-C to prove her vitality and might.
The Rare and Powerful "Self-Gins-burn" (2017)
In which she gave the best-ever takedown of how ridiculous and unnatural gerrymandered districts look on a map: "That's not a district, that's a tapeworm."
Giving that Meshugge Brett Kavanaugh Nonsense the What-For (2018)
Look, the Trump administration has been a less-than-funny time for a lot of people. McKinnon's RBG consistently pulled off the rare feat of making some of these horrors laughable.
"RBG Rap" (2018)
"You know there's like, only one lady holding the whole damn thing together, right?" In 2018, Pete Davidson and Chris Redd starred in this music video all about the toughness and tenacity of RBG, because a broken rib couldn't stop her.
"RBG Workout" (2020)
This sketch from SNL At Home saw McKinnon proving that her characterization of RBG was so strong at this point, she didn't need the robe and the doily. Just the same workout wear that Ginsburg wore in RBG and some triple-A batteries to deadlift.
Rest in Power (2020)
During the season premiere of Saturday Night Live Season 46, McKinnon made one last appearance as the Right Honorable RBG, silently putting her hand over her heart at the end of Weekend Update.